Have you ever wondered what are the best bodyboard brands? Well, in this article, we are not only going to answer what the best bodyboarding brands are, we will also mention some top-of-the-range boards. Also, we will mention the best budget boards. So, let's take a look at some of the biggest bodyboarding brands.
The best bodyboard brands are BZ, Empire, Hubboards, Science, Manta, Morey, Pride, Custom X, NMD, and Churchill. These brands produced some of the best quality boards and they have also contributed a lot of innovation to the bodybuilding community.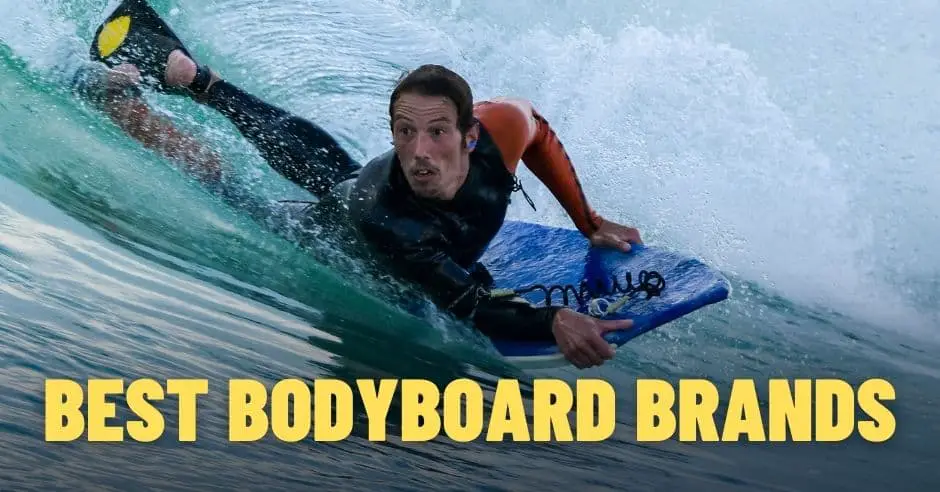 This article is going to be all about the biggest and the best bodyboarding brands not only of our current time but we have also got one in there that holds a significant amount of history within the industry. So, for everything you need to know, keep reading.
10 Best Bodyboard Brands
When you consider what makes the best bodyboard brand, is it because they make top-of-the-range boards? Have they made some of the best bodyboards in history? Is it something a lot deeper than all of that?
Well, we are going to take all of that into consideration. We are also going to take the reputation and what the company has done for the bodyboarding industry and consider all of that when coming up with the list of the best bodyboarding brands.
Here is a list of the best bodyboard brands and then we will discuss each of them in detail.
BZ
Empire
Hubboards
Science
Manta
Morey
Pride
Custom X
NMD
Churchill (Bodyboard fins)
1. BZ Boards
You can ask almost any bodyboarder about BZ and they will know exactly what you are talking about. BZ started to ping on everybody's radar when they secured  Jeff Hubbard as a team member.
If BZ was good enough for Jeff Hubbard to use considering the fact that he is considered to be one of the greatest bodyboarders, wait,  wave riders of all time, then BZ is surely good enough for everyone who aspires to be as good as him.
With that being said, BZ makes some of the best boards especially for riders who like speed and want to boost as high as they can. That is the main reason for their success.
The best top-end model: Fundamental series: $270.00
The Best budget model : T-10: $130.00
2. Empire
Empire bodyboards is a California-based company that was started around 2005. Seeing as they have become one of the best bodyboard brands in the world so quickly, you have to ask yourself why.
There are three reasons why Empire grew so fast.
They made good quality boards.
They also had a wide range and a lot of those models can be considered top-of-the-range bodyboards.
The third reason is that they sponsor Andre Botha. The South African phenomenon was the youngest bodyboarder to ever win the World Championships at pipeline at only 17. He then came back the next year at 18 and won it again.
Everybody knows his name. So, whatever board he rides, people are going to know the name of that brand.
The best top-end model: Empire Andre Botha PP+ 4X CT Bodyboard: $330.00
The Best budget model: Empire rising bull bodyboard: $140.00
3. Hubboards
So, we have already mentioned Jeff Hubbard and how he helped BZ gain the popularity that they did. Well, the three-time world champion and 11-time United States champion, Jeff Hubbard, and his brother David Hubbard, started their own company.
It's called Hubboards and they make some of the best boards on the market today. Again, when you consider the fact that Hubboards is good enough for the high-flying acrobatic Jeff Hubbard to ride, it must be good enough for you, right?
Here is a video from Hubboards featuring Jeff Hubbard: Jeff Hubbard – North Shore Sessions 2019
The best top-end model: Hubb Edition Quad Core Sci-Five – Hubb Tail: $370.00
The Best budget model: Hubb Edition Fire Starter PE: $120.00
4. Science
You are going to start noticing the theme behind this article. Most of the best bodyboarding brands have had involvement from some of the best riders in the world. Science probably has the biggest name in bodyboarding and one of the biggest names in water sports, Mike Stewart.
It was in 1998 that Mike Stewart broke away from representing bodyboarding companies as a team member and started his own line of bodyboards. Science has a wide range of boards and they also make all the other equipment that you need such as leashes and fins.
Science bodyboards have a place in my heart because I rode one of these boards for pretty much my entire life. They helped me do well in competitions and overall, they did what I wanted them to do and delivered more than I expected.
Here is a video of Mike Stewart doing what he does best: Mike Stewart
The best top-end model: Style Loaded QV F4: $309.00
The Best budget model: Launch Tech CT: $150.00
5. Manta
One of the oldest bodybuilding brands on this list, Manta, is a name that is known throughout the community as being one of the pioneers of the bodyboarding industry. In fact, when I first started bodyboarding, Manta was the first brand that I had become familiar with.
Manta is considered the original Australian bodyboarding company. They make a wide range of boards and have sponsored some of the best riders in the past.
The best top-end model: Hi-performance Black Series: $350.00
The Best budget model: Phantom PE: $150.00
6. Morey
Morey bodyboards, this company is so old that they still refer to bodyboards as boogie boards which says quite a lot about the company. This is a company that started the bodyboarding industry.
We need to look at the man Tom Morey who was a surfer at the time but is considered the person who invented bodyboarding in 1971 with the release of his first range of boards. He then went on to be the main sponsor behind any reputable competition in the bodyboarding industry including the pipeline world championships.
Today you don't hear much about Morey however, you cannot write an article like this without mentioning the man who is considered the grandfather of bodyboarding. Together he and Mike Stewart stand as two of the top figures within the community and industry.
The best top-end model: Mach 10: $240.00
The Best budget model: Mach 7 X: $220.00
7. Pride
Pride bodyboards is the largest bodyboarding company in Europe. Don't worry, you can get their products worldwide. The company is constantly trying to innovate and create new ways of making top-of-the-range bodyboards.
The team roster includes a staggering list of some of the best riders in the world. You have riders like Pierre Louis Costes, Tristian Roberts, and Isabella Sousa all of whom have won the world championships in their respective divisions multiple times.
All of the team riders come from different parts of the world. Instead of sponsoring mainly riders from Australia and the USA, they tend to sponsor European riders as well as South African, Australian, and American riders. You can say that Pride bodyboards are most definitely one of the best global bodybuilding brands.
The best top-end model: Tristian Roberts Realist series: $480.00
The Best budget model: Stereo PE: $170.00
8. Custom X
Custom X is another company that I became familiar with early on when I started riding waves. Back then I knew them as a company that was innovating and producing some of the best boards available on the market. Not only that, I thought their apparel was pretty cool as well.
They have been in the industry for over 24 years going on almost 25 now and in that time they have established themselves as one of the best bodyboarding brands in the world.
Even though you do not hear much about the company now in terms of who they sponsor and what innovations they are bringing out, it would be difficult to write this article without including custom X as one of the best in the world. This is especially true when you consider all they have done in terms of innovation for the industry.
The best top-end model: JMV: $245.00
The Best budget model: X1: $185.00
9. NMD

NMD bodyboards have been around for quite some time. They are a New Zealand-based bodyboarding company that sponsors some of the best riders in the world, most notably, Ben Player. They also have a few Legends on their roster like Steve McKenzie and Mike Epplestun.
NMD makes boards and peripherals as well as apparel. While they are not as old as some of the other brands in this article, they definitely took the bodybuilding world by storm with their innovation and high-quality boards.
The best top-end model: Ben Player PFS Quad: $600.00
The Best budget model: Storm EPS core: $100.00
10. Churchill
While Churchill is not a company that is focused on making bodyboards per se, they make the second most important part of your setup which is the fins. You cannot make an article about the best bodyboarding brands without talking about Churchill simply because of what they have done with their fins.
The Makapuu fins are the most widely used bodyboarding fins in the world. If you have ever watched a bodyboarding video or have spent some time on the beach you will have seen those trademark yellow and blue fins that are not only used by bodyboarders but also by lifeguards.
The best top-end model: Makapuu: $65.00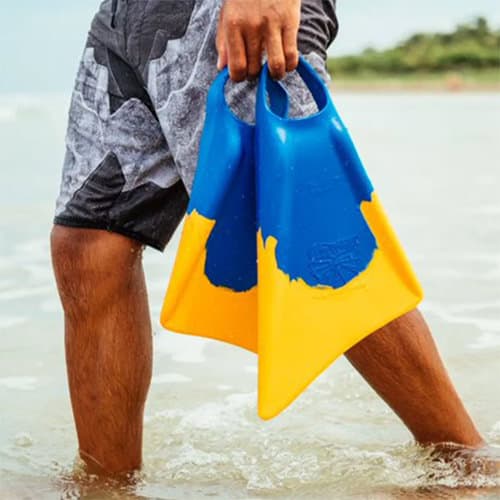 Best Bodyboard Brands: Conclusion
That brings us to the end of this article. Some of the brands that we spoke about will be around for decades to come while others have already started to fade away. This is not because the company has gone down but because they have branched out into other aspects of watersports like surfboards for example.
If you are looking for a good bodyboard, any one of the brands in this article will be a great option. I must say that Science bodyboards is a brand that I might have a slight bias for. Anyway, until next time, stay stoked.
---