If you are looking to buy a new bodyboard, I think it can be useful if you know which are the best bodyboards. I have been bodyboarding and surfing for pretty much my entire life. During this time I have ridden some of the top bodyboards that you can get.
My style of bodyboarding is "all-round". This means I like to surf big waves but I also like to ride waves that allow me to do tricks such as inverts, flips, reverse air's, and my favorite, air forwards. I also did well in competitive bodyboarding and was chosen to represent my state/province at national championships.
For my surfing style, I say that the science Style Loaded QV F4i s the best bodyboard on the market today. However, I know that everybody is different. So, I decided that I wanted to help you figure out which is the best bodyboard for you so that you too can start getting some serious barrels or getting some serious air. Let's get into it.
Our List Of The Top 10 Bodyboards
Science Style Loaded QV F4
Science PRO LTD TRIQUAD
Hubboards Hubb Edition Quad Core Sci-Five – Hubb Tail
Hubboards Houston Quad-Core Sci-Five
BZ Fundamental
Empire Andre Botha PP+ 4X CT Bodyboard
Empire Dragger Bodyboard
Pride Tristian Roberts Realist series
PRIDE Pierre Louis Costes The Answer
NMD Ben Player PFS Quad
Top 10 Best Bodyboards Reviewed
Core: Kinetic polypro
Stringer: Single stringer
Slick: Surlyn
Channels: Science Quad Vent
Tail: Crescent
Rails: 55/45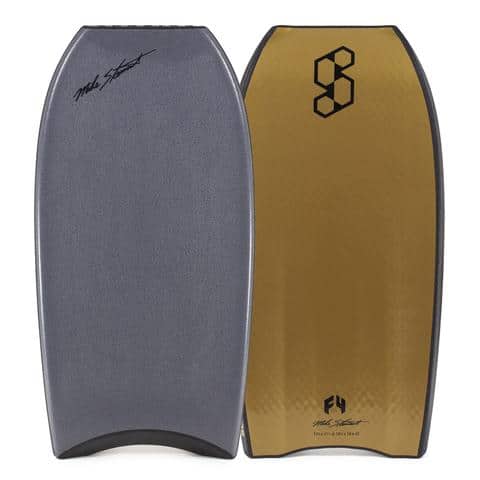 I say that this board works great as an all-rounder. This means that it is not the best at any one thing but rather it allows you to perform your best on most waves. However, when I say that, it is important to remember that it comes so close to being everything that you would want in a bodyboard.
While surfing big-ish to big waves, I can't help but look at the Mike Stewart signature staring at me right on the nose of the board. It actually hypes me up for every wave and I'm not talking just about this board. I am talking about all Science boards in general.
The quad-vent channels play their part when it comes to speed and balance. It becomes almost hard to go back to a dual-channel board after riding a quad-channel.
Because of the materials that the board is made from and the fact that it only has one stringer, it makes the board lightweight and this makes doing spins, aerials, and even the small things like bottom turns, feel really easy. At the same time, I could imagine someone who is not very experienced might struggle to bottom turn because of that.
Pros
Strong
Works as an all-rounder
Feels, looks, and rides great
Cons
Hard to find (Sells out fast)
Colors seem muted
---
Core: Kinetic polypro
Stringer: Single stringer
Slick: Surlyn slick skin
Channels: Science quad vent
Tail: TriCrescent
Rails: 55/45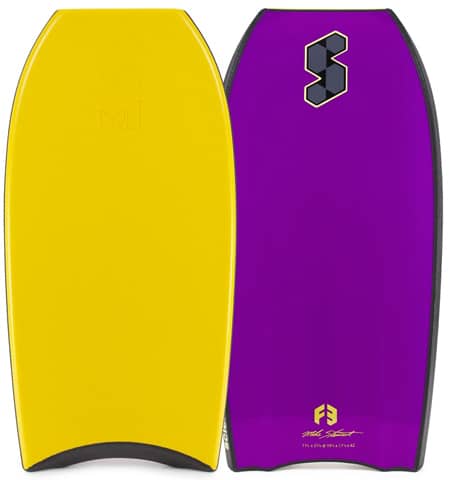 I just want to start off this mini-review with the TriCrescent tail. It is the first time I had ever used a tail like this even though I do know other boards do have them. Let me tell you, it was incredible especially after doing a flip landing backward on the face of the wave. It just made recovering a lot easier.
Look, it might be different for some people but that is how I felt and I instantly fell in love with this tail. That being said, I have never been much of a fan of bat tail boards. So, to see any kind of innovation on a crescent tail makes me kind of happy.
I know that this is the second and the last science board we have on this list but it is very different from the first one that we mentioned. While the first one acts as an all-rounder, this board is best for people who want to boost as much air as they can.
Speed and maneuverability are the two key features of this board. Now, that doesn't mean you can't charge a few big waves because you can. Let's just hope that you have your wits about you when it gets to bigger surf because you are going to drop really fast and hopefully, you have experience in digging your rails on the bottom turn. This is because you are going to have to do that, this board is fast.
Pros
Strong
Great for ariels
Tricrescent tail makes landing backward easier to recover from
Cons
Hard to find (Sells out fast)
---
Core: Quad-core
Stringer: Single or double stringer depending on the size of the board, you choose.
Slick: Surlyn
Channels: 5 hydrodynamic channels
Tail: Hubb tail. (Bat)
Hubboards is a relatively new bodyboarding brand. However, the people behind it are not so new in the industry. In fact, they are two of the most well-respected bodyboarders of all time. We are of course speaking about David and Jeff Hubbard.
This is Jeff Hubbard's signature board and if you know anything about Jeff, you will know that this board is built for speed, control, and responsiveness all of which give you the ability to launch really high or to project pretty far. This is especially helpful when trying to do inverts or air reverses.
I found the board to be really comfortable. I don't know if it is the concave deck but I think that has something to do with it. You can really dig your rails in without feeling like you are forcing it.
Look, at the end of the day, if you want to board that is going to go really fast and you want to get better at doing maneuvers, this board might be the best choice for you.
Pros
Control
Speed
Well priced
Durable
Cons
Not the best for beginners on big waves
---
Core: Quad-core
Stringer: Single stringer only
Slick: Surlyn
Channels: Sci-five channel system.
Tail: Crescent
And here we have our second board from Hubboards. Jeff and his team designed this board specifically around how one of their team members rides. This team member is Jared Houston who grew up in a small town in South Africa and went on to become a world champion and one of the most respected bodyboarders of our current generation.
With all of that in mind, this board is built to be fast on big waves. Basically, it is built for Jared Houston so that when he is surfing Pipeline, he will have enough traction to be stable on the wave but also enough speed and maneuverability that he can launch off the section as soon as he pulls out of the barrel.
As I noted in my pros and cons, this board unfortunately is not as premium as Jeff Hubbard's signature model however, it does cost around the same price. One thing that I do want to note is this board is a little bit more beginner-friendly than Hubbard's signature version.
Here is a video of Jared Houston shredding on this board, enjoy: Hubboards – Houston Sci-Five Shred Sesh
Cons
No option for a 2nd stringer
Similar price to the Hubb but not as premium. Still great though.
---
Core: Zero-G polypro
Stringer: VFS single stringer
Slick: Surlyn
Channels: Dual channel
Tail: Crescent
I remember a time when BZ had all the hype. Everyone at competitions was secretly hoping that they would get sponsored by this company. At the very least, everybody wanted to ride a BZ and it actually made getting a BZ quite difficult because the demand was greater than the supply.
With so many new companies and even old ones constantly innovating with their boards, BZ started to get left behind, at least in the opinion of a few. However, they still make some of the best boards available on the market. At the price point, I don't think you can get anything better.
The fundamental still strikes that trademark BZ balance of being a board that can offer great traction on big waves but also not sacrificing when it comes to responsiveness and maneuverability.
This means you can do spins while in the pocket of the wave. You can also smash the lip as soon as you get out of the barrel. That is the main reason why BZ made it onto this list.
If you are looking for a board that is going to give you great value for money, I would definitely look into the BZ Fundamental. Finally, with their reputation, I won't be surprised if they have something in the works in terms of innovation of course.
Pros
Good value for money
Excellent quality
Good balance between traction and responsiveness
Cons
Dual-channel feels outdated
---
Core: Kinetic PP Core
Stringer: 2X CFT Stringers
Slick: Surlyn Slick w/ Mesh
Channels: 4X Channels (Quad Concave)
Tail: Crescent Tail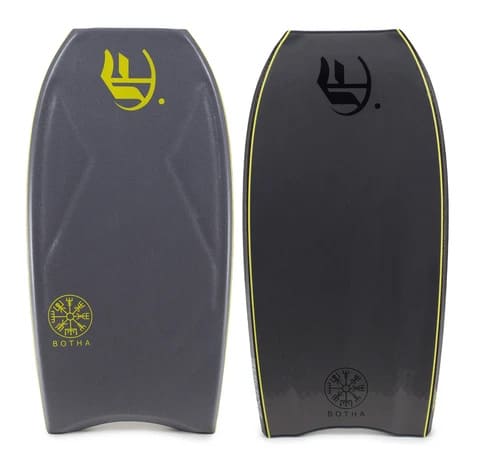 In this article, we have discussed big waves but there is quite a difference between a big wave and a heavy wave. The question is, how do you design a board for one of the craziest riders out there? We are talking about Andre Botha. He is known as being one of the craziest heavy wave riders in the world.
Well, it seems that Empire has done him Justice. This is one of the most durable boards I have seen. Not only that but with the speed that the board offers, you can charge heavy waves and hopefully get out of most sticky situations unless of course, you take off on a closeout in which case, you can be like Botha and try to smash the lip or you can pull out and ride straight.
Empire boards have really outdone themselves with this one. However, there is still more to come. So, keep your eye on this company.
When riding anything over 5 feet, you start to notice just how stable this board is on the wave. This is especially noticeable when taking off on steep and heavy beach breaks.
Just to give you an idea of who was bored was built for, take a look at this video of Andre Botha going absolutely nuts on heavy waves. Andre Botha – El Toro – Bodyboarding
Pros
Built for heavy waves
4x channels offer speed
2 high-quality stringers
Cons
Slight sacrifice on maneuverability
---
Core: Kinetic PP core
Stringer: Single CFT stringer
Slick: Surlyn
Channels: Dual channels
Tail: Crescent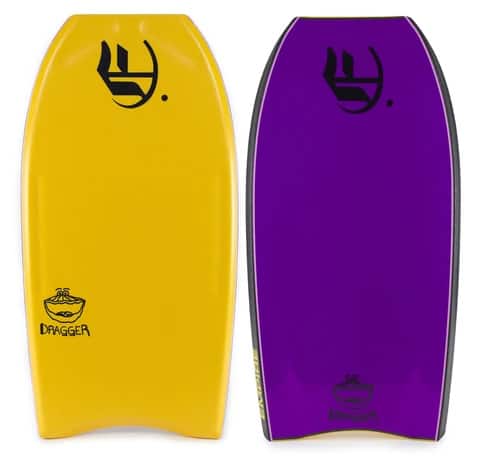 When you think about the cons that I wrote down for this board, after the dual-channel, all I could think of was "they don't have any neutral colors". That is actually a compliment to the board because if that is the only thing you can think of, trust me, this board is going to do its job.
Look, for a beginner or intermediate rider, this board is perfect. In fact, I might go as far as saying that it is your best option because it is so budget-friendly. It is also great value for money. The board is going to last you a long time and it is going to make you feel comfortable in the water especially on the waves.
Trust me, you can't go wrong with this board.
Pros
Budget-friendly
Great value for money
Nose bumpers
Cons
All color options are bright with no neutral colors
---
Core: Featherlite kinetic polypro Core
Stringer: Single carbon fibre stringer
Slick: Surlyn by DuPont
Channels: Dual channel
Tail: Crescent
Rails: 55/45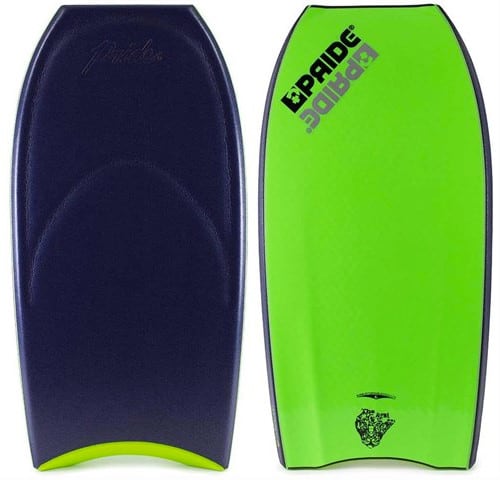 Obviously, I am going to start off by talking about the carbon fiber stringer. Look, this board is light. Just everything about it is light from the materials they use to the beautiful carbon fiber stringer. Not only is the stringer featherweight, but it is also extremely durable.
Then you have the contour on the deck of the board. While a lot of companies are trying their best to innovate with their contouring, I feel like this board sticks to a more traditional contour that is so comfortable on your chest. Sometimes, innovation is not needed and the deck of this board just proves that.
When you get on a wave, you are going to go fast. However, I feel like they could have done better with the channels but maybe they wanted to keep the channels as they did for control. This is because as fast as you go, the board feels easy to control. When you get up to the lip to launch in the air, you feel stable while still being fast.
This board was made with Tristan Roberts in mind. Tristan is another bodyboarding world champion and one of the best riders on the world circuit right now.
Pros
Light
Responsive
Good all-rounder
Cons
Dual-channel feels outdated
Comes in only 2 colors
Premium price
---
Core: NRG +
Stringer: Single carbon fibre stringer
Slick: Surlyn Slick Skin
Channels: Double concave Hull channels
Tail: Crescent
When we say "power surfing", we are obviously talking about bodyboarding. What exactly is power surfing? Well, we need to understand what it is if we are going to understand why this board is so good at everything.
I would say that this is my second favorite board on this list. It is designed for Pierre Louis Costes who is a power surfer. He is also one of the very few professional riders who have made it as far as he has and comes from Europe. In fact, he was born in France.
Power surfing is where you can take a small or a big wave and leave everything you have on that wave. Every move that you do is done with intensity. There is no time to make anything look stylish but instead, you tweak every invert as far as you can. You flip as fast as you can every time you do a flip and you launch as high as you can every time you boost into the air. That is power surfing.
With double concave channels and featherweight carbon-fiber stringer, this board gives you speed, accuracy, control, and responsiveness all in one magic little board. Pride has really outdone themselves here with this one. If you want to have it custom built to suit you,  you can do so on their website.
Pros
Channels feel great
Can be custom-built
Good for power surfing
---
Core: Parabolic Flex System™ 2nd Gen
Stringer: 1x CFT stringer
Slick: Surlyn by DuPont
Channels:  Graduated Channels
Tail: Crescent
Rails: 55/45
I grew up watching Ben Player on videos. He was somewhat of an idol to me, especially in my younger years. I used to love his calm natural Style on every wave and this board was built around that Style.
The graduated channels give you stability on the wave. They also allow for speed which is great. However, it is the balance that they strike between control and speed that really stands out on this board.
I want to take a second to talk about the parabolic flex system that makes up the core of this board. It feels like something that is going to become a standard over the next few years because it feels so good.
The board doesn't flex by itself but I think about it as something that you activate when dropping down on steep waves. It really helps you control your bottom turn. That's why I say that this board is all about control.
If you have the money to spend on a premium board such as this, I highly recommend trying this board out. You will be seriously happy and if you struggle to surf big waves or should I say, steep waves, this board might actually be the thing that you need to help you progress.
---
Buying Guide: What to Look for When Choosing a Bodyboard
Let's take a look at a few tips for when you buy your next board.
Buying A Bodyboard For Small Waves
If your local beach break mostly consists of 1 to 4-foot waves, you don't really want to get a heavy board. It needs to be light. So, I recommend looking for a single stringer board. A carbon fiber or a CFT should do the trick.
For your normal hometown beach break, I recommend something like the Hubboards Hubb edition. The board is built for speed and that is what you want on smaller waves. 
Buying A Bodyboard For Heavy Waves
For heavy waves, you are going to want something that is as light as possible and offers as much speed as possible while having a double stringer. You really want the durability of a double stringer for heavy waves.
I recommend taking a look at the Empire Andre Botha PP+ 4X CT.
Buying A Bodyboard That Suits Your Style
Finally, I have to say that it is hard for me to give you a buying guide on what board you need to get. This is because everybody's style is different and while it is easy for me to assume that you wanna launch big airs, personally I don't know that.
I am a huge advocate for people buying Pro Series boards. So, find a professional that you aspire to ride like or at least a rider that you look up to. See which model is made for them and you should get the board that suits your style.
Or, just buy the Science Style Loaded QV F4. It is a great board and one of my favorites.
FAQ
What is the difference between boogie board and bodyboard?
People always try to give a complex answer to this. However, it is actually rather simple. A boogie board is generally cheap and made from the cheapest materials such as plastic and polystyrene.
A bodyboard normally comes with a more premium price tag and is made from high-quality materials.
This can depend on your style. However, Pretty much everyone that I know uses a bicep leash on their right arm with a leash plug placed on the right-hand side near the top of the board.
A bicep leash is often longer than a wrist leash and is also more durable.
Do you need to wax a bodyboard?
Yes, you absolutely do have to wax your bodyboard especially if you use a wet suit or a rash vest. You don't want to be constantly slipping off your bodyboard and applying a little bit of wax to the rails, your nose, and the center of your board you should be great.
How do you catch waves on a bodyboard?
To catch a wave on a bodyboard you need to get the wave at the right time. A second or two before it starts to break is perfect.
You need to angle your legs down so that your fins are as deep as possible and you need to put a lot of power behind your kicks. You want to then paddle as fast as you can with your arms.
As the wave starts to pick you up, you want to thrust your chest forward onto the board to give you some momentum.
As the wave starts to take you, you want to get your hands onto your bodyboard so that you are ready to cut into the wave while still putting as much power behind your kicking as possible.
Depending on how steep the wave is, you might have to drop straight down and then bottom turn or you can ride down the face of the wall. It all depends on how steep the wave is. And, there you have it.
Can you stand on a bodyboard?
There are few bodybuilders who have made a name for themselves by standing up on their board. Most notably, David Hubbard.
So, yes, you can stand on your bodyboard however, it is extremely challenging. In fact, it is more challenging than standing on a surfboard.
Conclusion
Well, that brings us to the end of this top 10 list of the best bodyboards available on the market right now. I recommend bookmarking this page so that while you do your shopping, you can use this page as a reference.
Remember to get the board that suits your style. You really don't want to get something that you are going to regret.
---