Are you traveling to the southwest and want to know the best camping in Arizona? Are you unsure where to start in a diverse state with deserts, mountains, lakes, canyons, and rivers?
Then you have come to the right place!
We are going to cover all of the best camping in Arizona, from the best campgrounds to dispersed camping. Arizona is one of the most spectacular states in the US, so there is a lot to go over!
Best Northern Arizona Camping
Most people just assume that Arizona is nothing but a desert. But a quick look at Northern Arizona will quickly show you that this is not the case. The Northern part of the state is covered in thick alpine forests, complete with cold winters and altitudes of 11,000 feet! Here are a few great camping options for this part of the state. 
1. Cave Springs Campground
Cave Springs is found near the city of Flagstaff and is one of the most popular campgrounds in Arizona. You will want to book well in advance, as it tends to fill up quickly. After that, you will most likely want to book it again as the camping is excellent and the access to nearby hiking trails and fishing holes is amazing. 
2. Pine Flat Campground
Pine Flat Campground is very similar to Cave Springs and is situated along Oak Creek. While it does not have as many luxuries as Cave Springs, it is usually less busy and still offers the same amazing access to some excellent hiking trails and unmatched fishing opportunities. 
3. White Horse Lake Campground
White Horse is found around 15 miles away from Flagstaff, but all of the roads to it are very well maintained. This is a great option for people wanting to get away from the crowds. While there are no amenities, it is a great place for hiking, biking, and fishing at the nearby White Horse Lake. 
4. Lockett Meadow Campground
If you want something really remote and hard to get to, look no further than Lockett Meadow Campground. The bumpy and rough road is well worth the effort, though, as this campsite gives campers a world-class stay in the San Francisco Peaks just north of Flagstaff. 
5. Freidlein Prairie Campground
While the road to Lockett Meadow might be considered rough, it is nothing compared to Freidlein Prairie. You will need a high clearance vehicle to access this campsite, but this means that there will always be plenty of campsites to choose from.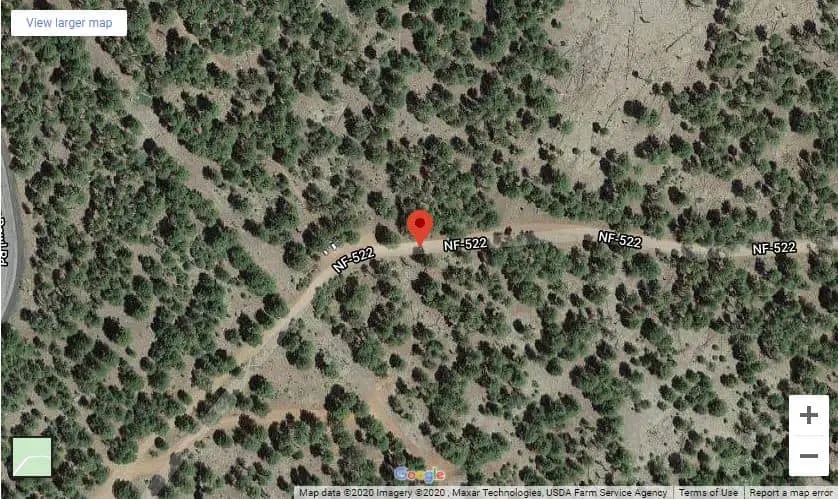 6. Pinegrove Campground
Pinegrove Campground is special because it sits near a series of scenic mountain lakes. It will give excellent access to all of them, so it is a popular option amongst fishermen. The campground itself has showers and private bathrooms for use. 
7. Pumphouse Wash Camping Area
With over 80 sites, Pumphouse Wash has plenty of options for campers to get away from the city without paying huge fees to do so. While there are no toilets, hookups, or anything else, this gives you a much cheaper option than that of the surrounding campgrounds. 
8. Dairy Springs Campground
There are few better places to stay for campers who enjoy hiking than Dairy Springs Campground. Three different hiking trails start from this site, and the scenery is top-notch. There are bathrooms, potable water on-site, and easy access to a nearby lodge for supplies. 
9. Ashurst Lake Campground 
Ashurst Lake is a popular fishing destination in Northern Arizona, but it also offers some amazing camping as well. This scenic campground is found at the base of the San Francisco peaks and offers some amazing views. 
10. Double Springs Campground
Built in the 1930s, Double Springs Campground is one of the oldest here on our list. This campground is great for wildlife and bird watching with a natural spring. Nestled in the ponderosa pines and oak trees, the weather is always nice, cool, and perfect for a quick trip!
Best Southern Arizona Camping
Southern Arizona is one of the most diverse landscapes in the country. From the hot desert floor to "sky islands" of pine forests, there is almost no end to great places to visit. Here are some of the best camping locations in Southern Arizona. 
1. Arcadia Campground
Found on the slopes of Mount Graham, Arcadia Campground is the perfect spot for a quick trip to escape the heat of Southern Arizona. There are bathrooms and potable water on-site, and it is usually not very busy, even during peak season. 
2. Reef Townsite Campground
Found high in the mountains near the Arizona and Mexico border, this campsite is located on a site that was once the site of an old mining town of Reef. This campground requires a small fee to use, but it is well worth the drive and permit in order to camp here. 
3. Peppersauce Campground
Found at the foot of Mt. Lemmon near the big city of Tucson, Peppersauce Campground is a great place for a quick picnic or a weeklong campout. All of the sites are spread out along the creek, all underneath giant sycamore and walnut trees. 
4. Ramsey Vista Campground
In the same area as Reef Townsite Campground in the Huachuca Mountains, Ramsey Vista Campground is found at over 8,000 feet in elevation and offers an amazing view of the surrounding desert. There are no amenities here, so you should come as prepared as you can!
5. Spencer Canyon Campground
Found on Catalina Mountain, this campground oversees the city of Tucson and has some of the best views in the state. The high elevation allows campers to escape the surrounding heat of the desert, as well as a great place for hiking and wildlife viewing. 
6. Idlewilde Campground
Found in the Chiricahua Mountains, this campground is nestled under a giant grove of Arizona cypress trees along a creek. It is very well known for its bird watching and scenic views. There are bathrooms and potable water here, but not much else. Its remoteness is worth the effort, however. 
7. Lakeview Campground
Found near Parker Canyon Lake in the Huachuca Mountains, this campground is found amongst the oaks and junipers. From the campground itself, it is only a short walk to the lake. Aside from fishing, there are plenty of hiking trails and it is usually less crowded than most easily accessible areas across Southern Arizona. 
8. Sunny Flat Campground
Another great camping option in the Chiricahua Mountains, Sunny Flat Campground, is popular for the surrounding rock formations that tower over the area. There are also plenty of nearby amenities and multiple hiking trails. 
9. West Turkey Creek Campground
Look no further than West Turkey Creek Campground for campers who want a more remote, dispersed camping experience. This small, out of the way site is found along Turkey Creek and under the shade of giant sycamore trees. With plenty of trails and scenic views, you will no doubt enjoy this campground and the surrounding area. 
10. White Rock Campground
Found a short distance from Pena Blanca Lake on the Coronado National Forest, White Rock has plenty of amenities and can be quite busy during the peak season. However, if you visit during the winter, you will most likely have the area to yourself. 
Best Places for Free Camping in Arizona
In addition to established campgrounds that will usually require a small fee, there are plenty of free places to camp all around Arizona. Here are a few of our favorites!
Stateline Campground
Stateline Campground is found in both Utah and Arizona, placing it close to Page, AZ, and Kanab, UT. It is a primitive and private campground that is free to anyone and puts you within easy access to some popular hikes such as Wire Pass. 
Four Mile Canyon Campground
Found at the head of the beautiful Aravaipa Canyon, Four Mile Canyon Campground has ten primitive campsites that are first-come, first-serve. It is surrounded by scenic mountains and located down in the juniper shrubs, making it a great winter destination when higher elevations are closed. 
Snyder Hill Camping Area
Found just outside of the city of Tucson and south of Saguaro National Park, Snyder Hill is a great area for campers whether you have an RV, motorhome, or tent. It is down in the heart of the desert, so it may be a little warm in the summer, but it is a great destination throughout the rest of the year. 
Kofa National Wildlife Refuge
If you want the most remote camping possible, look no further than Kofa National Wildlife Refuge. It is located far away from civilization and has zero services or amenities. You will need a high clearance vehicle to access most of the refuge, but the solitude it provides is second to none. 
Best Arizona State Parks Campgrounds
Picacho Peak State Park
Visitors to southern Arizona will most likely pass by the prominent peak of Picacho Peak State Park. There are plenty of trails that cover the entire park, and the campground offers every amenity that you could need. From the low desert floor to the scenic views, this site offers some great winter camping to escape the snow. 
Roper Lake State Park
Found near the city of Safford, Roper Lake State Park is a small desert lake that is popular amongst fishermen. The campgrounds here are exceptional and require a small fee to stay at. There are even small cabins that are available to rent, as well as natural hot springs that you can enjoy. 
Lost Dutchman State Park
Named after the Lost Dutchman gold mine that is supposedly lost in the Superstition Mountains, the Lost Dutchman State Park is found only 40 miles east of Phoenix. It has plenty of trails leading from the park into the surrounding mountains and national forests. 
Catalina State Park
Catalina State Park sits at the base of the Santa Catalina Mountains and is a refuge for plants, wildlife, and over 5,000 saguaros cacti. From hills, canyons, and streams throughout the park, there are plenty of things to do and see here. 
Patagonia Lake State Park
Found in the hills of southeastern Arizona, Patagonia Lake is a pristine area with abundant wildlife. From fishing at the lake to hiking, biking, and bird watching, there is never an end to the things to do, and the surrounding scenery is stunning. 
Best Dispersed Camping in Arizona
Arizona is home to plenty of publicly owned land in the form of BLM and National Forests. Camping on these lands is a unique experience, and there is no end to the possibilities. Here are a few good spots for dispersed camping in Arizona. 
Kaibab National Forest
One of the best places to camp when visiting the South Rim of the Grand Canyon and a great area for dispersed camping during the spring, summer, and fall. 
Kaibab Plateau
Just like the Kaibab National Forest is perfect for the South Rim, the Kaibab Plateau is perfect for visiting the North Rim. 
Schnebly HIll Road
Found in the Prescott National Forest, this popular dispersed camping location is great for visiting Sedona. 
Loy Butte Road
Another great place for dispersed camping is the Prescott National Forest, this location also offers great access to Sedona.
Wing Mountain
Found near the city of Flagstaff, Wing Mountain offers plenty of places for dispersed camping that give you access to nearby lakes, attractions, and hiking trails. 
Jack's Canyon
For campers on the eastern side of the state, there is some great dispersed camping to be had around Jack's Canyon, only a short distance from the town of Winslow. 
Upper Canyon Creek
Found near the town of Payson, this is a great camping location near a creek that is only a short drive from the Phoenix area and provides a quick getaway from the desert heat. 
Bronco Trailhead
Bronco Trailhead is on the Tonto National Forest and is just north of Cave Creek. Plenty of different trails originate here, giving you plenty to explore. 
Cinder Hills
Cinder Hills is a dedicated OHV area that provides plenty of trails and roads that you can enjoy with your offroad vehicles. 
Senator Highway
Just south of Prescott, Senator Highway covers plenty of different areas that all provide free dispersed camping.
Best Camping in Arizona Near Water
Lee's Ferry Campground
Lee's Ferry is one of the most beautiful and scenic areas in all of Arizona and is one of the most sought-after destinations for anglers. This campground gives you perfect access to all of the fun in the water. 
Wahweap Campground
Wahweap Campground is right next to Lake Powell, and you can be at the water's edge in just a short walk. 
Pine Flat Campground
Pine Flat is one of the most popular campgrounds because of the access it gives you to Oak Creek. If the fish aren't biting, you can go swimming, bird watching, or hiking in the area. 
Big Lake Campground
Found right next to Big Lake in the White Mountains of Arizona, this is the perfect place to go if you enjoy high mountain lakes. The scenery is also second to none. 
Best Horse Camping in Arizona
Timber Camp Recreation Area
One of the most popular family and group campgrounds on Tonto National Forest, this campground has plenty of corrals to keep your horses and is a cool getaway from the hot summer sun. 
Frazier Horse Camp
With miles of hiking and horse riding trails accessible straight from the campground, Frazier Horse Camp is the perfect destination for anyone that wants to camp with horses and includes everything you might need. 
Peter's Trail 105
Look no further than Peter's Trail for a more remote horse camping experience. This horse campground does not include as many extras as the other options, but it is very remote and offers great views from the surrounding vistas. 
Best Arizona Campgrounds with Showers
Pine Grove Campground
Found near Lake Mary, this high-elevation campground comes equipped with coin-operated showers and plenty of space to enjoy the beautiful scenery that the area provides.
Grayling Campground
Found near Big Lake in the White Mountains, Grayling Campground is one of the few campsites in the area that provide showers. It is busy, so making a reservation well in advance is suggested. 
Camping in Arizona | Conclusion
Arizona is a very diverse state with so many wonderful opportunities for camping. No matter what style of camping you prefer, you are sure to find what you are looking for here in the Grand Canyon State!