By far, the most significant advantage that ultralight fishing rods provide is their ability to easily deliver even the tiniest and lightest lures over a reasonable distance. Since micro-lures are more enticing to a wider variety of fish, your likelihood of catching fish, even on unfavorable days, goes up when using an ultralight fishing rod.
While fishing with an ultralight fishing rod is exciting and provides a challenge for even experienced anglers, you don't want to compound that challenge with a problematic rod that will snap the first time a fish takes a bite. Not all ultralight fishing rods are created equal, and many excel at one aspect but not others.
Our exhaustive research has crowned the Fenwick Eagle Spinning Fishing Rod the best overall ultralight fishing rod, thanks to its high-quality construction, excellent sensitivity, and reasonable price tag. However, although it ranks the best overall, you may find that another high-quality ultralight fishing rod is more suitable for your needs.
As such, we have provided the ultimate guide to ultralight fishing rods, including their pros, cons, attributes, and the situations in which they excel.
Our List of Ultralight Fishing Rods
Top 10 Best Ultralight Fishing Rods Reviewed
1. Fenwick Eagle Spinning Fishing Rod (Best Overall Rod)
Fenwick has been building quality fishing rods for over six decades. Their long history of manufacturing excellent ultralight fishing rods has kept them in the market for their entire existence. The Fenwick Eagle series is an updated and upgraded version of their long-standing Fenwick GT series, which has been popular with anglers for many years.
The combination of burled cork handle and sensitive response of the Fenwick Eagle ensures that you will be able to notice every touch on your line. Additionally, the durability of this rod does not mean that it is any less lightweight, which will allow you to cast for many hours without feeling fatigued from simply holding the rod as many heavier models do. The peace of mind that Fenwick provides with the 5-year warranty on their Eagle rods is so valuable as it shows they back their products because they are confident in their longevity.
Pros
An ergonomic and minimal reel seat
5-year limited warranty
Stainless steel guides with aluminum oxide inserts
Fenwick name and updates to original graphite construction
Cons
Marginally cheaper construction than other options
---
2. St.Croix Ultralight Spinning Rod (Best Premium Rod)
St. Croix rods are one of the most swiftly improving ultralight fishing rod brands that have been outpacing their competition. The incredible quality of construction in both the functional and aesthetic elements of this rod combine to create one of the best ultralight fishing rods on the market. The aluminum oxide guides are among the best available, and the combination of fast action and sensitivity gives unparalleled control over most types of freshwater fish.
The quality cork covering the rod's long handle gives plenty of space for any angler to cast comfortably, though they do not offer split handles, which may put some people off. Nevertheless, the quality of St. Croix is incredible, and if you are willing to meet the price tag, this rod will be one of the best choices available.
Pros
Fast action
Lightweight
High-quality SC II Graphite
Cork handle
Fuji graphite reel seat
---
3. Okuma Celilo Graphite Lightweight Ultra Light Trout Rod (Best Lightweight Rod)
The OKUMA Celilo is a fantastic ultralight fishing rod at an affordable price. The sensitivity of its graphite blank means that you will feel the slightest touch of a fish, and the high-quality handle combined with the stainless-steel reel seat will give you the strength you need to battle using ultralight tackle. This rod also uses corrosion-resistant aluminum oxide guide inserts that provide you with absolute control over your line. Finally, every rod in the OKUMA Celilo line has both front and rear grips constructed of premium cork that provides that high-end look and feel.
Consider purchasing one of the shorter rods like the 4 and 1/2′ option in the Celilo lineup if you like to fish in brushy or tree-lined areas, as these choices will give you more control in close quarters. However, if you want to go after larger fish or have more room to work with, the reach and control of a longer rod such as the 6′ model will serve you well.
Pros
Very high sensitivity
Excellent balance between flexibility and rigidity
Budget-friendly
Attractive build
Comfortable use for long periods of time
Cons
Slender rod requires smaller reels to maintain stability
---
4. KastKing Perigee II Fishing Rod (Best Mid Range Rod)
In terms of mid-range rods, very few others can come close to the quality and value that the KastKing Perigee II provides. Combining a top-of-the-line carbon fiber blank gives incredible action while giving the rod excellent strength and sensitivity. KastKing uses high-quality components like Fuji O-Ring guides, high-density EVA grips, and solid graphite reel seats. While the less traditional appearance of this rod may not suit some anglers, the quality for the price point is incredible with this ultralight fishing rod.
If you are uncertain which rod length to go with, consider the classic 6′ option ideal for many fishing situations, or the 4'6″ model that is perfect when you have less room to work with, but you need to get those casts out there!
Pros
Interchangeable rod tips
Affordable price
Premium features despite the price
Lightweight
Durable
Cons
Some users report tip snapping and eyelets coming apart
A less traditional look may turn some anglers off
---
5. TroutBoy Black Warrior Ultralight Fishing Rod (Best Beginner Rod)
Regardless of the other qualities that a fishing rod needs to be great, the ability to take it anywhere is one of the most important ones. Fortunately, TROUTBOY's Black Warrior ultralight fishing rod manages this by being fully collapsable and great for beginners and experienced anglers alike. The blank for this fishing rod is made from high-density carbon fiber, which gives the rod power while being lightweight. The guide is constructed from stainless steel with a ceramic ring which allows for saltwater or freshwater as needed.
The advantage of a telescoping rod like the Black Warrior is that you can choose from several lengths that each has its own action and power to suit any angler's needs. In terms of an ultralight fishing rod that you can take anywhere with you at a moment's notice, very few others can come close to TROUTBOY's Black Warrior.
Pros
Lightweight and collapsible allows for easy portability
Solid sensitivity
Quality build with traditional materials
Comfortable foregrip made of EVA
Handles smaller fish easily
Allows seven different lengths with different actions
Cons
Slightly more challenging to collapse after use than other telescoping rods
---
6. Sougayilang Telescopic Fishing Rod (Best Telescoping Rod)
As mentioned with the above model, telescoping fishing rods are among the best options for anglers that value portability above all else. Fortunately, the Sougayilang Telescopic ultralight fishing rod does not compromise on the other qualities with its carbon fiber construction and ceramic inserts, ensuring that it performs well in both freshwater and saltwater.
For amateur anglers looking to get into the world of ultralight fishing rods, a telescoping rod is one of the best choices. Many of the higher-end traditional rods are prone to breaking when packed by beginners as they are unfamiliar with how to stow their rods safely. A telescoping rod such as the Sougayilang Telescopic ultralight fishing rod allows beginners and experts alike to simply throw it into their bag, allowing them to be ready for fish at a moment's notice.
Pros
Easy to take anywhere thanks to its telescoping build
Adjustable for multiple lengths
Lightweight and incredible well balanced
Comfortable EVA grip
Cons
Some users have found the most extended lengths to be flimsy toward the end and casting poorly
---
7. Cadence Spinning Rod CR5 (Best Panfish Rod)
Cadence works to provide modern fishing rod designs made of premium materials at a price point that offers excellent value for their customers. The Cadence CR5 Spinning ultralight fishing rod achieves this goal with its graphite and stainless steel construction, premium quality cork, EVA handles, and Fuji reel seat. Unlike many of the other rods on this list, the CR5 offers many configuration options, including both full grip and split grip handles, as well as differing materials for its construction.
Most users report that the CR5 is ideal for catching walleye, largemouth, or panfish in particular, but it has enough strength to handle those times when you manage to hook a large fish with a small lure. Combining this versatility with its ability to fish capably in both freshwater and saltwater, the Cadence CR5 ultralight fishing rod is an excellent balance between form, function, and versatility.
Pros
Very smooth guides
High sensitivity
Excellent price point
Perfect rod for panfish
---
8. Ugly Stik Elite Ultralight Spinning Rod (Best Durability Rod)
Unlike many other ultralight fishing rods on this list, the Ugly Stik Elite Spinning rod is one of the toughest and most durable ultralight rods available. The sensitivity and comfort of this rod are incredible despite its durable construction, and it manages to achieve a moderate fast to very-fast action with a line rating of up to 17 pounds. As the name suggests, this rod may lack aesthetic value for some anglers, but its incredible construction is ready and waiting for those willing to look past its exterior.
The Ugly Stik Elite is one of the most popular rods out there for a reason. That reason is its uncompromising durability and responsiveness, especially when fishing with light lures. The Ugly Stik Elite will allow you to feel even the slightest hooks without worrying about snapping your rod in half as you tackle those fish.
Pros
Rugged and tough design
Sensitive and shows even slight nibbles
Comfortable handle
Very budget-friendly
Seven-year warranty
Cons
It has a "take it or leave it" aesthetic and build quality that may turn off some anglers
---
9. Berkley Lightning Rod Trout Rod (Best Trout Fishing Rod)
Berkley rods stand out with their attention to detail in terms of durability and sensitivity. The Berkley Lightning Trout Rod is no exception to this rule, thanks to the high-quality aluminum oxide inserts that prevent slippage that occasionally happens with light lines. As the name suggests, this rod is designed with trout fishing in mind, but it can handle anything in that range with its IM6 carbon fiber blank that ensures an incredible cast and power even in a 2-piece setup.
This model is famous for its incredible sensitivity while maintaining power and ensuring that you feel even the slightest bites. Thanks in part to its double-locking reel seat, the Berkley Lightning Trout rod has become one of the strongest and lightest rods in its class, and it will not disappoint anglers looking to give the Berkley name a try.
Pros
Many high-quality guides
Smooth action
Fast and strong
Lightweight
---
10. Shakespeare Micro Spinning Rod (Best Budget Rod)
Shakespeare is known for making versatile, durable, and, most of all, budget-friendly rods, and the Shakespeare Micro Spinning rod lives up to all of those criteria. This rod is designed of composite graphite with a cork handle that provides a comfortable and easy grip. While it's unable to match many of the other rods on this list in terms of casting distance, it offers good value for its meager price tag.
The trade-off for the lower price tag is that this rod is somewhat prone to breaking if you attempt to haul in something over 10 pounds. However, this rod is one of the best ways for beginning anglers to dip their toes into the world of ultralight fishing rods without breaking the bank. The Shakespeare Micro is one of the best ways to find out what you like and dislike before making a more costly investment.
Pros
Incredible affordability
Reasonably sensitive
Waterproof and corrosion-resistant guides
Lightweight
Cons
Less than average build quality
Known to break occasionally
---
Ultralight Fishing Rod Buying Guide
As with any other purchase, knowing the best ultralight fishing rod to buy comes down to understanding your goals and intentions. For many anglers, the decision starts with whether they want to buy a casting rod or a spinning rod, which does not apply to ultralight rods. While ultralight casting rods and their accompanying small reels do exist, they do not provide nearly the efficacy that ultra-sensitive spinning rods do in the category.
Since much of the terminology and information provided in this buying guide might be challenging for newer anglers, we have compiled many frequently asked questions and misunderstood concepts below. Read through the following section as you consider your ultralight fishing rod purchase to ensure you are well prepared when the time comes.
Blanks, Guides, Tips, and Other Terminology
If you are new to fishing, the wide variety of terms thrown around can be confusing and difficult to clarify. Before considering which ultralight fishing rod you intend to buy, make sure you brush up on your terminology with some of these essential terms below.
The "blank" is the central shaft portion of a fishing rod.
Along the length of the blank, there are circular rings that you thread with your line. These rings are referred to as guides.
For most fishing and casting rods, the guides face upwards.
For spinning rods (and most ultralight rods), the guides face downward toward the ground instead.
The tip is the thinnest and tiniest guide located at the very end of a fishing rod. This section is also the most flexible portion of the rod.
Weight, Power, and Action
Before diving into this section, it's essential to identify the terms power, weight, and action and how they relate to ultralight fishing rods.
The power or "weight" of a fishing rod refers to the amount of force you need to apply to the fishing rod to get it to bend. Ultralight classifications are suited for catching smaller fish, while ultraheavy is designated for catching deep-sea targets, with many categories in between.
The "action" of a rod describes the location along the length of the rod where the bend occurs. These can range from slow action up to fast action rods.
For perspective, a rod with a slow action will bend right from the tip down to the handle. Conversely, a rod with a fast action will only bend around the top third of the blank. It's worth noting that ultralight rods are not very stiff, which means that the action of every rod on this list will vary between moderately fast and very fast.
One of the many benefits of ultralight rods is that they are relatively consistent across manufacturers, ensuring that you will have fast action and a light weight no matter which choice you select. Additionally, ultralight fishing rods are so light that even the slightest nibble from a fish will send a response through to your hands, which will allow you to react quickly enough to snag even the timidest fish.
Fishing Rod Length
The length of your rod is one of the most crucial factors when choosing an ultralight fishing rod. You should base this choice on many factors, including:
Where and how you'll be fishing
The lures you plan to use
The techniques you intend to employ
In most cases, a longer rod will allow you to cast farther, move the line faster, and give you an advantage when fighting a fish because you can apply more pressure thanks to the greater length of the rod. Comparatively, a shorter rod can enable some anglers to make more accurate casts and even accomplish tricks like skipping a lure underneath a dock.
Your location also factors enormously into the length of your rod. If you fish in a brushy area from the banks, you may want a shorter rod to avoid getting snagged on the surrounding foliage. However, if you prefer clearer areas, a longer rod will give you more versatility and power if larger fish take the bait.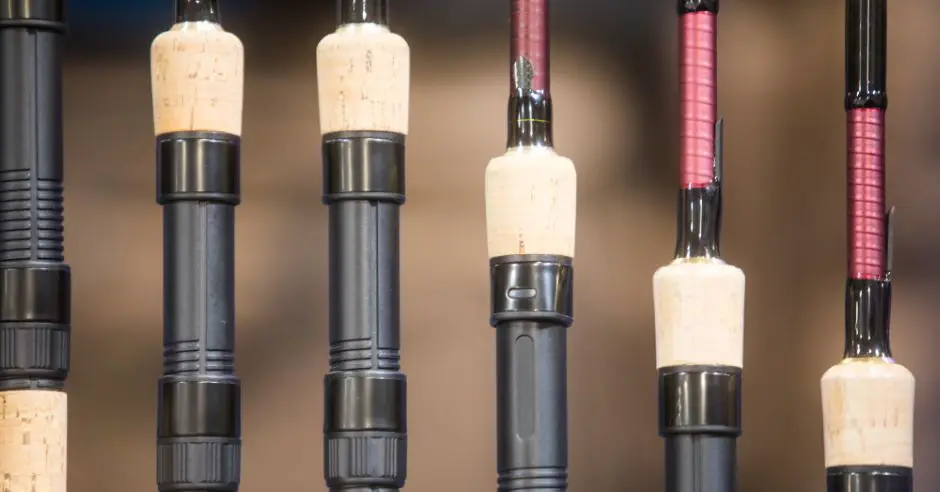 Fishing Rod Materials
Most modern ultralight fishing rods are constructed from graphite. Manufacturers lay parallel graphite fibers down and form them into sheets with resin. Then the resulting material is subjected to high heat, which gives the blank the strength and stiffness it needs to handle the strains of fishing.
Many higher-end rod manufacturers fine-tune the weight and action of their rods with the use of materials like carbon fiber and fiberglass. The hardware like the guides and reel seats can also be made of this higher-end hardware to match. The ultralight fishing rods highlighted in this buyer's guide range from basic to extravagant, and the best indicator of these materials is usually the price.
Reels and Reel Seats
Though it is one of the less-discussed aspects of ultralight fishing rods, the reel seat is the component that holds the reel in place, and as such, is one of the lynchpins of the entire apparatus. The reel seat must be constructed of high-quality materials and ensure that your reel stays in place and functions smoothly no matter how unfortunate the fishing conditions might be.
For ultralight rods, fishing reels must be light and small and fit the size of your rod appropriately. As mentioned above, professional anglers agree that ultralight fishing is accomplished best with a spinning reel due to its easier use and excellent control. Faulty reels are one of the primary culprits behind frayed lines and wobbly rods during fishing. A combination of a good seat and an adequately positioned reel will allow you to slide the reel foot into the collars smoothly to let you tighten the whole setup.
Best Ultralight Fishing Rods: Final Thoughts
Throughout this guide, we have gone over many of the options available in the wide world of ultralight fishing rods. With so many choices available, it can be challenging to recognize the separation of the best from the merely good. However, specific ultralight fishing rods do stand out from the pack for particular needs.
If you are looking for the best of the best when it comes to ultralight fishing rods, the Fenwick Eagle is one of the absolute best choices, with the St. Croix Spinning rod coming in a close second, losing out only due to its high price. The Fenwick Eagle has the staying power of a long-standing brand, an excellent warranty, exceptional build and design, and all available for a reasonable price. This ultralight rod is the best fishing rod for beginners and experts alike and will serve you well for many years.
If you are looking for the best value, the KastKing Perigee II brings an exceptional quality of construction, ease of usage, and many other benefits wrapped up with an affordable price tag. While the modernized design may not be ideal for some purists, its solid construction and wide range of customization options will be suitable for those willing to spend a few extra dollars to get the best results.
Lastly, if you are interested in ultralight fishing rods but need a budget-friendly choice, the Shakespeare Micro Spinning Rod is unquestionably the best option. While its construction quality is undoubtedly lower than that of the other options on this list, it is available for less than $25 in some areas. It is an excellent way to see if ultralight fishing is for you without spending a lot of money on something you may not continue using.
Remember that buying an excellent ultralight fishing rod is an investment that will pay off every weekend that you go fishing. Take this guide into account when purchasing, remember to think about your specific needs while shopping, and you will walk away with an ultralight rod that will last you for hundreds of fishing trips.