Florida in April means Spring is in full bloom, which means gorgeous flowers, warm winds, and sunny skies before the rainy season begins. April is a fantastic time to visit Florida because it's quieter than the summer madness.
April also marks spring break season for several schools in the United States, enticing families to flock to the sunshine of Florida. So whether you are thinking of taking a fun weekend trip to the sunshine state or relaxing on the beach for a week, the weather in April is perfect.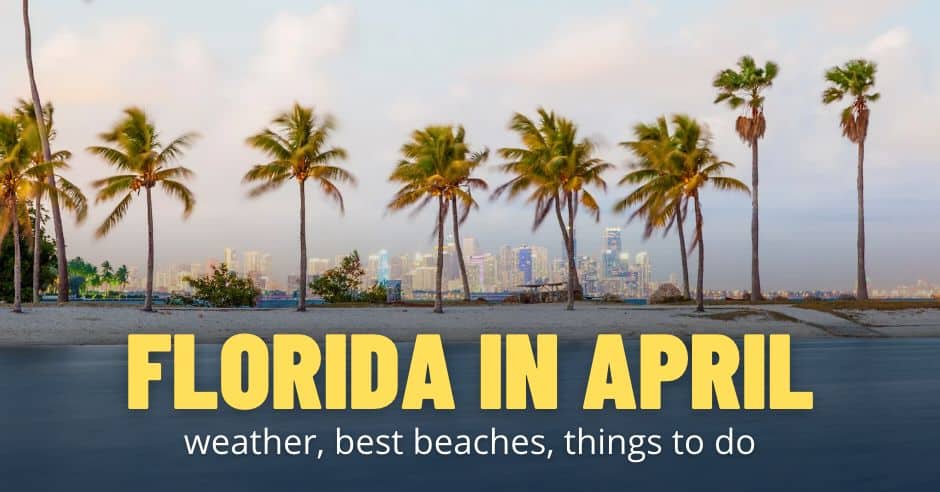 Weather in Florida in April
The Florida weather in April is mild, not too hot, nor too cold, which typically makes this month very popular for visitors. The average high temperatures of Florida in April are between 66-80°F (19-27°C). April is also the dry season offering less wind and more sunny days. Rainfall is typically low in April, and it rains only 3 inches on average in the entire month.
Weather in North Florida in April
The further North in Florida, the cooler the temperatures will be. In North Florida, in April, the temperatures are slightly cooler, with daily high temperatures ranging from 76-81°F (24-27°C). It rarely drops below 66°F (18°C) or exceeds 89°F (32°C). 
Weather in Central Florida in April
April in Central Florida is the sunniest and least humid time of year. In Central Florida, daily high temperatures typically range from 80-84°F (27-29°C) and don't fall below 72°F (22°C) or exceed 90°F (32°C). Temperatures above 100 °F (38 °C) are infrequent in April.
Weather in South Florida in April
April in South Florida is a moderately hot spring month. Daily high temperatures generally range from 80-83°F (26-28°C) and don't fall below 70°F (21°C) or exceed 86°F (30°C).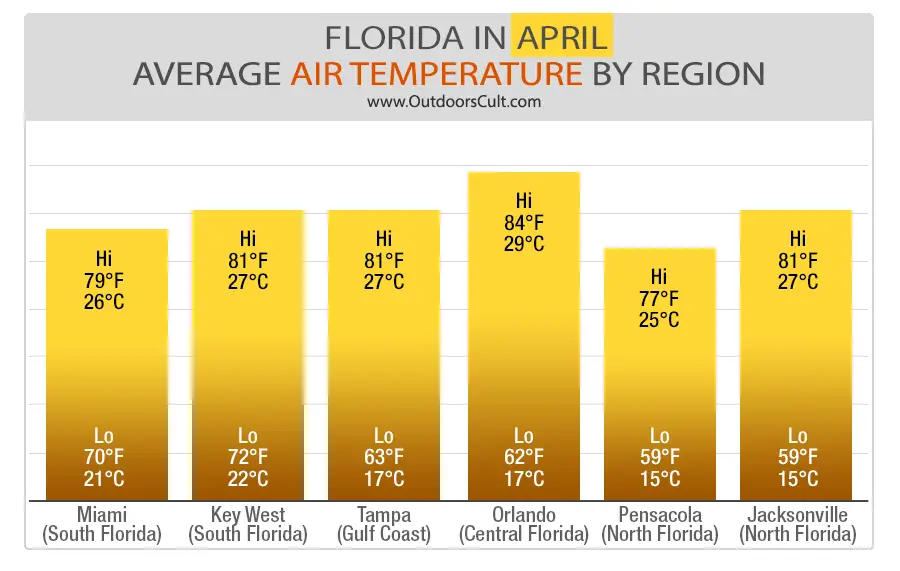 Rainfall in Florida in April
April marks the end of the dry season in Florida, meaning rainfall during this month isn't very likely. The average rainfall in Florida in April is about 3 inches and rarely exceeds 5 inches. 
It's a good idea to keep in mind that thunderstorms are possible during April. These storms are rarely intense and typically pass quickly. Cities on Florida's Gulf Coast tend to see more rainfall during April.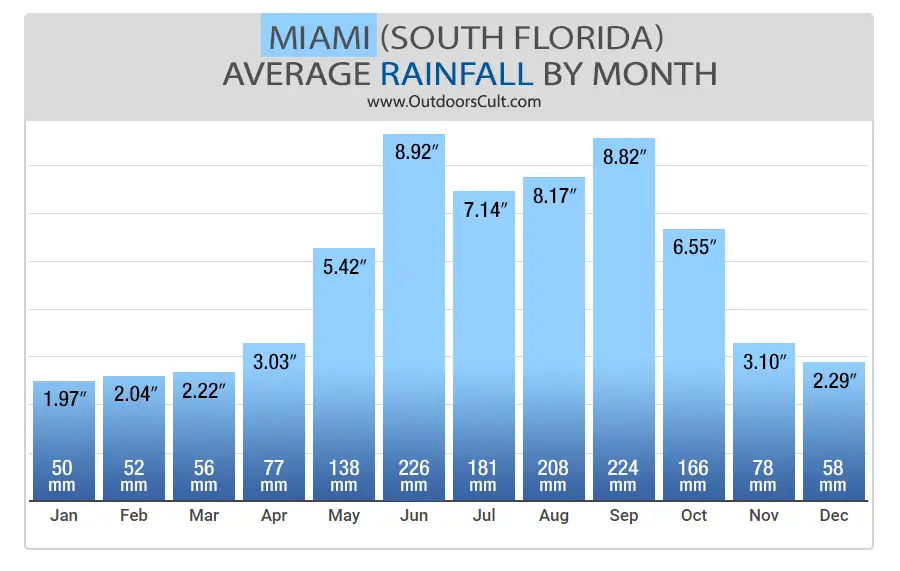 Humidity in Florida in April
Humidity is typically high in Florida, no matter the time of year, because Florida is so close to the Caribbean. The humidity in Florida in April is typically 78% in the morning and around 55% in the afternoon. This isn't bad compared to the summer when humidity is around 80-86%. 
What Time Sun Set in Florida in April?
During April, in Florida, the sun sets around 7:20 pm. So the Sunshine State is a fitting place to witness some of the best sunset views in the United States. 
Sunsets are spectacular in Florida but they are particularly beautiful in April in Key West, Fort Lauderdale, and Homosasses. 
What Time Does the Sun Rise in Florida in April?
Sunrise in Florida in April happens around 5:30 am, although you will need to set the alarm to take in one of the fantastic Florida sunrises. 
Who doesn't love a beautiful sunrise? In Florida in April you can take in an amazing sunrise at Sebastian Inlet State Park, South Beach in Miami, and Amelia Island. 
Hurricanes in Florida in April
Hurricanes are not very likely to happen in Florida in April. However, there is still a slight possibility of a hurricane occurring. 
Florida's hurricane season runs from June 1 to September 30 yearly. During this time, the state has a greater risk of hurricanes than any other state in the United States.
Water Temperature in Florida in April
In April, water temperatures in Florida vary significantly depending on the area, average temperature of around 63°F (17°C) for the entire state. 
Water Temperature in North Florida in April
The water temperatures in North Florida in April tend to be the coolest in the entire state. They remain at the temperate 72°F (22°C), with low water temperatures reaching a chilly 55°F (13°C). 
Water Temperature in Central Florida in April
Central Florida's water temperatures in April are a warm 73°F (23°C), with low water temperatures reaching a crisp 60°F (16°C).
Water Temperature in South Florida in April
The warmest water is found at the southern tip of the state around the Florida Keys and Miami. Water temperatures here hover around 78°F (26°C) with lows of about 72°F (22°C). 
Warmest Florida Beaches in April
Florida is a favorite choice for spring beach vacations because the temperatures in April are already much warmer than many other U.S. beach destinations. For those who are thinking about soaking up the sun and relaxing by the sea, it's essential to know where the warmest beaches in Florida in April are.
In southwestern Florida, you'll find some of the warmest beaches in the state, including Naples Beach, West Palm Beach, Siesta Key, and Fort Lauderdale. In addition, visiting beaches on any of the Florida Keys( Key Largo, Big Pine Key, Marathon) will mean warm and calm waters. 
What to Pack for Florida in April
When packing for Florida in April, beach weather is in full swing. One of the first items you'll want to place in your suitcase is a swimsuit, cover-up, hat, and sunscreen. 
Packing shorts, sleeveless tops, and sandals are also a good idea. If you are staying somewhere that requires it, resort-casual clothing is excellent for going out to dinner. 
You'll also need comfortable walking shoes or support sandals if you plan to visit some of Florida's most popular destinations in April. A light waterproof jacket is also necessary since rain during April can take you by surprise. 
Pack a light sweater or long-sleeved shirt to enjoy the chilly Florida evenings outdoors.
Crowds and Rates in April
Although spring break can influence the beginning of April in Florida by the end of the month there are great deals on accommodations. During spring break, beaches are the most popular destinations for spring breakers and families.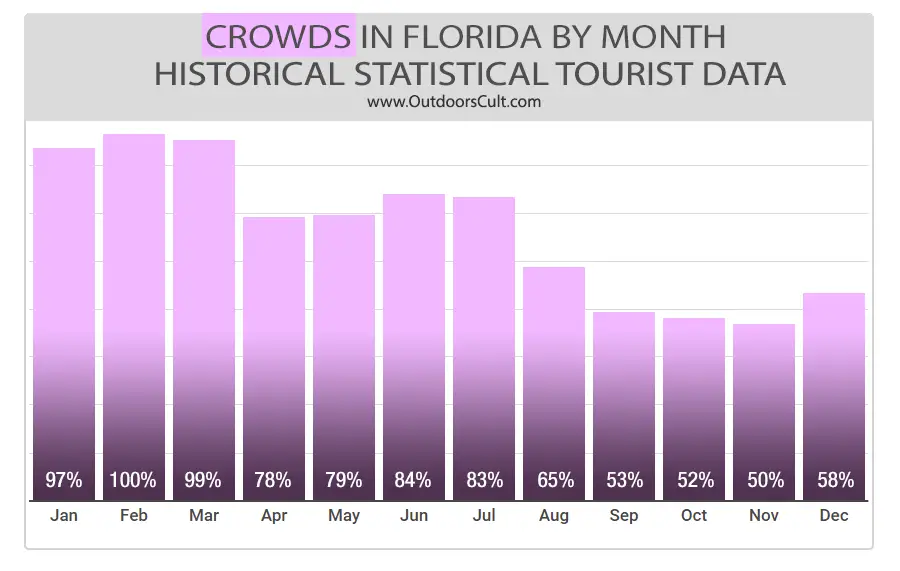 Spring breakers have left by the second half of the month, but the Summer crowds haven't descended on Florida yet. Nevertheless, it's a great time to visit Florida and is considered a shoulder season. Accommodation prices typically range from $150-$500 depending on location and luxury rating. 
In the month's second half, accommodation prices and theme parks tend to drop. However, keep in mind that destinations in Florida with a more significant number of snowbirds, such as Fort Myers, Sarasota, and St. Petersburg, will have higher prices during the month of April. 
Things to Do in Northern Florida in April
Discover The Ancient Sinkhole At Devil's Millhopper
In Gainesville, Florida, you'll find the Devil's Millhopper. Boasting one of Florida's most unique geological wonders, this is a can't miss for any trip to Northern Florida in April. 
This National Natural Landmark is home to a 120-foot deep, 500-foot wide, and 10,000-year-old limestone sinkhole. The 71-acre park features an observation deck where you can see into the bowl-shaped cavity of a miniature rainforest filled with beautiful, towering live oaks.
Explore Ichetucknee Springs State Park
At one of the most beloved state parks in North Florida, paddlers and tubers can enjoy the beautiful waters of this state park. Ichetucknee Springs State Park in Fort White is the perfect spot for some outdoor adventure. 
Its six miles of cool, crystalline spring-fed waters and nine sparking crystal springs are sure to melt your stress away. You can float or paddle under a canopy of shaded cypress trees and live oaks. 
Things to Do in Miami in April
Visit The Vizcaya Museum And Gardens
While most only view Miami as a beach town, that's not all it has to offer. The area's richness in cultural heritage displayed at this museum is the National Historic Landmark that is worth a visit. 
The Italian-style architecture is a great example of the architecture of the Renaissance Period. While at the museum, you can take in beautiful artwork from the 15th to 19th Centuries. The collection of European furniture is also a significant draw. In addition, the garden has Italian and French-style pools, fountains, and sculptures.
Eat Your Heart Out At The Redland Blues And BBQ Festival
The Redland Blues and Barbeque Festival is a can't miss event that happens annually at the beginning of April. This is the perfect event for foodies and music lovers. This event is great for all ages and is located in a beautiful Fruit & Spice Park setting. This unique destination is dedicated to cultivating fruit trees in the South Dade region. 
Admission to the festival is around $15 USD for adults and $8 USD for kids ages 6 to 11, and free for kids under 5.
Things to Do in Central Florida in April
The Epcot Flower and Garden Festival
For seven weeks, from March through May each year, you can enjoy the natural wonders of Epcot. In addition, the Walt Disney World resort hosts its annual flower festival that displays over 30 million blooms. 
The celebration is breathtaking as roses, wildflowers, topiaries, and herb gardens flourish. 
Take In The Sights From Above
The Wheel, in ICON Park on International Drive in Orlando, is a fantastic way to see all of the best sights. Riders of all ages will love taking in the views and can even control the music inside the air-conditioned cabin. 
This isn't your average Ferris wheel. Instead, a stunning 400-foot-tall Observation wheel gives you a view of Orlando like no other. Tickets for The Wheel start at $28.99 per person, and it's the ideal way to begin or finish your vacation. 
April Travel Tips
Due to Spring Break crowds congregating at theme parks during the beginning of April, it's only a good idea to visit these parks toward the end of the month.
April is terrific if you're looking for a great month to go fishing. You can catch popular species, such as cobia, tarpon, red grouper, and lane snapper, which are biting all month long.
April is the best time to kayak in Florida's lush waterways. 
What Part of Florida is Best to Visit in April?
April is one of the best times to visit Florida! Depending on your interests, there are many different places to explore. 
If you like the beach, head to the Gulf Coast or Atlantic Coast in South Florida for stunning beaches and clear blue waters. 
Orlando is also a popular destination to visit Disney World and Universal Studios this time of year.
If you're looking for something more outdoorsy, the best places to visit are the Everglades and Big Cypress National Preserve. They offer fantastic wildlife spotting opportunities this time of year.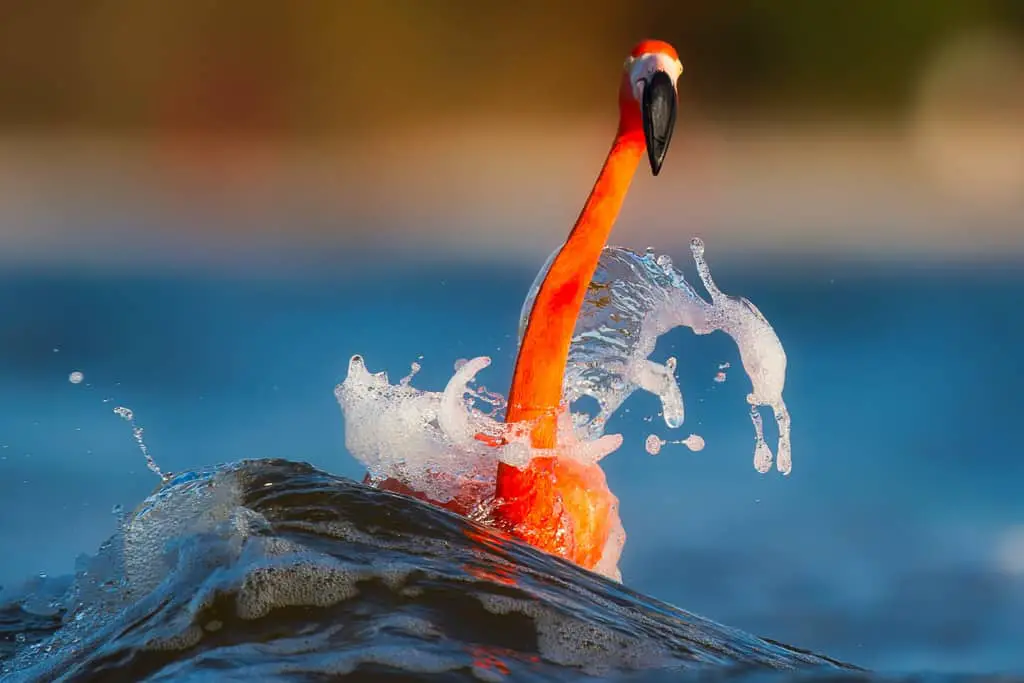 The Keys also offer excellent fishing and diving opportunities and some superb seafood restaurants. 
No matter what part of Florida you visit in April, you'll have an unforgettable experience!
Is it Warm Enough to Swim in Florida in April?
April is a great time to visit the beaches of South Florida and Key West. The temperatures are warm enough for swimming, and the weather is mostly sunny with rare showers. 
Average high temperatures in April range from 78-82°F (24-26°C) in South Florida, while in Key West, the average highs are a bit warmer by a couple of degrees.
Water temperatures can be significantly cooler than air temperatures, especially during early April, but they gradually become warmer as summer approaches.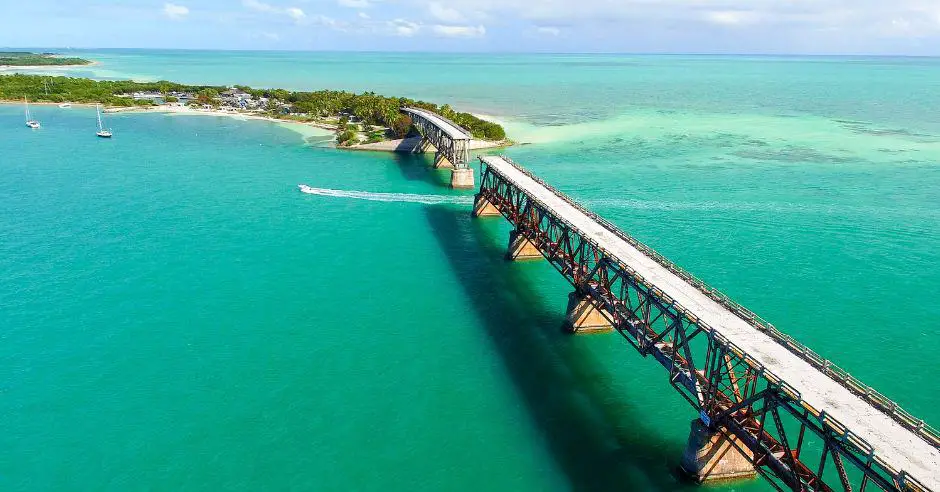 But you should always check local forecasts before heading to the beach, as conditions can vary from day to day. 
Overall it is usually warm enough to swim in South Florida during April.
Is it Better to Visit Florida in April or May?
When deciding between April and May to visit Florida, there are important points to consider. 
April usually has less rain than May, and the humidity is also slightly lower. It makes it more comfortable for outdoor activities. The temperature during April tends to be more pleasant, not too hot or cold. 
Ultimately, both months can offer an enjoyable experience in Florida with sunny days and plenty of activities. 
Still, April is the optimal choice for your trip if you are looking for the most comfortable weather conditions.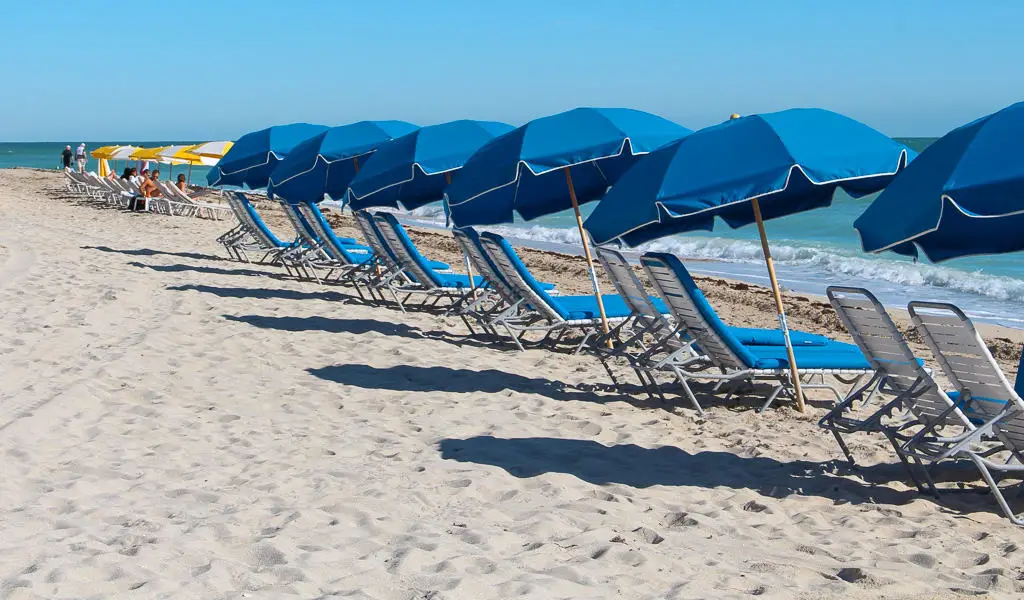 Does it Rain More in April or May in Florida?
April is the last month of the dry season in Florida, which means that the rain is likely to increase as the month progresses. 
May is officially the start of the wet season in Florida, and it tends to be much rainier than April. Generally speaking, April has an average of around 3 inches of rain across the state, while May typically sees closer to 6 inches throughout Florida. 
While not always true, May tends to be significantly wetter than April in most years and areas. 
However, it's important to note that Florida is a vast and diverse state with many different climates and weather patterns; some areas may experience much more or less rainfall than others during these months.
What to Wear in Orlando, Florida in April
April in Orlando, Florida, is a great time to explore the city. The weather is pleasant, with temperatures ranging from the mid-60s to mid-80s during the day and 50s at night. 
It's important to dress appropriately for the weather. 
Lightweight clothing such as shorts, t-shirts, and sandals are ideal for daytime activities. Layering pieces such as long sleeve shirts and sweaters can help you stay warm when the sun goes down. 
A light jacket or raincoat may come in handy if you plan to explore any outdoor attractions like Universal Studios or Disney World. 
Finally, remember to bring your sunglasses and sunscreen!
Which Beaches Have the Clearest Water in Florida?
Florida is home to some of the most beautiful beaches in the world, and some have crystal-clear water. 
The clearest waters can be found in the South Florida region on the Atlantic Ocean. This area receives a large amount of rainfall yearly, which helps keep the waters clean and clear. 
Another great beach destination for those looking for clear water is the Florida Keys. This picturesque area consists of a chain of islands full of mesmerizing coral reefs and marine life. It's also one of the most popular tourist destinations in the state, so you can expect to find beautiful beaches with incredibly clear water here. 
No matter where you choose to go in Florida, you'll find plenty of pristine beaches with crystal-clear water.
Is it a Good Time to Camping in Florida in April?
April is a great time for camping in Florida. This month typically has mild weather with temperatures ranging from the mid-60s to low-80s, and temperatures rarely dip below 50 degrees at night. With plenty of sunshine and moderate rain, this is the perfect time for outdoor activities such as camping. 
The beaches and state parks are usually relatively quiet during this time, too, so you can have a peaceful camping experience. 
Plus, certain times of April mark flower blooming season; wildflowers like trilliums and bluebells blanket the area providing an incredible display of nature's beauty. 
If you're looking for a great place to camp while taking advantage of mild weather, then April in Florida is an excellent choice. 
Visiting Florida in April | Final Thoughts
April is a great month to visit Florida, particularly toward the end of the month. It's a great time to visit for outdoor adventure and to get out on the waterways of the Sunshine State. 
Whether you want to swim in the warm waters of the Keys or explore one of the picturesque state parks, you'll love Florida in April. No matter what you do in April, Florida will leave a lasting impression on those visiting. 
Articles Related to "Florida In April: [Weather, Water Temperature, Places to Visit, What to Wear]"