If you are looking for the top-rated locations for trout fishing in Arizona, you've come to the right place.
The trout fishing community is a tight-knit group that is dedicated to these beautiful fish. Here in Arizona, you will find that the same applies here and there is no shortage of some of the best trout fishing in the country.
Fishing here will only require a basic license, available to purchase at just about any supermarket or gas station. Your basic trout fishing rod will be put to work here, but there are also plenty of places to purchase gear here as well. 
See also: Trout Fishing in California (CA)
Many think of Arizona as just desert, but in reality, it is filled with lush forests and crystal clear fishing waters. From popular tourist spots to secret fishing holes, these five spots are some of the best trout fishing in Arizona. 
Trout Fishing in Arizona (AZ) – Top Spots
1. Oak Creek, Sedona 
Sedona is known as a popular tourist destination because of its beautiful Red Rocks attraction and picturesque landscape.  Little do most people know that it also home to one of the states' best fishing streams called Oak Creek. 
This little-known creek is a go-to for local trout fishermen, as it has great numbers of rainbow and brook trout. Most of these fish are wild and not stocked. Thanks to the creek's crystal clear water, sight fishing is a great way to catch these challenging fish.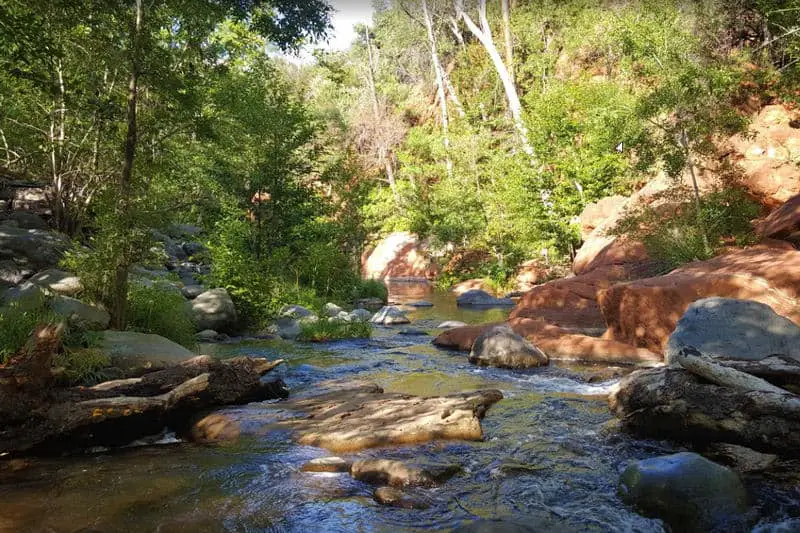 Oak Creek has something for every fisherman, as the creek includes both tight and wide spots, with a range of easily accessible areas and very remote spots. It is also surrounded by Sedona's beautiful red landscape, making it the perfect trout fishing destination. 
2. Black River, Alpine
One of my personal favorite fishing spots, the Black River is a few minutes outside of the small town of Alpine. High in the pines of the White Mountains, it is the perfect area for anglers wanting to escape the Arizona heat. 
See also: Trout Fishing in North Carolina (NC)
Open terrain, lush forests, and plenty of native wildlife surround this 114 mile long river. It is home to some of the largest brown trout in the state, but you can also catch smallmouth bass, rainbows, and the rare apache trout. The scenery alone might be my favorite part of this river.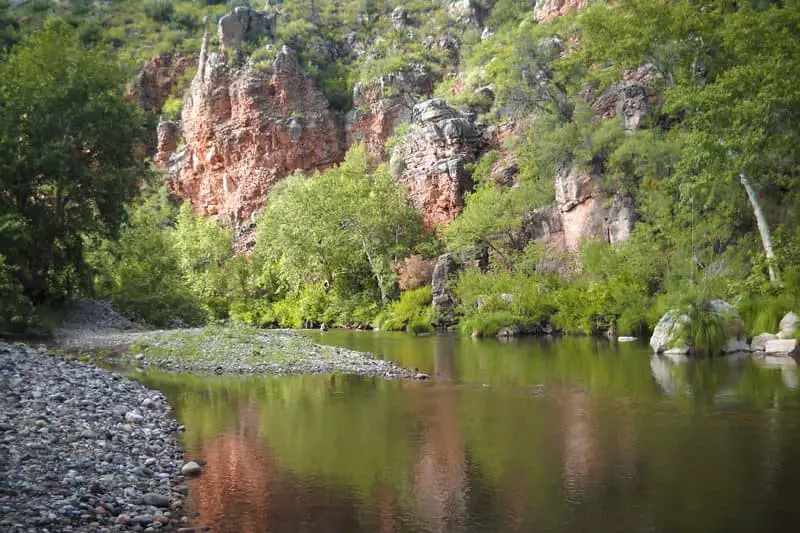 The best spots are along the West and East Forks of the river, both of which are about eight miles long. This river is a fly fisherman's dream location, and the giant brown trout that call these waters home are worth the trip alone. 
See also: Trout Fishing in Tennessee (TN)
3. Silver Creek, Show Low
Silver Creek is a go to fishing spot for many reasons. First, it's always stocked full of rainbow and apache trout. It is also home to giant trout, and anglers looking for fat rainbows should consider fishing here. Who doesn't love giant rainbow trout?
See also: Best Camping Spots in Arizona
This creek is located near the town of Show Low, and is state run and operated. This means there is always plenty of fish and action, making it a great choice for beginner anglers. Many spots are easily accessible and catching a fish is almost guaranteed.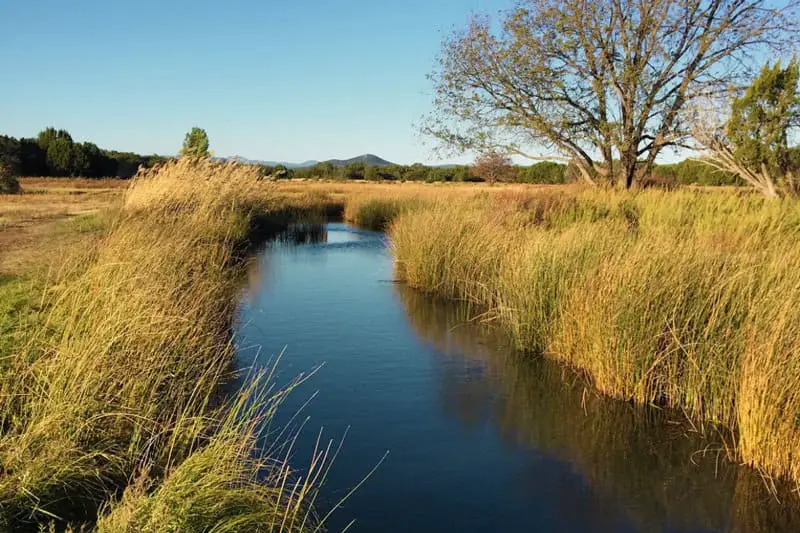 For anglers wanting to chase larger fish, I would recommend the catch and release only section of the creek. This is a treasure trove of larger fish that are easily caught using fly equipment.
There are few special regulations along these waters, but reading up on these rules is well worth the opportunity to fish in these amazing trout waters. 
4. Chevelon Canyon Lake, Payson
My favorite lake in all of Arizona, Chevelon Canyon Lake is a small reservoir located in a remote area of the Mogollon Rim. It is so remote, you can only access it via a steep hike in. Because of how hard it is to access, some of the best fishing in the state can be had in these waters. 
This remote lake is home to absolutely giant brown and rainbow trout, with many state records coming from here. Not only does the access issues help these fish grow bigger, but live bait is also prohibited. 
I would only recommend this lake to more experienced and in shape anglers, but the giant fish and beautiful scenery are well worth the effort. Many times you will have the water to yourself and no shortage of fat trout on the end of your line. 
5. Lower Salt River, Apache Junction
The Salt River is a popular tubing and kayaking destination here in Arizona, but it is also home to some of the best fishing for any species of fish you want. Only 40 minutes from Phoenix, it is a favorite for anyone looking for a quick fishing trip.
The Salt River is special because it is the only cold water trout fishery in the desert in the entire country. It is surrounded by desert scenery including high canyon walls and plenty of Arizona wildlife.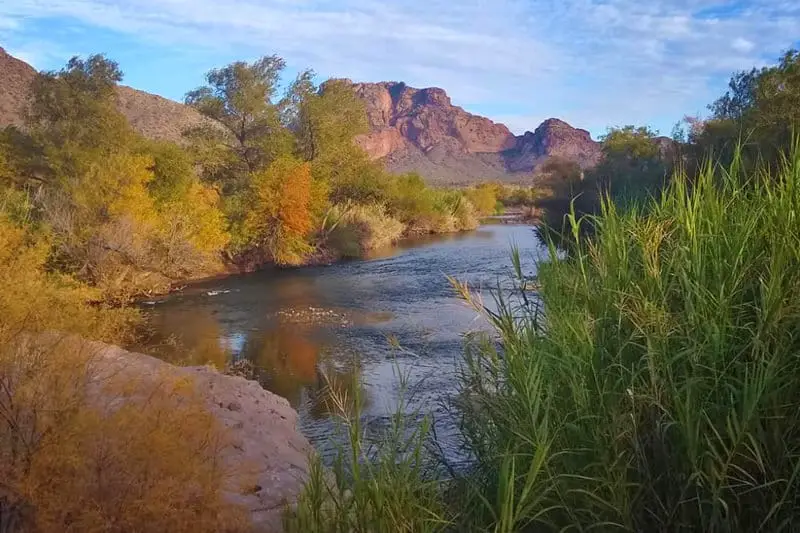 Most anglers here will be after the giant bass and catfish that call these waters home, but there are healthy populations of rainbow trout throughout most of the river. And the best part? This river is fishable year round, and easily accessible. 
6. Lee's Ferry
Lee's Ferry is perhaps the most famous and popular trout fishing location in all of Arizona. Found on the Colorado River near the town of Page, it is a special trout fishery that can grow fish to great sizes.
Full of wild rainbow trout, this tailwater fishery flows for over 15 miles out of Lake Powell. Many people visit it as it is close to the Grand Canyon and the water is crystal clear.
While Lee's Ferry does take a little more work to hike to and access, the trip is well worth it. It has fishing year-round and has some of the most beautiful views available for a fly fisherman. 
7. Canyon Creek
Canyon Creek is a small tributary off of the Salt River and is around fifty miles long. It gets its start on the Tonto National Forest and makes its way through the White Mountain Apache Indian Reservation. 
Thanks to many restoration projects over the years, this creek has become an incredible fishery. You will need a special permit to fish on the Indian Reservation, but the small fee is well worth it. 
There are plenty of great stretches of the creek that produce fish year-round, and public access is easy to find. For the most numbers of fish, try fishing around the fish hatchery and below it. 
8. Bright Angel Creek
Bright Angel Creek is probably the hardest to access location here on our list, but you can rest assured that you will not be side by side with other anglers when you travel and fish here. 
Found on the North Rim of the Grand Canyon, you will have to endure a seven-mile hike with a 5000-foot elevation change in order to get to the best fishing locations on this creek. But because access is so difficult, the fishing is incredible. 
Here you will find wild populations of rainbow and brown trout that can grow to great sizes. Be prepared to spend a night in the canyon and you will have one of the best trout fishing experiences of your life!
9. Big Bonito Creek
Big Bonito Creek is located on the Apache Indian Reservation, and like other locations on our list, will require you to buy a permit to fish. Again, this small fee is a tiny price to pay for the incredible fishing that is available. 
This eleven-mile long stream has plenty of great access points and is home to bass, rainbow, brown, and the native Apache trout. It is recommended to bring a vehicle with high clearance, as some of the access roads can be a little rough!
While this creek might not be the best place to go fishing during the summer because of the hot weather, it is home to some large trout and can be a great place during the spring and fall.
10. Reservation Lake
Reservation Lake is found in the White Mountains and is not too far of a drive from the Black River. It has a reputation for producing some amazing brown trout, often record sizes. The lake is big enough to hide fish and allow them to grow to great sizes.
In order to best fish this lake, it is highly recommended to bring a boat or float tube. If you do not have one, you can still find access points around the lake that can provide some fishing from shore. 
Reservation Lake is found on the White Mountain Apache Indian Reservation, so you will need to buy a special permit in order to fish it. The price is well worth it, however, as you will find some of the biggest fish in the state.
When Does Trout Season Start in Arizona
If you want to fish any waters in Arizona, it is important to carefully read the regulations! Many trout fisheries here offer year round fishing. Yes, you read that correctly, you can fish year round in many places. At places that are more managed, trout season usually starts in September and will run to March for warm weather fisheries, while cold climate fisheries run from March to August. 
See also: Trout Fishing in Oklahoma (OK)
Many places have also implemented catch and release rules, or minimum size requirements to keep a fish. Be sure to carefully read the regulations about the body of water that you would like to fish before going. The best place to find these is the Arizona Game and Fish Department's website at https://www.azgfd.com/fishing/regulations/
How Much Is a Fishing License in Arizona
Arizona offers a few different options when it comes to fishing licenses, depending on your age and how long you want the license to last.
For a year-long license, it is going to cost a  nonresident to the state $55, and a resident $37.
For short term visits and vacations, you also have the option to purchase a combo hunting and fishing short term license for only $20 a day for non-residents and $15 a day for residents.
Youth fishing licenses are available for only $5 and are good for one year.
See also: Trout Fishing in Missouri (MS)
For more information and to see all of the license fees, you can visit the Fish and Game's website at https://www.azgfd.com/license/. 
Where to Buy a Fishing License in Arizona
The easiest and most efficient place to buy a fishing license in the state of Arizona is on the Arizona Game and Fish Department's website. You can print out your license directly from the website, and can even reprint it should you, unfortunately, misplace it.
See also: Trout Fishing in Utah (UT)
Other places that you can buy a fishing license in person are retail stores such as Cabelas, Bass Pro Shop, Sportsmans Warehouse, any Walmart in the state, as well as many other small convenience stores and gas stations.
A full list of all the fishing license dealers in the state can be found on the Department's website at https://www.azgfd.com/license/. 
Final Thoughts
Arizona is a special place and a little known trout fishing destination. There is something here for every angler, no matter their skill level, preferences, or fishing method. There is so much more than the desert and cactus, and the beauty will leave you speechless.  If you have never fished in the Grand Canyon state before, now is the time to start planning a trip!
Articles Related to "Trout Fishing in Arizona – Top Spots with Map"