Anglers continue to visit Tennessee year after year to enjoy the state's plentiful fishing opportunities. Trout fishing in Tennessee has over 22,000 miles of streams, 29 reservoirs, and over 300 different species of fish. This gives an angler plenty of options when it comes to finding a good place to go fly fishing. 
The eastern part of the state is generally best for its trout fisheries, and healthy populations of wild trout live in its waters. Anglers here will enjoy catching good numbers of brook, brown, and rainbow trout in the clear, cold waters. The mountains also make for some beautiful scenery, only adding to the overall experience of fly fishing here. 
See also: Best Spots for Trout Fishing in Washington
Although Tennessee has plenty of water to fish, there are a few places that tend to stand out when it comes to some great fishing. Here are a few locations that offer some of the best trout fishing that Tennessee has to offer.
Top Locations for Trout Fishing in Tennessee (TN)
1. Little River
Much like the name implies, the Little River is small. It is, however, one of the best trout streams in the entire state. The stream is broken into five sections, each with its own unique fishing opportunities. Each section has its own pros and cons, but each one is unique and has plenty of fish in it. 
See also: Trout Fishing in Washington (WA)
While small in size, this stream is home to healthy populations of wild brown, brook, and rainbow trout. Anglers will enjoy the variety of terrain in the various sections that will allow them to find areas that best suit them and their style of fishing.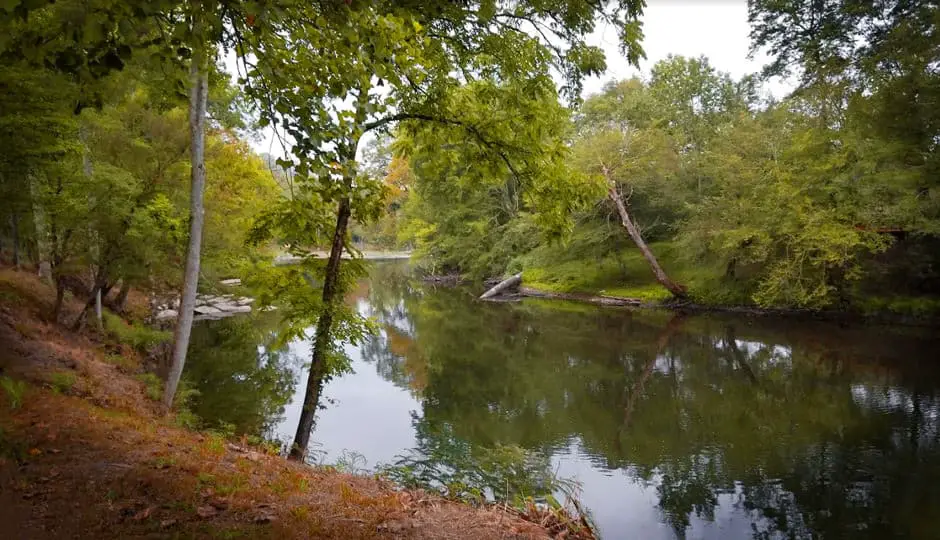 See also: Trout Fishing in Pennsylvania (PA) – Top Spots
Each section of this stream is different and has slightly different rules and regulations, so it is important to know them before heading out. The effort will definitely be worth it though, as this stream is beautiful and the fishing is amazing. 
2. South Holston Creek
South Holston Creek is a premier Tennessee trout destination because it is home to over 8,500 fish per mile. About 85 percent of these are wild brown trout that have growing populations and grow to some decent sizes. 
Brown trout over 10 pounds have been caught in this stream, and fish that are 16 to 22 inches are protected and must be released. Because of the cold water, these browns can grow to great sizes. Rainbow trout are also regularly stocked here as well. 
See also: Top Trout Fishing Spots in Kentucky
Because the water remains cold and does not fluctuate much during season changes, South Holston Creek is a great year round trout fishery that could also produce the fish of a lifetime for an unsuspecting angler. 
3. Hurricane Creek
Hurricane Creek is a great choice for anglers looking for a little variety. It is home to a number of different fish species and has different types of terrain and water that can be waded or fished from shore at one of the many public access points. 
See also: Utah's Top Trout Fishing Spots
Many anglers will head to Hurricane Creek to pursue rainbow trout, which are stocked here at least three different times during the spring months. There are also large numbers of bass and panfish as well, drawing in anglers from the surrounding areas.
Some areas of the creek run through private property, but many landowners will allow fishing if asked. Be courteous and polite and you may just gain access to fish some beautiful rainbow trout water. 
4. Citico Creek
Anglers searching for a quiet, secluded place to fish will be drawn to Citico Creek. Tucked away in the Cherokee National Forest, it is the perfect place to enjoy some rugged fishing while still having good access to water. 
See also: Arkansas: Top Trout Fishing Spots
Rainbow trout are the most common fish in this stream and are regularly stocked, but you can also find brown trout. Each is easy to catch here as they don't see a whole lot of fishing pressure because of the location.
Because Citico Creek is home to some endangered species of fish, you must have a special permit to fish here. These can be bought anywhere you buy a fishing license and any nontarget fish that are accidentally caught must be immediately released. 
5. Watauga River
The Watauga River in east Tennessee is home to so many brown trout, that they are no longer even stocked here. Anglers looking for some big, hungry browns will want to pay close attention to this river, as some state record-breaking fish have been caught here recently. 
See also: Top Trout Fishing Spots in Arizona
While there are some giant browns here, the river is also home to a good population of rainbow trout. These big trout populations draw anglers from all over the state and for good reason. The fish always seem to be biting and can grow fairly large.
There is a special section of the river that is designated as a quality trout section that only allows fishing with artificial lures and has special restrictions. This area is your best bet at a huge brown, just be sure to follow all rules pertaining to this section.  
6. Abrams Creek
Abrams Creek is one of the most unique trout fishing locations in Tennessee. It is found inside of Cades Cove in the Great Smoky Mountain National Park and has some incredible scenery to go along with it. 
While it may not be the easiest fishing location to access, it is one of the best because of its high numbers of wild trout and the amazing scenery that surrounds the entire location. 
This creek has large pools and great nutrients in the water that result in some of the largest rainbow trout in the entire state. If you don't mind doing a little bit of hiking, this is one location that you don't want to miss out on. 
7.Clinch River
The Clinch River is known as being one of the oldest tailwaters made for flyfishing in the state of Tennessee. Found on the eastern side of the state, it has thirteen miles of tailwater that gets its start from Norris Dam and goes all the way to the city of Clinton. 
This is the best section of the river as it has the most consistent water temperatures that help to grow some large brown and rainbow trout. Fish from four to eight pounds are not uncommon here, and the state record brown trout once came from this river. 
If you can fish here during the middle of the week, you will most likely have the entire place to yourself. Bring a pair of waders, and you will have no problem finding the pools where the big fish like to hide. 
8. West Prong Stream
This stream is such a great fishery, that it is one of only eight streams in the Great Smoky Mountain National Park where it is actually legal to catch and keep brook trout. It is also home to a great population of rainbow trout. 
West Prong Stream is found at a high elevation, so the water is always cold and clear. During a hot summer, this is easily one of the best places to be fishing in the state!
While this stream is easily accessed thanks to the Newfound Gap Road in the park, it can also be a little tricky to fish because of the large boulders and pools found along with it. Using caution, however, any angler can easily find some good success along this mountain stream!
9. Duck River
Found in the central portion of the state, Duck River is easily accessed thanks to more than thirty public access points. On top of the many opportunities to catch high numbers of fish, it is easy to see why this is one of the top trout locations in the state. 
In this river, you will find plenty of brown and rainbow trout to catch. Many anglers will be fishing here for other species as well, including smallmouth bass, catfish, largemouth bass, and freshwater drum.
Rainbow and brown trout are stocked annually in this river, and some fish over 20 inches have been caught here. With so many access points and nearby accommodations, this is a great place to get started if you find yourself in Tennessee. 
10. Cane Creek
For anglers who prefer small steams to rivers or lakes, look no further than Cane Creek near the town of Cookeville. Here the rainbow trout are the stars of the show and there is no better place to fly fish for them. 
This creek gets stocked in the winter and early spring before the best fishing during the spring. There are plenty of access points to get to the water, so it can be a little crowded after getting stocked. 
While it may get a little crowded on the weekends, if you do a little bit of walking you can usually get away from the crowds. In return, you will be rewarded with some excellent rainbow trout fishing during almost any time of the year.
When Does Trout Season Start in Tennessee
Tennessee is very liberal with their trout seasons and allows year round fishing in most places. Of course, there are a few exceptions that have special regulations, but for the most part anywhere in the state is open to fishing which gives anglers plenty of opportunities to get out there and catch some fish. 
See also: Best Spinning Rods for Trout Fishing
When heading to Tennessee to go fishing, be aware of the rules and regulations regarding the body of water that you intend to fish.
More detailed information can be found on the Tennessee Wildlife Resource Agency's website at  https://www.tn.gov/twra/fishing.html.
How Much Is a Fishing License in Tennessee
The state of Tennessee offers a wide variety of options when it comes to fishing licenses. How much a license will cost you will depend on whether or not you are a resident of the state, and how long you want to fish for.
Annual resident fishing licenses cost $34, while nonresident annual licenses cost $50.
Nonresidents can also purchase a 3-day license ($$20.50) or a 10day license ($30.50) depending on the length of their stay.
Both non-residents and residents alike must also purchase a trout license ($22)  in order to fish for trout.
See also: Best Spinning Rods for Trout Fishing
For more information on Tennessee fishing license fees and permits, you can visit the Tennessee Wildlife Resources Agency's website at https://www.tn.gov/twra/license-sales/.
Where to Buy a Fishing License in Tennessee
Tennessee hunting and fishing licenses go on sale every year in February. Most licenses are available from most county clerks, sporting goods stores, hardware stores, boat docks, online, and from all TWRA offices. 
You can find a complete list of all of the license vendors across the state at https://www.tn.gov/twra/license-sales.html, but it is usually recommended to buy your license online where it is easier, as well as convenient. 
Final Thoughts
Tennessee is a beautiful state that is not very well known for trophy-sized trout, but any resident trout angler will tell you that there are monsters found in these waters. On top of having plenty of options according to your fishing style, there is always a chance to land that big fish of a lifetime here!
Articles Related to "Trout Fishing in Tennessee (TN) – Top Spots with Map"