Everybody seems to have their own opinion on what makes the best bait for trout. What you use will largely depend on where you are fishing and how the water is stocked.  Some fishermen love fishing with trout lures, but it's hard to beat fishing with a mixture of commercial and natural baits.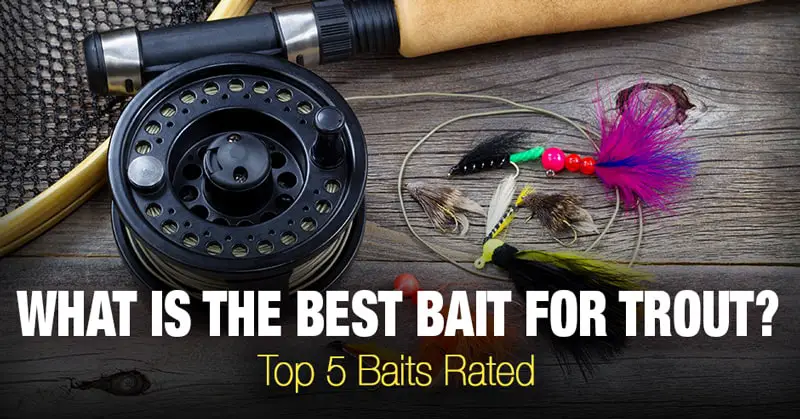 While there's a little bit of truth in everyone's opinion, there are few surefire ways to fill your cooler this fishing season. These five best baits for trout fishing are not your only option, but they sure are a good start.
Best Bait For Trout Fishing
5.  Salmon Egg
Salmon eggs have been a staple of trout fisherman for as long as anyone can remember. Luckily, foraging for salmon eggs is as easy as going to your local sporting goods store.
We might pay big money for caviar, but that doesn't mean salmon eggs are expensive.  For a few bucks, you'll be stocked with enough eggs for your whole fishing trip.
Salmon eggs have always been hit or miss for me depending on my location. But, if you're new to trout fishing salmon eggs are a great place to start. They are easy to fish, very inexpensive and attract a lot of bites.
The main limitations of artificial salmon eggs are their lack of a strong scent trail and their sinking design will limit how a rig is setup.
4. Nightcrawlers Minnows and Other Live Bait
When the waters high and muddy a natural trout bait works the best. There are a ton of different natural options that you can choose from, but it's hard to beat the classic nightcrawler and minnow.
In heavily fished streams and rivers where trout are extremely wary, most people are going to be using minnows. You can use any type of minnow from 1 1/2 to 3 inch. Just hook the bait through the mouth with a size 4-6 hook and toss it in.
In areas down south, you might even want to try crayfish. They are often overlooked and extremely effective trout bait. Small crayfish are great for smaller trout but don't hesitate to go for the big monster crayfish. The largest trout are going to be caught on the biggest crayfish.
Live bait is usually inexpensive (depending on location), is the most natural and lifelike bait a trout can eat and works best in the largest variety of situations an angler will encounter.
They can, however, be very messy and much harder to keep on a hook.
3.  Scented Marshmallows
I can remember walking up on a fisherman as a kid with a large haul of trout and asking him what bait he was using.  He gave me a jar of marshmallows and told me how to use them. They weren't the type of marshmallows I was accustomed to around the campfire. It was a small jar of colorful fishing marshmallows with a natural scent.
That weekend I caught a few of the largest trout I've ever seen on those little marshmallows, and they are only gaining in popularity among anglers as excellent trout bait. They are cheap, easy to use with so many different scents to choose from, not messy, and you can store them for long periods of time.
The only downside is that they tend to break down fairly quickly when in the water, making for more work baiting hooks than normal. 

2.  Artificial and Homemade Dough Balls
Every fisherman should have their own homemade dough ball recipe. 
My favorite dough ball recipe uses a combination of flour, cornmeal, sugar, garlic powder, and cheese. These ingredients make a doughy bait that forms easily and holds onto your hook.
If you aren't the DIY/homemade type you can't go wrong with a classic commercial dough ball. 
Whenever I go fishing I like to bring along both my homemade recipe and a commercial alternative just in case.
If you haven't already tried one of the Berkley Powerbait brand doughs you should definitely give them a look. They are readily available anywhere fishing supplies are sold, and their strong scents are great for attracting fish. They are easy to rig and will store almost indefinitely, and you can even pair dough balls with salmon eggs for double the effect.
1.  Berkley Trout Powerbait
Berkley's Extra Scent Trout Powerbait is in a category of its own making. These little colorful jars of bait are easily at the top of its class. Available in a ton of different colors for a reasonable price, Berkley Powerbait is sure to attract a ton of trout.
It has an extremely strong scent and will stay on your hook longer than most nightcrawlers. There's a reason why every bait store carries the Berkley brand. Powerbait work best on recently stocked lakes.  Stocked trout loves any type of dough style bait. They are extremely easy to mold, making them the easiest option for baiting a hook. They come in a wide variety of colors and scents, giving an angler plenty of options depending on their preferences.
Powerbait has a really long shelf life and can be set on just about any rig. The only negative I can think of is after a day of fishing your fingers will smell like powerbait, but you will probably have a limit of fish and won't even notice!
Final Thoughts
The best thing about trout fishing is that there are so many different ways you can do it and a ton of different options when it comes to catching them. Figure out what bait works best for you and your area and you will limit out on some delicious trout in no time!