If you're thinking of visiting Florida in February but are overwhelmed with where to begin, keep reading for everything from the weather in Florida to places you can't miss.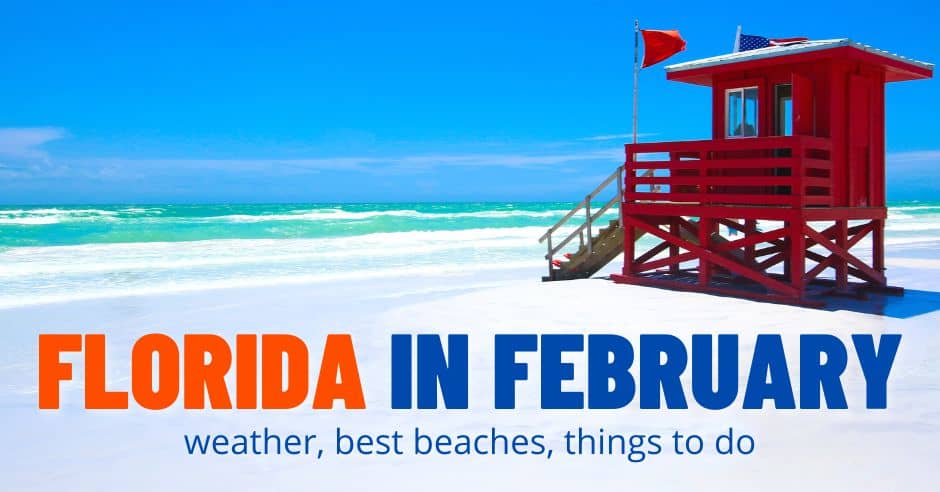 February is one of the best times of the year to escape the cold and visit the sunshine state. With comfortable sunny weather and amazing activities, there is plenty of fun and excitement to be had.
Thanks to the comfortable weather and sunny beaches, Florida in February means a higher number of tourists. If you're in need of a little winter respite and some sunshine, February is the perfect time to visit Florida.
Weather In Florida In February
The average high temperature is 75°F (24°C), while the average low temperature is  58℉ (14℃). February is typically the driest month of the year, making it the perfect time to travel to the state.
The weather in Florida in February is a bit unpredictable, but it's overall one of the coolest months that the sunshine state experiences.
Temperatures do vary depending on location, and you can expect cooler temperatures in northern and central Florida.
Weather In North Florida In February
In North Florida, in February, the average daily highs are around 68°F (20°C), and the average daily lows are about 45°F (7.2°C).
The northern part of the sunshine state tends to see cooler temperatures during the month of February.
Weather In Central Florida In February
Central Florida is a bit warmer during the month of February. Average daily high temperatures are around 75°F (24°C) but rarely dip below 60°F (16°C) during daytime hours. While average daily low temperatures hover around 55°F (13°C) and rarely dip below freezing.
Weather In South Florida In February
Thanks to its subtropical location, South Florida is where you will find the warmest temperatures in February.
Average daily highs hover around 77°F (25°C) you'll rarely experience temperatures below 70°F (21°C). The average daily lows fall around 65°F (18°C), making for comfortable temperatures both day and night.
Rainfall In Florida In February
February is Florida's driest month of the year, and rain is very unlikely. While it may not happen often, there is still a slight possibility of rain during the month due to Florida's unpredictable weather.
It's important to note that February brings more wind and fog to the state, making morning commutes between 6 am – 9 am a bit more difficult.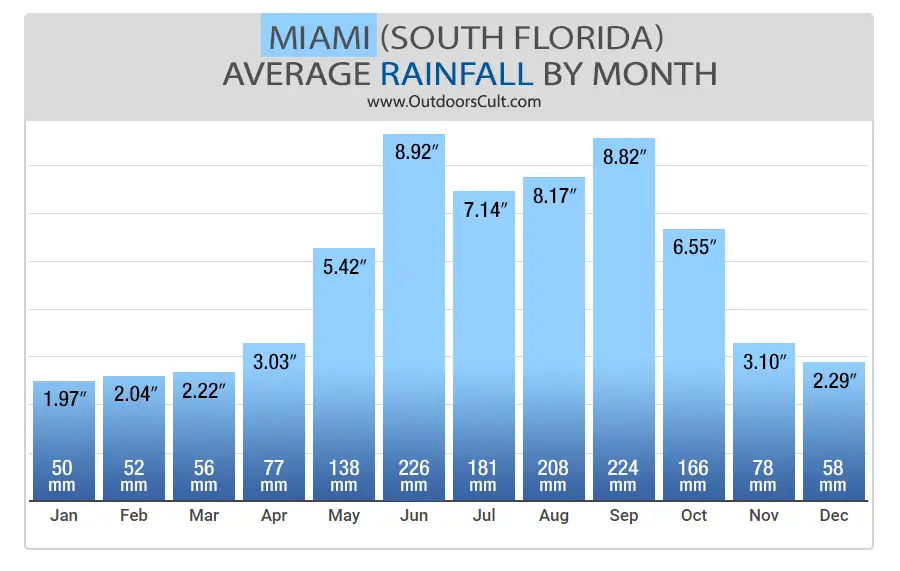 Humidity In Florida In February
Florida has some degree of humidity no matter the time of year, but thanks to the dry nature of February, most won't notice any humidity at all. Humidity typically ranges from 57% to 87% in February and tends to be at its height around 7 am.
What Time Sun Sets In Florida In February?
Florida has some beautiful technicolor sunsets in February, and watching a sunset is a must-do when visiting the sunshine state. The sun sets in Florida in February around 6:20 pm.
Cedar Key, the Naples Pier, Clearwater Beach, and Destin are some of the best places to take in a sunset in Florida. 
What Time Sun Rises In Florida In February?
In Florida in February, the sun rises by 7:15 am, making it perfect for those who aren't early risers to catch a magnificent Florida sunrise.
There are many great places to take in a Florida sunrise, but some of the best are Cocoa Beach Pier, Canaveral National Seashore, and Big Talbot Island.
Hurricanes In Florida In February
Hurricanes are very unlikely to happen during this time of year, but there is still a possibility.
Florida's hurricane season runs from June 1 to September 30 every year. During this time, the state has a greater risk of hurricanes than any other state in the United States.
Water Temperature In Florida In February
Water temperatures in Florida in February range greatly based on location. Generally, water temperatures range somewhere between 50°F (10°C) to 60°F (20°C).
Water Temperatures In North Florida In February
The average water temperature in North Florida in February is around 58°F (14°C).
North Florida isn't the ideal place for a beach vacation during the month of February, but there are plenty of other options.
Water Temperatures In Central Florida In February
In February, the average water temperature in Central Florida hovers around 67°F (19°C).
If you are visiting Orlando and decide to drive to Daytona Beach, expect cooler water temperatures.
Water Temperatures In South Florida In February
You'll find water temperatures in South Florida are the most temperate at around 70°F (21°C).
South Florida is the best destination for a beach vacation in February, thanks to its warm temperatures and mild water temperatures.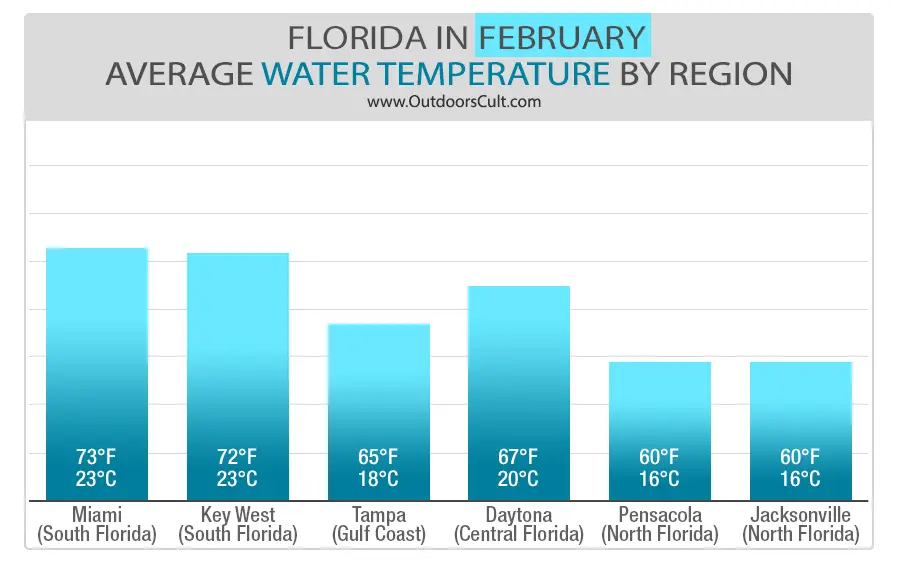 Warmest Florida Beaches In February
February is one of the busiest months of the year for Florida beaches, thanks to the warm temperature and mild water temperatures. Some of the warmest Florida beaches in February are…
Miami Beach
Miami is well-known for its beautiful ivory-sand beaches and vibrant nightlife. This city is often the warmest in the continental United States during the month of February, making the beaches here the best to visit. The average water temperatures during February are around 76°F (24°C).
Miami Beach has several amazing beach options, but South Beach is the most popular and famous. This iconic beach is the place to be, with miles of plush sand, a happening boardwalk, and plenty of things to do.
West Palm Beach
West Palm Beach is known for having some of the warmest waters in the sunshine state during February. The water temperatures are a mild 74°F (23°C) at West Palm Beach beaches during this time of year.
There are several amazing beaches in the area, including Palm Beach, a family-friendly beach that offers soft sand, warm water, and even possibilities for wildlife sightings too.
Delray Beach is another great beach option that allows visitors to enjoy the typically warm Florida waters and soft white sands. It's ideal for sunbathing and casual swimming, thanks to the shallow and calm waters.
Key West Beaches
Thanks to its southernmost location, the beaches of Key West are some of the warmest Florida beaches in February. With daytime temperatures reaching a pleasant 77°F (25°C) on average, and water temperatures not far behind at 74°F (23°C), it's not hard to see why these beaches are popular.
One of the best beaches to visit in February is Smathers Beach, the most popular and largest beach in Key West. This beach is a great place to swim and snorkel. A family favorite beach is South Beach, where the warm, calm, and shallow waters make for some of the best swimming in Florida.
What To Pack For Florida In February
Florida is the perfect escape from the cold weather of February, and thanks to its subtropical weather, it remains mild during the month. What to pack for Florida in February varies by region.
For instance, you'll want to pack tank tops, t-shirts, shorts, and sandals in Southern Florida. Make sure to take a bathing suit and beach bag if you are heading to some of the warmest beaches in the US in February. However, nighttime temperatures can dip to 60°F (15°C), so it's a good idea to bring some warmer clothes such as pants and a long sleeve shirt with you as well.
In fact, layering is the key to packing for Florida in February. You should bring a light jacket, a few warmer layering pieces, and some long sleeved shirts. Layering is the best way to combat the unpredictable Florida weather.
Don't forget to bring comfortable shoes and sun protection in the form of a hat and sunblock.
If you are coming from a cold climate, a few things that you absolutely do not need to bring to Florida in February are heavy boots or extra winter accessories.
Crowds And Rates In February
Rates In February In Florida
The rates in February in Florida make it an excellent time to visit the sunshine state. The month of February has lower rates on things like accommodations, restaurants, and activities, which is perfect for budget travelers.
You'll want to keep in mind that destinations in Florida with a greater number of snowbirds, such as Fort Myers, Sarasota, and St. Petersburg, will likely have higher prices.
Accommodation prices vary based on your preference, but you can easily find hostels for around $30 per night. Hotels average between $35-$300 based on location and how much luxury you desire. Staying at an Airbnb or VRBO will be around $160 per night, while full home rentals can reach $500 per night.
Crowds In February In Florida
Crowds in February in Florida will vary depending on your destination region. However, there is some good news – generally, February tends to be a slower month for travel.
Most parts of Florida experience a lull, even on the beaches, except towns such as Naples and Clearwater, with a great concentration of snowbirds.
A few events may draw higher than average crowds for February, including…
February 4-28 (goes into April) – Universal's Orlando Mardi Gras in Orlando
February 9-20 – The Florida State Fair in Tampa
February 14 – Valentine's Day
Things to Do in Northern Florida in February
Snorkel With Manatees At Three Sisters Springs
During the winter months, including February, manatees migrate to Crystal River, seeking warm water refuge before the water temperature drops.
There is a 57-acre wetland refuge that surrounds Three Sisters Springs. You can take a stroll along its scenic boardwalk and see hundreds of manatees. Visitors can also swim, snorkel, or paddle alongside the manatees in crystal-clear waters.
Explore St. Augustine
The nation's oldest city has a lot to offer, and February is a great time of the year to discover St. Augustine. Founded in 1565, it took Henry Flagler to transform the city into a vibrant hub in the late 1800s with the railroad.
During your visit, don't miss the Castillo San Marco. This fort was completed over the span of 23 years. It was built by the Spanish in 1695 and protected St Augustine from pirates and the British who attacked in 1702. The guided tours will take visitors to the soldier's rooms; you'll even get to see the canon firing and the gun deck!
From beaches, castles, distilleries, museums, national parks, and wineries, there are plenty of things to do in Saint Augustine, no matter your interests. It was also ranked as one of the most romantic cities in Florida, and with Valentine's Day being in February, you can't go wrong. 
Visit The Beautiful Shoreline Of Washington Oaks Garden State Park
Known for its historic landscaped gardens under a canopy of ancient live oaks, this is perfect for those who want to appreciate nature's beauty. Located near the Palm Coast is Washington Oaks State Park, home to one of Florida's rare rocky shorelines.
While you can't swim on the rocky shoreline of Washington Oaks State Park, it is known for the beautiful coquina rock formations that line the beach. You can also walk along the footpaths to discover beautiful gardens and citrus trees or go fishing along the seawall.
Things to Do in Miami in February
Check Out The Coconut Grove Arts Festival
This annual festival which runs from February 18-23, is held in what is known as Miami's original art district. Don't let the name fool you; the festival offers much more than art.
You'll join over 120,000 people in exploring the streets of 'The Grove,' featuring experiences in visual, performing, and culinary arts. Enjoy cooking demonstrations and an exciting lineup of live music.
Not only that, but the festival takes place on a gorgeous stretch of Coconut Grove, overlooking sailboats moored in Biscayne Bay.
Enjoy The Outdoors At Oleta River State Park
Explore the great outdoors of Florida in February while kayaking, canoeing or paddle-boarding through the Oleta River State Park. Discover the unspoiled beaches and deserted islands right on Biscayne Bay.
This sprawling state park covers over 1,043 acres and boasts abundant casuarinas trees and some of the best bike trails in the wilderness while regularly hosting extreme sports and triathlon events.
Other Oleta River State Park activities include biking, camping, fishing, picnicking,  rollerblading, snorkeling, swimming, and wildlife viewing.
Things to Do in Central Florida in February
Take In A Spring Training Baseball Game
Many of the Northeastern baseball teams come to Florida each February for Spring Training. It's called the "Grapefruit League," and each team makes its Spring Training home in different cities throughout the sunshine state.
Fan favorites such as the New York Yankees can be found in Tampa, while the Boston Red Sox are in Fort Myers. The Pittsburgh Pirates call Bradenton home, and the Philadelphia Phillies are in Clearwater. 
You'll just need to check the Spring Training schedule to see if your team is playing close to your Florida destination.
Have Fun At Universal Studios Mardi Gras
At Universal's Mardi Gras, the theme changes yearly, making for a different celebration at this annual event that runs from Feb 4-28 (or actually until April). This festival is one of the best things to do in Orlando during February.
You can expect Cajun and Creole food, a parade full of colorful and vibrant floats, unique street performers, and bead tossing. On select nights throughout the festival, you can even enjoy world-famous musicians
Florida in February: FAQ
Is It A Good Time For A Beach Vacation In Florida In February?
February is included in shoulder season and is the perfect time to visit Florida beaches. In South Florida, February has ideal dry weather and none of the craziness that spring break brings. Northern beaches and theme parks are less crowded, and accommodation prices typically drop.
Does It Rain In Florida In February?
While there is always a slight risk, the weather in Florida in February tends to be some of the driest of the year.
Is It A Good Time To Visit National Parks In February?
Yes! In fact, February is one of the coolest months of the year to visit the Everglades, and mosquitoes tend to be at their lowest. Additional Florida National Parks include Dry Tortugas and Biscayne.
Where Is The Warmest Place In Florida In February?
Miami has the highest temperatures in Florida year-round, making it a great destination for February visitors.
What Is The Difference Between Atlantic And Gulf Coasts In February?
The biggest difference for February visitors will be that the water temperature in the Gulf of Mexico is often about five degrees warmer than the Atlantic Ocean, thanks to the Gulf Stream.
What Are the Best Areas For Camping In February?
There are so many great places to camp in Florida in February. Some of the warmest and most popular include St. Augustine, Fort Myers Beach, and Dry Tortugas National Park.
Is It A Good Time To Visit Orlando In February?
February is a great time to travel to Orlando, thanks to the fact that it's one of the driest months of the year with mild temperatures. February is also one of the most budget-friendly months to visit Orlando.
Florida In February | Final Thoughts
February is arguably one of the best times of year to visit Florida. It provides a respite from cold temperatures, and the dry days are also filled with that famous Florida sunshine.
February is the perfect time for you to visit if you are looking to enjoy the beaches of South Florida, take in a Spring Training baseball game in Central Florida, or explore the oldest city in the U.S in Northern Florida.
With the added bonuses of Florida in February being shoulder season and an incredibly underrated time to travel, you can't go wrong visiting the sunshine state in February.
Articles Related to "Florida in February: [Weather, Water Temperature, Places to Visit, What to Wear]"