Are you looking for the best type of outdoor gear but are confused about North Face vs Columbia? Do you find yourself confused by the differences in their product line? While they are both excellent brands, there are a few key distinguishing factors that you can use to find the right option for you. So, will Columbia or North Face be the best choice?
Columbia offers exceptional quality for an affordable price. While the North Face price point is slightly higher, with a similar level of quality. North Face provides more contemporary designs, while Columbia follows a more traditional approach.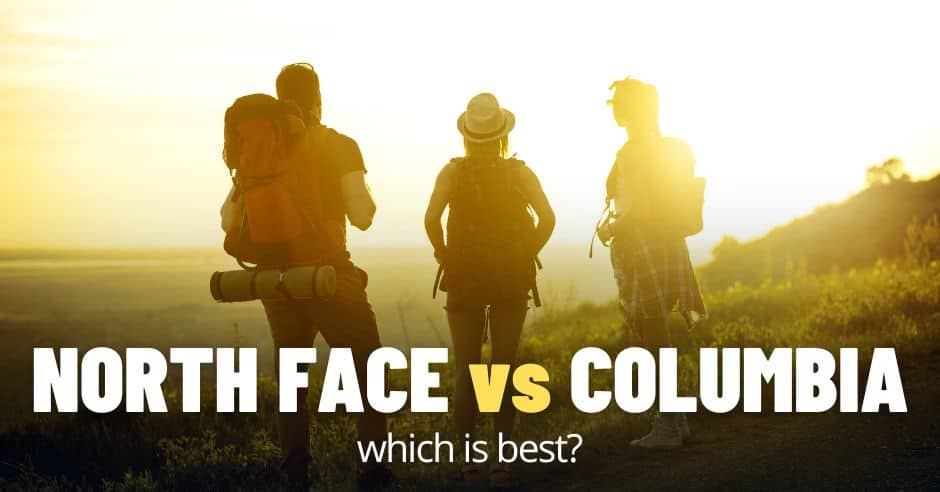 To have an epic adventure, you need to make sure that you have the right gear by your side. Because of this, both Columbia and North Face have been able to build a loyal fanbase. But don't worry; in this detailed guide, we'll delve deeper into what makes each one unique, so you can find the one that best suits you.
North Face vs Columbia Main Differences
Both of these brands are known for producing some of the best jackets on the market. Though, Columbia has historically placed a greater focus on the mass market. This has allowed them to provide excellent products that come with an affordable price tag.
On the other hand, North Face has historically focused on the high-end niche. They've been able to provide premium products for a higher price tag. Though lately, this approach has shifted, with the brand placing more emphasis on reaching a wider audience, resulting in a price drop across some of their items.
North Face has placed a greater focus on selling through its online store. This can make them a little tricky to find in-person stores. Though it does have an online presence, Columbia has been focused on traditional retail.
There are a few other differences to consider when weighing up Columbia vs North Face. These include:
Range. North Face has a slightly wider range than North Face. In their lifestyle products, they sell short-sleeve and tank tops. While Columbia has some shirts, most of their products are designed for the snow.
Style. You'll look great in both brands. But Columbia has a more traditional approach, while North Face is more willing to experiment with modern designs. For example, North Face recently collaborated with Gucci
Age. Columbia has the longest history. It was started in 1937, compared to North Face, which was started in 1968.
History Of Columbia Brand
In 1937, the Boyle family purchased Columbia. They were fleeing from the Nazis and settled in Washington. The manufacturer was named for its proximity to the Columbia river. Originally, they were a hat manufacturer. In 1960, they would become the Columbia Clothing Company. Today, the Boyle family remains in control of the organization.
While the family-run aspect has ensured a continued focus on quality, the company has proved to have shrewd business sense. They have acquired brands like Sorel and Mountain Hard Ware. This has allowed Columbia to incorporate their technologies into their products.
Columbia: Fabric Technologies and R&D
There are many innovative technologies that Columbia uses in their jackets; these include:
Omni-Tech. This is a fabric that is both waterproof and breathable.
Omni-Wick. This is designed to help cool you down, wicking away any moisture
OutDry. This technology is a strong waterproof barrier.
TurboDown. This is a fabric that is designed to keep you warm, even if it gets wet
Omni-Freeze. This is used in summer garments; it's designed to help keep you cool and is activated by sweat.
Columbia: Most Popular Models & Designs
Columbia has a wide range of products. Let's take a look at some of their most popular and what makes them unique.
Columbia Omni Heat Jacket
This jacket was made with multiple layers. The outside is designed to repel water, keeping you dry. The inside is lined with Omni-Heat, which is both warming and breathable. There are a few other elements of this jacket, like hand pockets and a detachable hood, which ensure that it is a practical choice.
Columbia Watertight II Jacket
This jacket has a few functions. First, it will be waterproofed to keep you dry. It's also designed to be lightweight and breathable, making it ideal for vigorous activity.
Columbia Flashback Windbreaker
This will protect against cold winds and shield you from the rain. There are elastic cuffs, so the wind won't be able to get inside the jacket.
Columbia Bugaboo Interchange Jacket
Lastly, the Bugaboo is designed to be the ultimate three-in-one jacket was rough outdoor conditions. It will protect from the wind and rain, with the inside lined with thermal-reflective fleece to keep you warm.
History of North Face Brand
The North Face was started in 1964. Originally, it was a store that provided mountain climbing equipment. However, by the 1980s, it was stocking the jackets and snow gear they are known for today. Interestingly, the brand was named North Face because it's the toughest side of the mountain to climb.
Read also: What to Wear Kayaking
Recently, the company was purchased by VF Corporation. This company is associated with several other brands. Some of the other names under their umbrella include Wrangler, Vans, Timberland, and Supreme. Because of this, the corporation has a lot of resources to invest in building the North Face brand.
There has been a greater focus on making North Face more attractive to the mass market. There are a few ways this has occurred, like a change in advertising. For example, North Face recently collaborated with Gucci, which brought plenty of media attention to the brand. They have also lowered the price to a more affordable level.
North Face: Fabric Technologies And R&D
Like Columbia, North Face is known for its technologies. Some of the highlights include:
Futurelight. This was designed to function as a lightweight, breathable fabric. This was achieved by using a nanomembrane, which is waterproof and flexible.
Flashdry. The unique properties of this fabric will help push moisture to the surface, helping you dry off faster.
Thermoball. This was created as an alternative to down, keeping you dry and warm even if the jacket gets wet.
Dryvent. These jackets can repel water moisture to keep the wearer dry. Critically, though, it will remain lightweight, flexible, and breathable.
North Face: Most Popular Models & Designs
North Face has produced some of the strongest and warmest jackets on the market. Let's take a closer look at some of their most popular designs so you know what it's capable of. 
ThermoBall Jacket
This jacket features powerful insulation, keeping the user toasty and warm. Plus, it's lightweight and flexible. The ThermoBall was designed to be kind to the planet, using 100 percent recycled materials.
Apex Bionic 2 Jacket
The Apex Bionic 2 was designed to be breathable and lightweight, so you can still participate in physical activities. But it will be strong enough to block the wind and rain.
Denali 2 Jacket
This is a warm jacket made from recycled fleece. It's also designed to be comfortable, coming with a relaxed fit. Plus, it is durable, with key areas like the collars and shoulders getting reinforced.
Venture 2 Jacket
As an ultralightweight jacket, you can keep it in the bottom of your bag, pulling it out when the rain rolls in. Because of its relaxed fit, you'll be able to wear additional layers beneath the waterproof jacket.
North Face vs Columbia Price Comparison
Columbia is the cheapest brand, with most of its range sold for affordable prices. This is because they largely target the general population. As a result, you should be able to find a basic Columbia jacket for around $90. If you want one of their most popular options, like the Bugaboo 2, you might need to pay around $130.
On the other hand, North Face has spent years focusing on appealing to a more specific niche. This allowed them to charge a higher price than their competitors. You should be able to find a basic North Face jacket for $80. But if you want one of their premium jackets, like the Thermoball, you can expect to pay around $200.
Read also: Best Backpacking Knife
However, this dynamic is starting to change. Columbia is starting to pivot to appeal to a more high-end, niche audience. At the same time, North Face is starting to lower its prices to appeal to the general market. For now, though, Columbia remains the best choice for high-quality jackets and snow gear at an affordable price.
Final Thoughts
Trying to decide who won in North Face vs Columbia will be tricky. Both offer an exceptional range of items. All their garments have been designed with advanced technologies to survive in rugged environments. Because they are so similar, there can be no definitive winner.
As a result, it's best to think about what you want from a garment and how much you are willing to pay, then find the brand that most closely matches these criteria. North Face and Columbia will provide a product that meets the highest expectations. 
Articles Related to "North Face vs Columbia: Which Is Best?"