Are you planning to hit the top beaches with the clearest water in Florida? We can help. 
Florida is a paradise for beach lovers. The state boasts over 825 miles of sandy coastline and is famous for stunning beaches with crystal clear waters.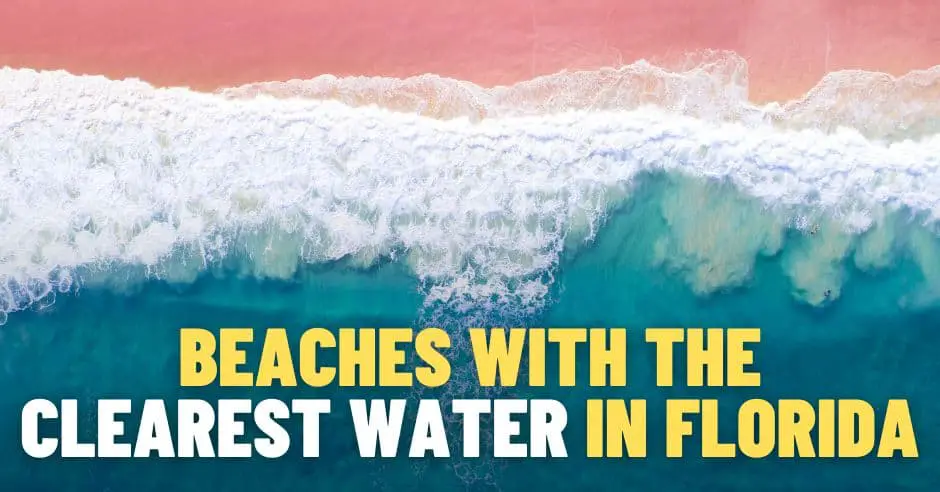 With several beaches in Florida, choosing the right one with the clearest water can be challenging. 
Luckily, we've done the research and found the top Florida beaches with clear water. 
Whether you want to relax, get tanned in the sun, or just explore, these beaches promise to satisfy your wish. 
Beaches With The Clearest Water In Florida
We structured these beaches according to different regions in Florida. 
North Florida Region
 01. St. Johns Beach (St. Augustine)
St. Augustine is a small city in the north of Florida, and it is known for its colonial history. 
This city is a popular tourist destination because of its picturesque streets, European-style architecture, and over 40 miles of sandy beaches. There are lots of beaches in St. Augustine. One of them is at St. Johns county ocean pier park. 
Visitors can access the beach in this park for free. Whether you want to lay on the ground to enjoy the stunning view of the clear water or participate in fun activities like swimming and snorkeling, there are plenty of things to do here. A few miles away from this park are Butler beach and crescent beach. 
The waterfront in St.Augustine is one of the visitor's attractions.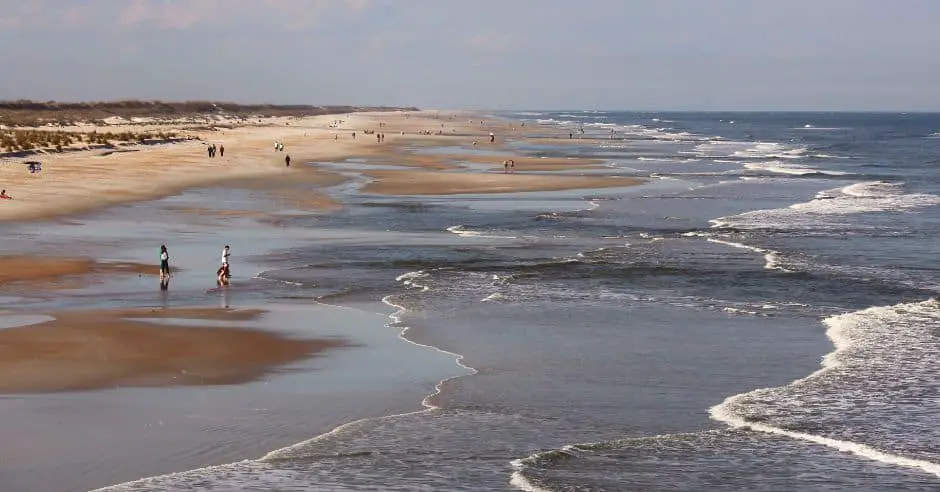 Whether you want to relax on the beautiful beach with crystal clear water or want to learn more about history, the beaches in St. Augustine promise to satisfy you.
02. Jacksonville Beach
Jacksonville beach is a resort city in Florida's northeast end comprising sand, water, and sun. This stunning beach is popular for its beautiful golf course and fishing pier. Most water sports take place in the pier's north area, from surfing the best Jacksonville waves to enjoying beach volleyball.
Jacksonville has hotel rooms with balconies to view the beach and soak up the sun during vacation.
Panhandle Region
03. Destin Beach
Destin, Florida, is one of the best beaches with clear water in the Panhandle region.
The waters in Destin's beaches are emerald green with stunning white sands.  
Destin beaches offer lots of fun activities such as fabulous restaurants for delicious foods, Destin Commons, and Harborwalk village. 
One of Destin's most famous Beach state parks is Henderson Beach, State Park. The water is extremely clear with white and powdery sands. 
See also: Best Time to Visit Florida
Henderson Beach state park is a lovely place to enjoy the beautiful view of the beach and the fantastic sight of Florida sunset. The park is also suitable for camping, swimming, and fishing. 
Be prepared to catch plenty of fish or go kayaking on the Gulf of Mexico. 
If you're looking for an incredible beach with lots of exciting activities, the Henderson Beach state park is an excellent choice. 
The James Lee and Norriego Point park are other beaches in Destin. When you get to Destin, explore Crab island to see one of the clearest waters in Florida. Crab island is known for water and boat activities because tourists take advantage of the shallow and clear water. 
04. Pensacola Beach
Pensacola is arguably one of Florida's gulf coast beaches with the clearest water. This beautiful beach with blue-green water is a top recommendation for tourists who enjoy fun activities like sunbathing, swimming, or relaxing to soak up the sun. 
The gulf island national shore, located between Navarre Beach and Pensacola beach, has some of the most breathtakingly clear water and beautiful white sands in Florida.
Additionally, Pensacola beach is a suitable spot for kayaking, fishing, windsurfing, and many activities to thrill and engage tourists throughout their visits.
After leaving the beach, you can check out the casino beach for restaurants, shops, and entertainment.
05. Navarre Beach
Navarre Beach is one of the most relaxing beaches with some of Florida's clearest water. The beach is on the Emerald coast and spans Gulf island National seashore and Santa Rosa sound. 
The emerald green water and the fantastic white sand make the Navarre beach a top tourist destination for fishing, kayaking, swimming, or relaxing on the beach. 
Other activities include Picnicking, snowbird watching,  and shelling. The beach also boasts several shops, restaurants, and fun activities nearby. 
The transparent emerald water makes a lovely playground for marine creatures like rays and dolphins.  
Because it is conveniently located on the Gulf of Mexico, Navarre Beach offers all the benefits of the Florida panhandle.  
06. Grayton Beach 
Another Amazing beach in Florida with the Clearest water is Grayton Beach. Located a few miles from Santa Rosa Beach in South Walton County, this beach offers white sugar sand and unbelievably clear water. 
Grayton Beach is perfect for fishing, sunbathing, and swimming. 
Apart from clear waters, there are great amenities visitors can also enjoy, including popular nearby restaurants like the Red Bar and  Chiringo. 
The Grayton beach state park is a few minutes from the beach, offering over 2000 acres for hiking, camping, beaches, etc. 
When you explore the Santa Rosa beach area, check out Rosemary Beach and Seaside, which comprises pristine beaches and great restaurants. 
Gulf Coast Region
07. Caladesi Island Beaches
Caladesi Island is another place to enjoy the beautiful view and clear water of beaches in Panhandle, Florida. Because this park is located in the northern area of the barrier island, it is characterized by lesser crowds. The only way to visit this area is by boat or ferry. 
The beaches on this island offer plenty of activities, including swimming, fishing, camping, and kayaking. 
Pack your lunch or eat out at Cafe Caladesi, which sells casual foods like burgers. 
The clear water and exciting environment make Caladesi island beaches a suitable relaxing spot in Florida. The Honeymoon Island State Park, which is further north, is also a great place to visit. The 4 miles of beach offer an opportunity to explore wildlife. This state park promises an unforgettable experience. 
Central Florida Region
08. Vero Beach 
Vero Beach is located on the Florida Treasure coast. The place is a few miles away from the Indian River Lagoon and is famous for its stunning beaches and clear water. The clearest water on the Atlantic coasts is found here, which is why it is visitors' top spot for swimming, diving, and snorkeling. 
Vero Beach park is known for its picnic, food vendors, grill, etc. Before leaving the beach,  be sure to stroll along the trail.  
Sexton plaza beach and Humiston beach park are other great areas in Vero beach. 
Besides the fantastic beaches, Vero Beach offers excellent nightlife, shopping, and restaurants like the Ocean Grill and Crab Stop. 
This place also offers plenty of parks, museums, and golf courses. 
Whether it's a family vacation or a romantic holiday, Vero beach offers a memorable experience in Florida.  
09. Anna Maria Island Beaches
Anna Maria Island is popular for its extremely clear water and beautiful sandy beaches. There are also plenty of activities for visitors to explore, including stand-up paddleboarding, kayaking, snorkeling, and swimming. Plus, the beach itself is an excellent place to relax. 
However, Coquina Beach on Anna Maria Island is one of the top locations for visitors looking for excellent beaches with wonderful sunshine and water. 
The water in this place is simply amazing and suitable for swimming and relaxing on the sand to enjoy beautiful views. 
Visitors can also practice fishing on Anna Maria Island, so come along with your reel and rod if you want to catch some fish for dinner. 
Visitors can eat out at the Coquina beach's cafe or hop over to the other restaurants on the island. 
No matter how you spend your day, Coquina Beach promises a memorable experience. 
South Florida Region
10. Carlin Park Beach (Jupiter)
Carlin Park, located in Jupiter, has very transparent water. The park is situated on an island, with one mile of beaches perfect for fishing, swimming, snorkeling, etc. Carling Park offers several activities for visitors, so spending a few days won't get you bored. 
Besides the beach, there are also walking trails and a picnic area. Enjoy the concert or events at the Seabreeze Amphitheater, which accommodates over 2000 people.  
Head to the atLazy Loggerhead Cafe or Sinclair's Ocean Grill for lunch.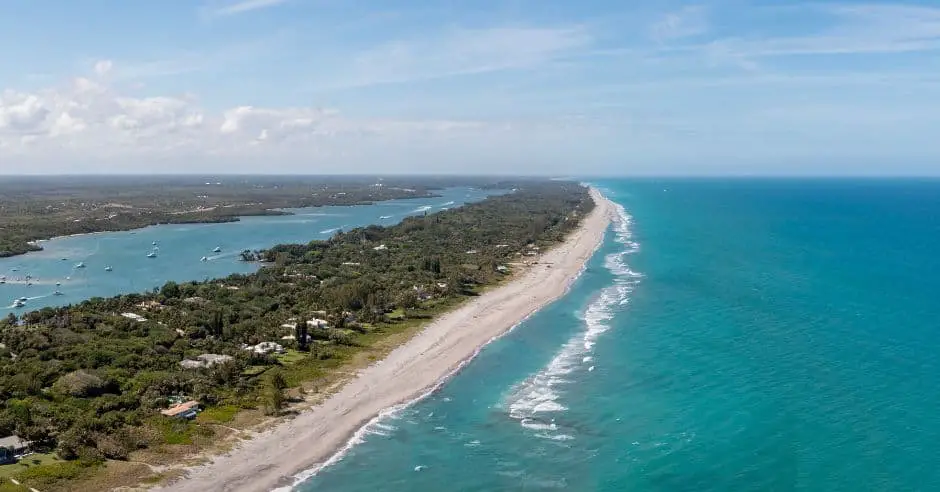 Whether you visit the park or relax at the beach, you can be sure of a great experience. Carling park is an incredible location with one of the clearest waters around south Florida.
11. Palm Beach
Palm beach is known for its pristine beaches with crystal clear, blue water. This makes it a top tourist destination for beachgoers from across the world.
Palm beach municipal beach offers quiet, stunning views and is properly maintained.
Another lovely beach here is the Phipps Ocean Park, which is perfect for snorkeling and shelling.
Besides its unforgettable shores, this beach is located near Florida's top mansions and luxurious estates.
This luxurious community has something for anyone, from diverse compounds to classic modern apartments with iconic landmarks. Of course, visiting palm beach is incomplete without doing a little shopping, so be prepared to purchase designer clothes, exquisite jewelry, or beautiful souvenirs from the luxurious boutiques here. 
Lastly, there are high-quality cafes, restaurants, and attractions like plazas and museums. Come to palm beach yourself and see why this place is a tourist's top destination.
12. South Beach (Miami )
Most of the iconic beaches in Florida are located in Miami. Miami beaches are famous for their crystal clear waters and white sandy beaches. Miami is a tourist's most visited destination to enjoy the sand, sun, and sea. South Beach is one of the most popular in Miami. The crystal clear blue waters and white sands make it a suitable place for sunbathing, swimming, and enjoying the scenery. 
When you visit this place, explore the Art Deco District, which is historical. South Beach is also known for its fantastic dining and fun nightlife experience. 
Other beaches with clear water in Miami are Haulover park, Key Biscayne beach, and Crandon park beach – These are properly maintained beaches that provide beautiful views of the clear water.  
The crystal clear water makes the beaches suitable for snorkeling, swimming, and scuba diving. Several shops, bars, and restaurants are also available in this city. 
13. Blind Beach (Sanibel Island)
Sanibel Island is one of the best beaches around the Gulf coast. This island boasts stunning shells and beautiful sunset, but the crystal clear water creates the most attraction. Feel free to go for a swim or relax in one of their secluded spots. 
Although there are several beaches on Sanibel Island, the Blind pass beach is the best. 
The sand on this beach is incredibly pristine. It is maintained adequately with less debris or seaweed. The clear water is suitable for snorkeling, swimming, and other beach activities. 
Since it is located on an island, there are many island amenities to enjoy. The lighthouse and Bowman's beach are other beaches on the Sanibel islands. 
Visit southwest Florida beaches like Fort Myers and Naples beach when you get there. 
14. St. Pete Beach
St. Pete is one of Florida's most charming beaches, thanks to the super white and powdery sand and crystal clear water. The beach is an incredibly relaxing place with the opportunity to explore scenic views. It's not surprising why this beach town is rated among the best American beaches.
Located a few miles from the southwest coast of Florida, this beach town is home to nature lovers, beach goers, and adventurists.
There's always a suitable activity with plenty of fun activities. There are plenty of ways to have fun, from fishing and swimming to kayaking and relaxing on the beach.
When you get to St. Pete beach, you can explore other places like Madeira beach, Treasure island beaches, and the stores and restaurants at the beautiful John's Pass Boardwalk.
When you want to move beyond the beaches, there are several shops and fun events to explore in St. Petersburg, including St. Pete Pier.  
Keys Region
15.  Smathers Beach
It's unsurprising that Florida has some of the world's best beaches. Plus, while each offers excellent stretches of sands, Smathers Beach in Keys west is unique. 
Located in Florida keys, Smathers Beach boasts clear and mesmerizing turquoise eaters. 
So if your goal is to relax and watch some fantastic views, visiting this beach is definitely worth visiting.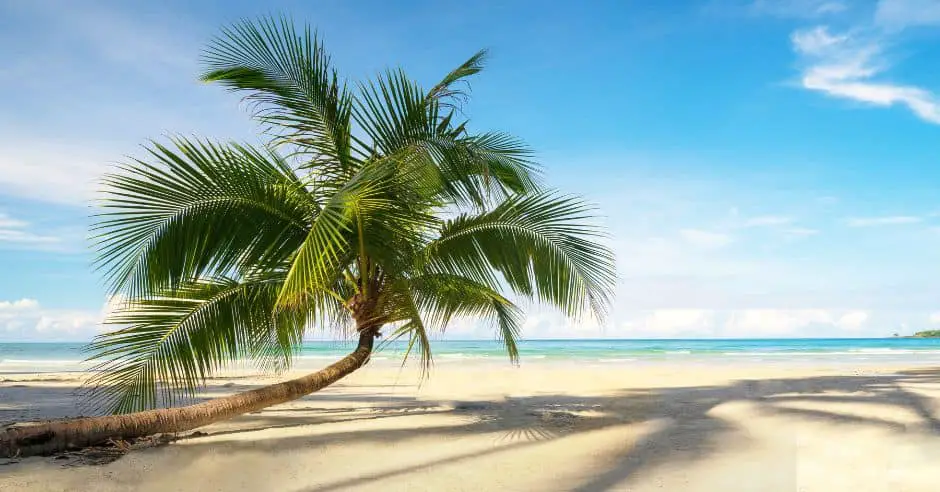 Smathers beach is the largest in Key west and one of the cleanest beaches in Florida. The water is so clear that it is easier to see the bottom when standing at the top (beside). This makes key west an incredible place for swimming and snorkeling. There are several fish to see, making it a suitable fishing option. 
Jet skis can be rented to hop on and explore the water. 
16. Siesta Key Beach
Siesta key beach is situated at Siesta key on an island along the coast of Sarasota. This place is blessed with beautiful white and fine sands reflecting sunlight and beautifying the water. 
The Siesta Key beach is popular in Florida for the see-through nature of its water. Siesta Key has been awarded the "best beach in the United States multiple times. 
The soft quartz sand and the crystal clear gulf water make it a visitor's destination to relax and enjoy Florida's natural beauty.
Nothing feels relatively better than spending a day at the bearers Key beach. The sound of waves gusting against the shore, the salt smell in the air, and sands entering your toes. 
Visitors can have fun fishing, swimming, paddle boarding, and kayaking, making it a suitable location to spend the next few days. The beach is a great place to perform free Yoga in the morning. 
When you leave the beach, several shops and restaurants are available along Ocean Boulevard. If you love to taste seafood and listen to live music, visit the Siesta Key Oyster Bar, or you can see the Turtle Beach grill with the family and get a waterfront view. If you're looking for a beach with the most transparent water in Florida,  Siesta key is the perfect place for a beach getaway.
Clearest Water In Florida | Final thoughts
Here you have it! If you're looking for beaches with the clearest water in Florida, the above options have covered you. These beaches offer fantastic views and crystal clear water for fun activities such as swimming, snorkeling, kayaking, and more. So whether you want to relax on the beautiful white sand or explore adventurous activities, these 16 beaches have everything you're looking for.
Articles Related to "Beaches With The Clearest Water In Florida"