If you want to escape the winter hurdles, visit Florida in November. 
Novembers are tourist's last chance to explore the sunshine state without the typical winter crowds. 
It's a month when people prepare for the holidays, snowbirds head back to the beaches, and outdoor activities resume because of the absence of rainfall. 
This is a short guide to Florida in the sunshine states with detailed information from our writers, who are Florida Natives.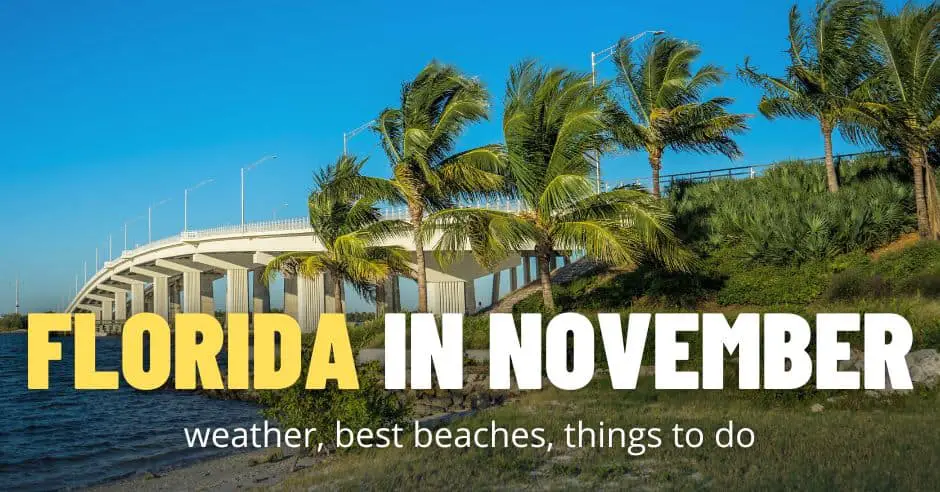 Weather in Florida in November
Florida is the only state in the US with a consistent subtropical to tropical climate throughout the year.
The November weather in Florida is generally cool and dry. This month marks the end of regular rainfall, thunderstorms, and hurricane season, with only a slim chance of occurrence. 
November temperatures are less cold but balanced up with low humidity. 
The moderate temperature and low humidity make it easier to spend long hours outdoors. 
Temperatures vary depending on where you want to visit. South Florida has the warmest temperature. Most places in Florida will have an average high temperature of 77°F (25°C) and an average low of 62°F (16.6°C) at night. 
Weather in North Florida in November
The average weather in North Florida in November is mildly cool with a calm breeze. The temperature in North Florida in November ranges anywhere between 52°F (11°C) and 73°F (23°C).  
In Jacksonville, the chances of rainfall are 18% on a typical day, meaning there's little to no rain. 
The sky is sunny or clear most of the day, and humidity is moderate at 76% (humid and cool).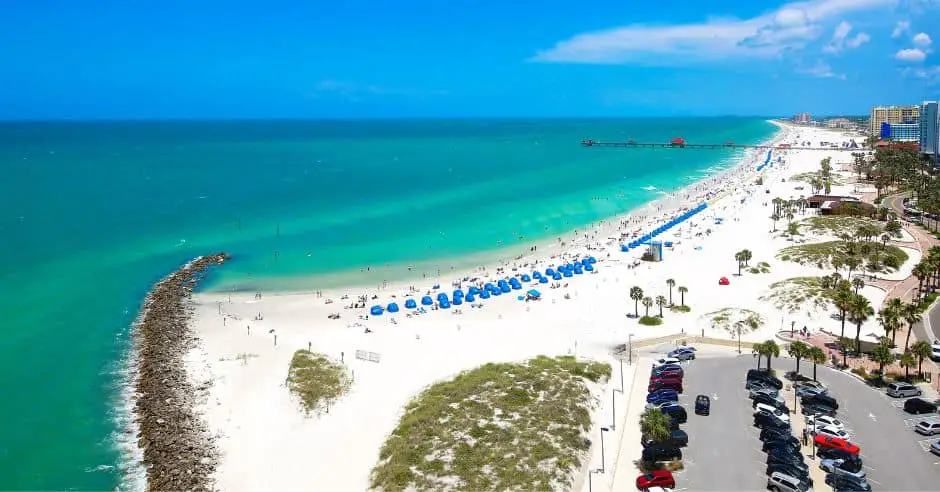 Weather in Central Florida in November
The weather in Central Florida in November is characterized by hot days with balmy nights, so tourists should pack light clothes.  There are a lot of sunny and cloudy days with an average rainfall of 8mm. 
The temperature in Central Florida in November ranges between 59°F (15°C) and 79°F (26°C).  
Weather in South Florida in November
It's almost the end of hurricane season, and there will be fewer hurricane warnings or watches. November weather in South Florida is cooling off and becoming dry. Thunderstorms and rain showers are on the decline, making the days pretty dry. This month is breezy in Miami but with warmer temperatures than in other Florida cities. 
The temperature in South Florida in November ranges between 70°F (21°C) and 80°F (27°C).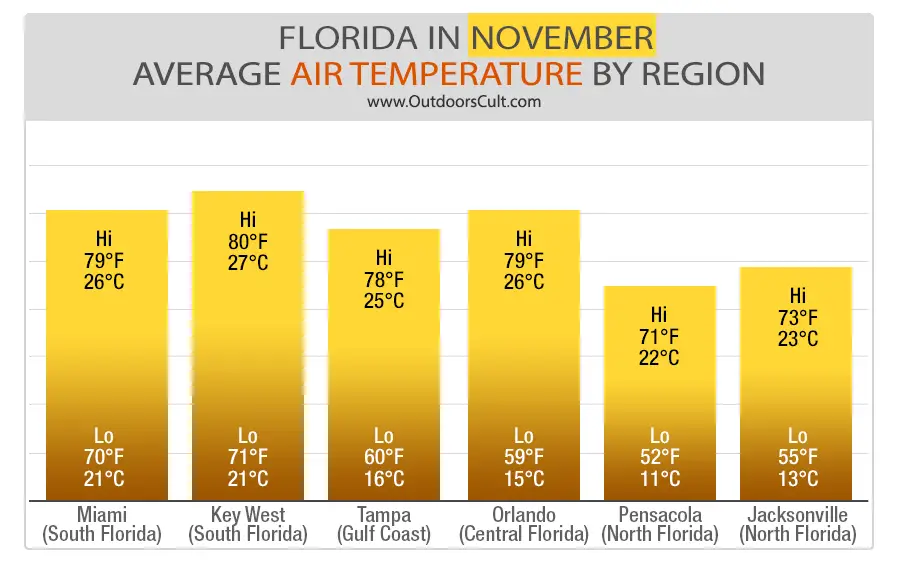 Rainfall in Florida in November
Rainfall in Florida is on the low side in November, but there are still clouds. 
The rainy season is almost over, as November is entering the dry season. Possibly there are some leftover storms or rain, but they're rare and don't last long. 
There's the possibility of a storm in South Florida because of their warmer waters. 
The average rainfall in Florida in November is 3 inches and may decrease further during the month with thunderstorms.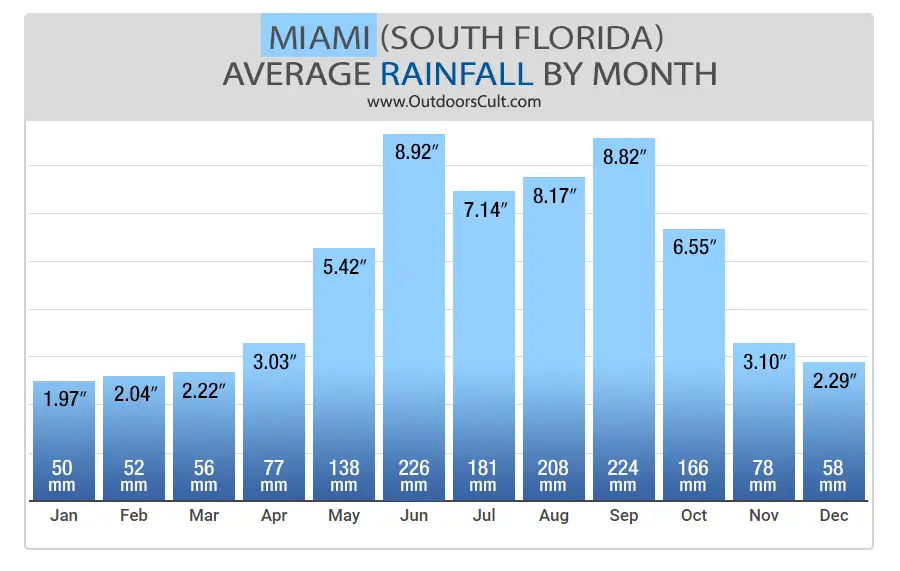 Humidity in Florida in November
Humidity is lower than in the winter because of lower temperatures and higher winds. But visitors who are not familiar with tropical climates or snow may struggle to adapt. 
The humidity in Florida in November is between 50-89%, with peaks in the morning around 7 am and decline in the afternoon around 1 pm. 
What Time Sun Sets in Florida in November
The beautiful views of the early morning sunrise and twilight sunsets in Florida are one of nature's attractions to visitors. Watching the scenic sunset is a beautiful treat for early risers. The sun sets in Florida in November at 4:50 pm. 
What Time Sun Rises in Florida in November
Florida is a beautiful spot for sunsets and sunrise, and its unique sight looks adorable on water bodies. November offers a complete view of the sunset over the Gulf of Mexico. Sun rises in Florida in November at 6 am. 
Hurricanes in November in Florida
The Atlantic hurricane season spreads a series of tropical storms to Florida every year. Hurricanes usually start from June through November and peak between August and October. So you must prepare for occasional storms during your visit – even though the chances of hurricane occurrence are slim in November. 
Water Temperature in Florida in November
Water temperature in Florida varies from region to region at an average of 66°F- 78°F.
Water Temperature in North Florida in November
The average water temperature in North Florida reduced by about 7°F from 78°F (26°C) in the previous month to 71°F (21°C) in November. 
Water Temperature in Central Florida in November
The average water temperature in places like Daytona in November reduces by about 5°F from 80°F (27°C) in October to 75°F (24°C) in November. 
Water Temperature in South Florida in November
South Florida has an average beach water temperature of 77°F (25°C) in November.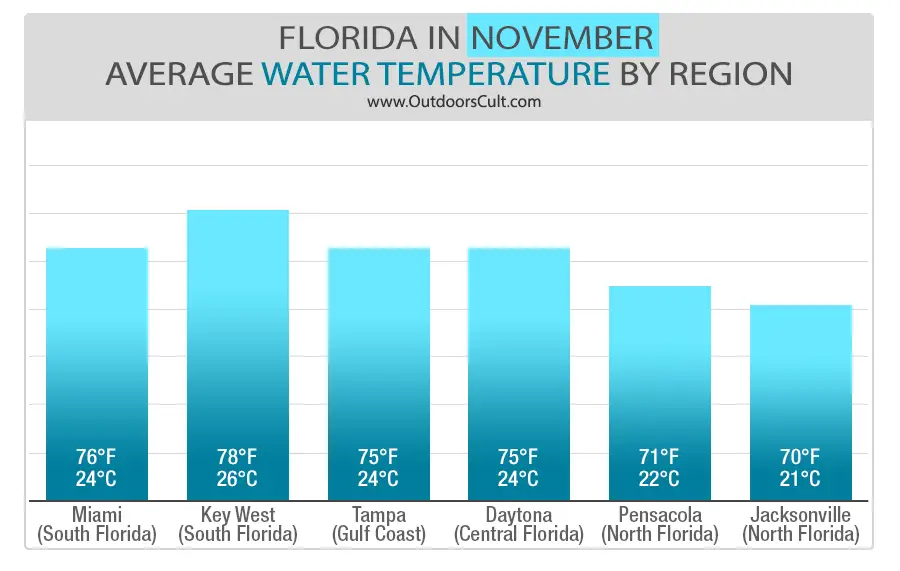 Best Florida Beaches in November
Florida has a lot of great beaches to visit year-round. But November is one of the best times to go to the beaches because of its cool water and moderate weather. Here are some of the best Florida beaches in November. 
Gold coast 
The Gold coast is one of the most popular areas in Florida, home to Fort Lauderdale and Miami. Not only does Miami have Florida's highest temperature year-round, but also with the highest risk of hurricanes. 
However, hurricane blowout is low in November, and it is one of the months with Miami's best water temperature at 76°F (24°C). 
Miami is a lovely place for visitors, especially in the buzzing downtown area with diverse crowds. Despite Miami's hot and humid weather, the city remains one of the most popular visitor destinations. 
Florida keys 
The Florida Keys are also a great tourist destination but may experience a low turnout of visitors in hurricane seasons except in months like November when chances of storms are low. Our top recommendations are beaches in key west, Bahia Honda State Park, Key Largo, and marathon. The average temperature of the water is 78.3°F (25.7°C), making it an ideal time to lobster through the area. 
These keys are unique islands connected by Overseas Highway. Florida keys offer plenty of island tours to explore, alongside lots of inshore, offshore, and inland fun activities. 
Treasure coast 
Treasure coast is home to Fort Lauderdale and Miami, with a unique atmosphere. Like Miami, this area is susceptible to hurricanes and destructive storms. However, there's little to no threat of hurricanes in November.  Treasure Coast is an excellent location for vacation, especially in November, with a warmer beach water temperature of 78°F (26°C). 
Our top recommendations for beaches on the treasure coast are Palm beach, west palm, Boca Raton, Delray, Pompano, etc. – each with its unique style.  
Space Coast
The space coast is situated in Florida's Atlantic areas and is very close to Orlando. The area is popular for housing its Kennedy Space Center, International Speedway in Daytona, and the famous Ron Jon Surf shop in cocoa beach. Daytona and Cocoa are popular tourist destinations in Florida but with less crowd in November. 
Space Coast is located in the Atlantic area of Florida, so it has a higher risk of hurricanes. But, there's a decline in hurricane occurrence in November.
Paradise Coast
The paradise coast is located southwest of Florida and is home to popular cities like Fort Myers and Naples. 
Paradise coast is suitable for older folks who want to visit the beaches with family, friends, and children. November will witness the return of snowbirds to take over the Paradise coast, keeping the cities lively again. 
At an average temperature of 76°F (24°C), water is usually warm on the paradise coast in November. Our top beach recommendations on the Paradise coast are Naples, Marco Island, and Fort Myers. 
Sun Coast
The sun coast is one of the most marketed areas in Florida, which is home to some of the best beaches in Tampa bay. With an average temperature of 74.8°F (23.8°C), the sun coast is a fantastic place to visit on the Gulf in November.
St. Pete Beach and Clearwater Beach are the most populated beaches, but many tourists love the fantastic state park island off Dunedin and Clearwater. The Honeymoon Island and the Caladesi state parks are in a secluded area and less crowded in November.
Cultural Coast
The cultural coast is our personal favorite, and it is located off the Gulf. The November temperature on cultural coasts is relatively warm at an average of 74.8°F (23.8°C).
Like the sun coast, a hurricane will probably not make it this far in November. You can vacation in Anna Maria island's beautiful beach town. However, the Captiva, Sanibel Island, and Longboat Key are incredible options if you want a more luxurious vacation home.
Emerald Coast
The emerald coast spans from Pensacola to Tallahassee. This town in Emerald combines the Florida Coastline and the American south. The temperature dropped drastically in preparation for the winter month. The average temperature is 72.3°F (22.4°C).
Destin, Panama City, and Pensacola are some of the top recommended vacation spots on the emerald coasts. 
First Coast
The first coast is located North of the Atlantic shores in Florida. 
The First Coast's historical aspect and tranquil shores attract visitors to this area. First Coast is home to the oldest cities in Florida, Jacksonville and St.Augustine. The November water temperature is cooled and averages 72.9°F (22.7°C). 
St Augustine is a fantastic place to visit. Thanks to its historical attractions, delicious meals from local restaurants, and a relaxing moment to enjoy in the bars.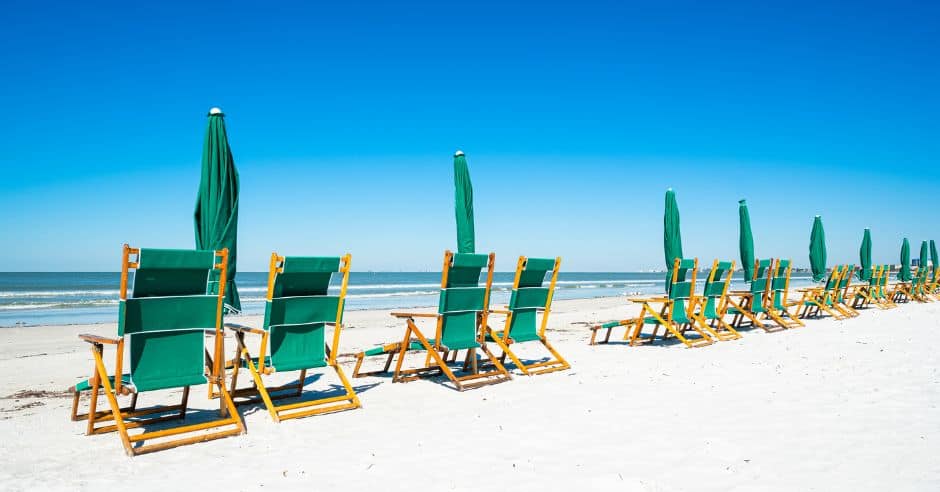 What to Wear in Florida in November
The subtropical climate of Florida makes it more difficult to pack for winter. 
When the temperature in Florida cools in November, wear light clothes.  Pack a light jacket, lift sweater, t-shirt, and shorts for the warmer days. Pack along comfortable shoes. 
Keep in mind: Layering is super important. 
This will allow you to add or remove clothing items when the temperature fluctuates during the day.  
For November weather in Florida, your suitcase should contain clogging items such as: 
The right pair of shoes: Pack plenty of shoes regardless of where you visit. Do not underestimate the amount of walking you require when visiting the theme park. Without the right shoes, your feet can end up with blisters. Avoid flip-flops when you visit theme parks. 
A light jacket: Rainfall is uncommon but possible in Florida in November because it is the start of the dry season. You should expect occasional rainfall in Florida. Make sure you come with a raincoat for precaution. 
Furthermore, pack your sunglasses, water shoes, hats, sunscreen, water bottles, cooler, portable fan, etc. 
Restaurant; during our stay in Florida, we usually walk around in our light jackets or sweaters. 
Headache medications: When planning to visit Florida, bring your medicine for headaches. When the humidity levels reduce, it can affect people unfamiliar with tropical climates. 
Crowds and Rates in November
Crowds in November in Florida are on the rise with the decreasing number of snowbirds. 
This is the last chance to visit the beach with a lower crowd. 
The southern beaches on the Atlantic can be hot and prone to hurricanes. 
Best hotels in Florida will charge a moderate rate in November before it spikes at the end of the month through the holidays. 
Some top accommodations in Orlando will charge between $250 to $500 per night, Tampa hotels will charge $150 to $300 per night, and hotels in Miami will charge between $250 to $350 for a night. 
Things to Do in Florida in November
Florida has plenty of fun activities and sightseeing in top scenic destinations in the states.  
Visit Melbourne 
Melbourne is a famous city for lovers of beach towns on the space coast. It is home to Cocoa Beach and Daytona, the top tourist destinations on spring break vacation. Snowbirds mostly populate Melbourne, but older adults will enjoy what the coastal city offers. 
Suppose you don't want to relax on beaches, boutique resorts, or private hotels because of the cold environment. In that case, the coastal city offers plenty of significant events for you to enjoy. 
In addition, there are many comedy club performances in town. For example, you can visit the Melbourne Civic Theater to vibe with the professional orchestras and live music. If you're looking for a thrilling experience, explore the Melbourne Ballroom, Andretti Thrill Park, and Brevard Zoo's Treetop Trek. 
There's also plenty of choice for the outdoor adventurer to make. Take a tour on the Melbourne Air Boat to explore the city's waterways or explore the DolFun Tours to see some animals. 
Cultural lovers will appreciate the Eau Gallie Arts District, and nighttime lovers will love downtown entertainment. 
Visit Venice 
Venice is a small Florida town famous for its Gulf coasts and beaches like the Caspersen and Venice. The town is between Fort Myer and Sarasota and maintains a decent water temperature in November. The 14 miles of Venice beaches boast fishing, swimming, boating, and snorkeling opportunities. 
Shelling is a type of recreation on Florida beach unique to Venice. Shells are available everywhere, but Venice also prides itself on its fossilized shark's teeth in water. You can visit the service club parks to pick shark teeth which you can take home. 
Inland, tourists will appreciate the Italian designs and architecture of the walkways and buildings in this town. 
Like the Italian city of Venice, this small Florida town is one of the best coastal towns in the United States. 
Take a guided walking tour to explore the goodness offered by this historic Venice town. But if you want to go alone, take the downtown streets to their restaurants and shops.  
Visit The Crystal River To Swim With The Manatees
What's the best place to swim with Florida Manatees? These fantastic creatures are only available in the Amazon, Caribbean, and the Gulf of Mexico, but the only place you're permitted to swim with them is the Crystal River. 
People lovingly call them "sea cows" because of their peaceful, gentle, vegetarian lifestyle.   
Located on the Nature Coast in Florida, Crystal River is Manatee's winter destination to seek warm waters. Crystal River has a consistent temperature of 72°F (23.3°C) throughout the year, which makes it suitable for manatees and residents. 
You can stay at the Crystal River's plantation for the best amenities and excellent accommodation.  
Although there are other fun adventures like fishing, snorkeling, inland biking, and kayaking, nothing beats the fantastic experience of swimming with Manatees.  
Feel free to contact the outfitters for a guided spring tour of where these manatees stay. After renting equipment, they'll take you into the water for a memorable experience of your life. 
Explore Weeki Wachee 
Weeki Wachee State Park, located in Hernando city, is the tourist's favorite. Besides the mermaids that visit these waters, the bottom of the springs is another mystery that attracts visitors to this spring. 
The spring is extremely deep that even top experts cannot figure out the bottom. The springs have a powerful current, so visitors can only swim in the designated swimming area at the Buccaneer Bay Waterpark.
Florida has a lot of natural springs, but the unique thing about Weeki Wachee is the daily underwater show that the mermaid performs in the spring. These mermaids put on a fantastic show with themes from different folklore and movies. This is an undoubtedly magical experience to thrill visitors before going to the swim zone.  
In addition to the mermaid performance, visitors can rent kayaks or paddleboards for a guided spring tour. 
Go camping in Big Cypress State Park 
If you'd love to visit a natural, untouched environment for hunting or camping in Florida, the Big Cypress National Preserve has got you covered. This camping location is situated in Western Everglades and packs plenty of enjoyable outdoor activities, including scenic driving trails and kayaking excursions. 
Big Cypress is designed as an International Dark Sky location, which makes it a suitable Florida campground to see the incredible night sky.  
Florida in November: FAQ
Is it a Good Time to Visit National Parks in November?
Falls offer favorable weather for Florida's National parks. November is the dry season's start so that mosquitoes won't disrupt your national park experience, and you can enjoy everything these national parks offer. 
Some of our top national parks recommendations include the Castillo de San Marcos National Monument located in St.Augustine, Fort Matanzas National Monument located south of St.Augustine, and the Timucuan Ecological and Historic Preserve located near Jacksonville. 
What is the Difference Between the Atlantic and Gulf Coasts in November?
When it comes to the white sand beaches, those on Florida's Gulf Coast are more beautiful and easy to work on than those on the Atlantic. However, the sands in the Atlantic are a mixture of pebbles, seashells, and the ocean's stirred sediments. In addition, the water temperature on the Gulf coasts is usually warmer than on the Atlantic coasts, ideally, by five degrees. 
What Are the Best Areas for Camping in November?
Planning to go camping in Florida in the fall but don't know where to go?  Some of the best places to go camping in November are Ocala National Forest, Cayo Costa State Park, Myakka River State Park, Jonathan Dickinson State Park, Bahia Honda State Park, Biscayne National Park, Westgate River Ranch Resort & Rodeo, etc. 
Is it a Good time to Visit Orlando in November?
November's great weather and less crowd make it a good time to visit Orlando. Orlando weather is more bearable in November than in the summer months. It is also one of the lowest Orland seasons, with quieter times at resorts and theme parks. 
Florida in November | Final Thoughts
Whether you're planning to visit Florida in November for thanksgiving or for a getaway before the holiday season, this month is an excellent time to visit the sunshine state. 
It's the time of the year when the weather starts to cool down, and the probability of hurricanes and bad storms is reduced drastically. 
November may be busier, especially with the return of snowbirds for the winter in Florida, but visitors can still enjoy family travels and causal holidays this month. Florida is ready to host you this month if you want to head further inland or enjoy the beach warmth.  
Articles Related to "Florida in November: Is it a Good Time to Visit Florida?"