A bit confused about where to find the best camping in Florida.  Florida's biodiversity can keep you on an excursion for years.  Florida is larger than one might imagine.  Boasting 1,350 miles of coastline, it has the longest contiguous coastline in the United States. 
Come and scout around with us for some of Florida's best camp spots.  As many might have guessed, it's one of the top destinations in the USA for winter camping.  We've got you covered from the northern Panhandle to the tip of the Florida Keys.
Best Camping In Florida: Top 50 Spots
Panhandle Region
On Santa Rosa Island and part of the Gulf Island National Seashore, this campground offers 137 sites with water/electric.  You'll find plenty of good times here, whether visiting historic Fort Pickens. fishing, snorkeling, or swimming.   
Located between Apalachicola and Ochlockonee Rivers, this area is known as the Forgotten Coast.  Its Gulf beaches, unspoiled by high rises, focus instead on charming, small-town communities.  The campground in Tate's Hell State Forest hosts 12 campsites; some sites are on the river.  
Despite its name, the river's clean waters are transparent golden-brown and flow through the largest longleaf pine/wiregrass ecosystem left in the world.  Full hookups are found in this 30-site campground in Milton.  Hiking, paddling, fishing, and tubing are popular.
The 10-site campground sits on Camel Lake in Apalachicola's National Forest.  Campsites have electric only, and some sites are on the lake.   A bathhouse is provided.  There's easy accessibility to the boat ramp and Florida National Scenic Trail.
Northeast of Pensacola lies Blackwater River State Forest, 210,000 acres of outstanding forest and water resources.  Bear Lake provides 40 campsites, a mountain biking trail, a boat ramp, and a fishing pier on its 107-acre lake. 
Does Florida have caves?  Yep, and cave tours can be arranged through this park.  The campground has water/electric sites and 2 sites for equestrian use.  Blue Hole Spring is an oasis for cooling off in just one of Florida's many natural springs.  Campers will find adventure paddling the Chipola River. 
This campground in Apalachicola National Forest offers 18 spacious dry camping tent pads with fire rings and grills.  A restroom w/showers is available.  The quiet, spring-fed lake offers paddling, and fishing and is surrounded by stunning natural beauty.  There are hiking trails in the area.
North Florida Region
Two camping loops on St. Mary's River or the Atlantic Ocean offer Spanish moss-laden oaks or snowy white sand dunes – take your pick.  Aside from the Fort, dating back to the Civil War era, you'll find plenty to do here with hiking, biking, fishing, surfing, shelling, or some good ole' relaxation. 
Right on the infamous Suwannee River sits this magnificent park.  Oak-shaded campsites provide a great beginning for exploring.  Whether discovering its history or paddling down the river, you're bound to break out singing, Way Down Upon the Suwannee River, at least once!
Once a Girl Scout camp in 1930 and built by the CCC, it was purchased by Clay County in 2006.  The Hickory Trail houses several unique camping areas — primitive tent loops, primitive treehouses, or rustic cabins.  The hiking trails showcase old-growth trees and Black Creek.
This City of Jacksonville park has lots to offer.  Off-road biking, hiking, kayaking, fishing, kids ziplining, and reservable boat slips round out its 300-campsite, 60-acre lagoon park.  Did I mention you're only a few minutes from the beach? 
12. Shell Mound
This great find is located in the Lower Suwannee NWR.  First come, first serve, the cash-only fees range $5 to $15, depending on hookups.  Waterfront sites, NWR hiking trails and a boat ramp await you.  Nearby Cedar Key is a fascinating old fishing town to stroll around and grab some fresh seafood.
This is Florida's western frontier, complete with wild horses and bison roaming a 16,000-acre prairie.  The 15' observation tower makes for easy viewing, but hiking the prairie's trail is allowed.  There are lots to see in the area, including Pulitzer Prize Winner Marjorie Kinnan Rawlings' homestead.  The 37-site campground and visitor center are superb. 
One of the most popular state parks, and for good reason.  Swimming, walking, and bicycling are exceptional on its 4-mile pristine beach.  The secluded campsites, a short walk from the ocean, are covered in a maritime hammock making this beachside park unique.  St. Augustine, the Nation's oldest city, provides an array of things to do.
This 1,500-acre Preserve sits on the Matanzas River and Pellicer Creek.  Family-owned in 1886, the homestead still stands.  It's popular with equestrian riders as well as hikers and paddlers.  Two primitive camp loops are available, one being equestrian.  Get in tune with nature at the Preserve.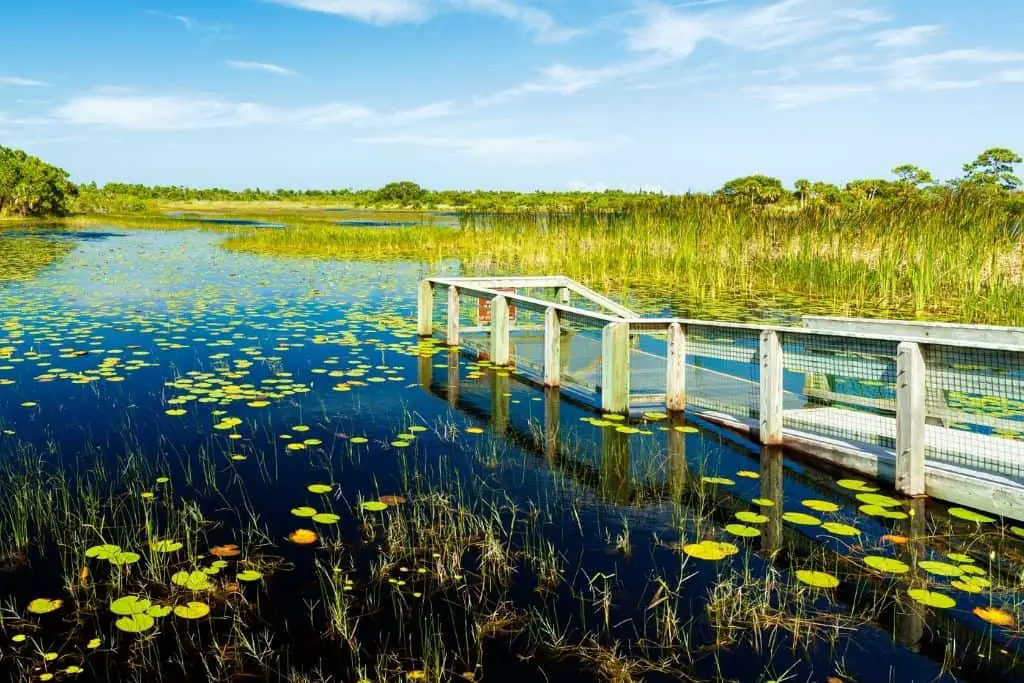 Florida doesn't run short on natural beauty.  Silver Springs has lots of history, glass-bottom boat rides over magnitude springs, a stellar RV and primitive campground, paddling galore, and the best campground museum ever. While paddling Silver River, don't be surprised to see alligators, manatees, and yes, even Rhesus monkeys – a part of its amazing history. 
Ocala National Forest holds several of the best paddling experiences in Florida.  Juniper's 7-mile downstream Run offers unique beauty, wildlife, and paddling expertise.  The campsites have no amenities, but restrooms, showers, and a camp store are provided.  A short walk from the campground takes you to Juniper's spring for a swim.
Central Florida Region
18. Crooked River
On the shores of Silver Lake in the Withlacoochee State Forest, Crooked River provides numerous opportunities for outdoor enthusiasts.  The campsites allow tents and RVs but provide water only.  It was ranked #1 in 1999 on World Wildlife Fund's "10 Coolest Places You've Never Seen in North America."
Blue Springs allows swimming except during manatee season.  This park can get busy in the chilly months, but watching from a dozen to a few hundred manatees lumber through the crystal-clear spring is awesome.  That makes winter camping here exceptional in this buffered 50-site campground.  For winter camping, book early.
The island, located in the St. Johns River, is accessible via the park's short ferry ride, transporting day visitors and campers with supplies.  Fido can come along as well.  Tent sites are hike-in and have potable water only.  Overnight boat slips are also available for boat camping.
This Orange County campground seems miles away from the hustle-bustle of Orlando.  The campsites are private and shaded, yet spacious.  Lake Hart provides fishing, paddling, and a swim beach.  Wildlife is abundant, with sandhill cranes and deer often spotted.  Nearby Split Oak Preserve provides miles of hiking trails. 
22. Manatee Hammock
This Brevard County park has RV and tent sites.  Well shaded by oaks and palms, you can view dolphins, osprey, and a variety of water birds.  Fishermen delight in abundant shoreline and pier fishing.  This is the perfect locale to view Kennedy Space Center launches when visiting the Space Coast.
The campground offers water/electric sites at $20/night; tent sites at $10/night.  Fishing and paddling are popular, but this rural area also offers a shooting range across the street (only open at certain times).  The highlight is Circle B Bar Reserve, only 6 miles away. This pristine nature reserve keeps wildlife abundant by prohibiting dogs, music, and balloons. 
White-sand beaches, paddle trails to offshore islands, multi-use trails, two fishing piers, a historic fort, and an impressive bird population keep campers as busy as they want to be.  Reservations can be challenging in this campground haven, but there's usually availability in the tent section. There's even a ferry to Egmont Key.
This Pasco County park covers 8,300 acres with two multi-use trails, equestrian trails, hiking trails, and a birding trail designed by the Audubon Society.  Primitive tent sites, as well as backcountry camping, are available.  Tent sites have access to potable water nearby.
Florida's first state-designated wild and scenic river, Myakka, flows through wetlands, pinelands, and hammocks.  Expert paddlers can experience this river and its generous alligator population.  If you prefer, book a pontoon boat tour.  There's much more, so plan to camp at the 90-site, tree-canopied campground to fully explore all it has to offer. 
South Florida Region
Campers can observe our solar system through telescopes or binoculars, named Florida's first "dark sky" park by the International Dark Sky Association.  The campground has 40 sites, including some astronomy and equestrian sites.  Off-road bikers, hikers, and horseback riders share 100 miles of trails.  Dawn to dusk, the prairie is home to diversified wildlife.
Looking for that Jimmy Buffet kinda feel?  Water and breathtaking views surround you at Sebastian Inlet.  It's a paradise for anglers, paddlers, boaters, surfers, and beach bums.  The mostly non-shaded campsites, some with an inlet view, offer water/electric hookups.  There's biking, 2 park museums, a boat ramp, bait shop, and over-the-top sunsets.
Located on Caloosahatchee River near Telegraph Creek, Franklin offers 30 water/electric campsites and 8 boat campsites.  There are lots to do here besides boating on the river or kayaking the backcountry creek.  Minutes from Ft. Myers, Sanibel Island, or the Gulf Beaches, this ACOE campground is a find!
Experience camping on the St. Lucie Canal with waterfront RV/tent sites plus cruiser sites for boat campers.  East of Lake Okeechobee, the second largest lake in the USA, this ACOE campground is impressive and surrounded by abundant tropical vegetation.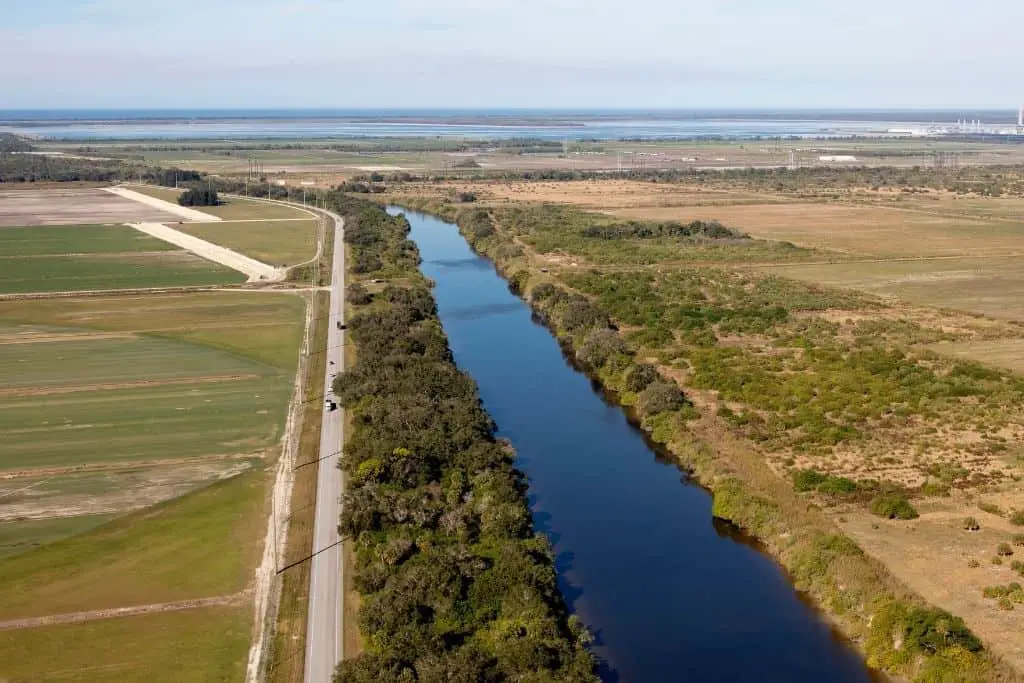 On the Atlantic Coast, Jonathan Dickinson is teaming with natural beauty.  Its campground has two loops, one having full hookups, and is popular for miles of bike trails and canoe/kayaking on the nearby Loxahatchee River. Blowing Rock Preserve's limestone formations, the largest on the Nation's East Coast, is a favorite with snorkelers.
Okaloacoochee Slough State Forest is home to such wildlife as Florida panthers (sightings are unlikely), black bears, sandhill cranes, and wood storks.  The primitive 15-site tent/small RV campground is remote, quiet, and unspoiled.  Hiking, biking, and fishing here in true Florida are what it's all about.
Palm Beach County's 72-site campground is primo, with full hookups, WiFi, laundry facilities, restrooms w/showers, shuffleboard, and horseshoes.  Lake Okeechobee's Scenic Trail keeps bikers and hikers moving and even offers some great fishing holes.  There's also an on-site boat ramp.
If you're headed to Miami, check this park out.  It's top-notch, reasonably priced, and peaceful, with 270 acres to hike, bike, swim, or fish.  The campground has 240 sites with partial or full hookups.  Miami Zoo is also nearby.
35.  Midway
A great winter destination, Midway's attractive one-loop campground circles a pond giving every site a waterfront view.  It offers electric only, but potable water is available for RV tanks or tent use.  A restroom (no showers) is on-site.  It's a convenient location for exploring Big Cypress National Preserve and Everglades National Park.
Everglades NP is an ecosystem worthy of respect.  Some Flamingo campsites offer electric.  Potable water is on-site for filling RV tanks or tent use.  National Park tours are offered or get off the beaten track and explore on your own.  It's a whole 'nother world in the Everglades. 
Keys and Other Islands Region
The first undersea park in the US draws campers to its coral reefs and marine life.  Snorkeling, scuba, and glass-bottom boat tours are available.  In 1965, a 9' bronze statue, Christ of the Abyss, was lowered into 25' of water here, making it a popular snorkeling site.  The campground consists of 40 RV/tent sites offering water/electric, restrooms, boat access, and marina.
Located in Biscayne National Park and accessible only by boat, the docking/tent fee is $25/night.  Pack out all trash.  Drinking water is generally available, but play it safe and bring your own.  Restrooms, cold-water showers, picnic tables, and grills are on-site.  Camping fees are waived from May 1 – September 30.
39. Boca Chita Key
Biscayne National Park's most popular island maintains beautiful views, a grassy camping area, picnic tables, and grills.  There are toilets but no other amenities.  Accessible only by boat, the docking/tent fee is $25/night.  A 1930s historic lighthouse guides boats to this exquisite island.
Accessible by boat, seaplane, or ferry (reserved through Yankee Freedom), historic 19th-century Fort Jefferson proves a fascinating exploration.  Snorkeling, diving, and roaming this island is an awesome way to spend your day.  The ferry can bring campers and supplies for those planning to tent.  The primitive sites have picnic tables and grills.  Everything else must be brought with you and trash packed out.  Campfires are not allowed. 
Best Free Camping in Florida
This 12-site campground may be no frills but free camping on Blackwater Bay is Florida boondocking at its finest.  FYI, sites 1 – 8 are on the water.  The beach provides access for kayaks, canoes, or paddleboards.  Hikers can trek on miles of trails.
The East River flows next to these campsites with a dock for fishing, launching your watercraft, or just relaxing.  These permit-required campsites are primitive.  Small RVs are permitted, and generators can be used.  There are no other amenities. 
Preserved as an aquifer recharge area and habitat for endangered scrub-jays, it offers two dry campgrounds (one for equestrian use).  While free, reservations are required through FWC.  Hikers enjoy 22 miles of trails, including a 4-mile river trail.  Cyclists have use of the 9-mile multi-use trail.
Six campsites await in this secluded, peaceful, scenic southern bank of Lake Bryant within Ocala National Forest.  There are no amenities; all trash must be packed out.  Parking spots and a boat ramp are available. 
45. Allapattah Flats
This permit-required SFWMD campground is a hidden gem.  Five campsites are offered, and it has hiking/biking trails.  Separate trails are available for horseback riding.  The dark night skies are perfect for stargazing.  The area is open at certain times of the year for hunting.  Be sure to check myfwc.com regarding hunting dates.
Best Beach Camping in Florida
One visit and you will then understand why Grayton beach was named America's #1 2020 Beach by Dr. Stephen Leatherman ("Dr. Beach").  Emerald-green waters, sugary-sand beaches, and sand dunes dominate.  The campsites sit along Florida's Gulf.  A unique paddling experience is found at the 100-acre coastal dune lake.  Coastal dune lakes are only found in a few places around the world. 
The campground is situated on the Gulf of Mexico and St. Joseph's Bay.  A wilderness preserve is located at the tip of the peninsula.  Its 75 campsites offer water/electric and are dog-friendly.  Beach lovers will revel in this Florida utopia. 
From sunrise to sunset enjoy beachfront camping on Siesta Key.  The campground includes full hookups and direct access to the Gulf.  No pets or campfires are allowed.  The crushed shell-padded sites help keep sand where it should be–on the beach.   Should you wish to visit the town, take the free open-air trolley. 
Over the Keys' 7-mile bridge of breathtaking aquamarine waters, you'll find Bahia Honda.  If you've not heard of it, you should correct that–now!  This 75-site campground even has boat slips if you choose to boat camp.  Snorkel trips are reservable to Looe Key, a National coral reef sanctuary.
This 1,000-acre park, halfway between Key Largo and Key West, is a secluded sanctum for campers.  The 28-site campground is within view of the Atlantic Ocean.  Composting toilets and hot showers are on-site.  It's ideal for sit-upon kayaking.  Fishing is allowed, but spearfishing is prohibited. 
Camping in Florida | Conclusion
Florida's outdoor appeal keeps this state a top destination.  Fall, winter, and spring are ideal for getting outside, camping, and exploring its natural beauty, amazing sights, and diverseness. 
Articles Related to "Best Camping in Florida (Paid & Free Options)"