If you're planning to visit Florida in December for the winter holidays and looking for the right information, we can help.
The sunshine state has a lot of unique things to make your Christmas a fun-filled experience. 
If you love white Christmas, this month of the year in Florida is full of exciting events, festivals, and unique activities for visitors and residents.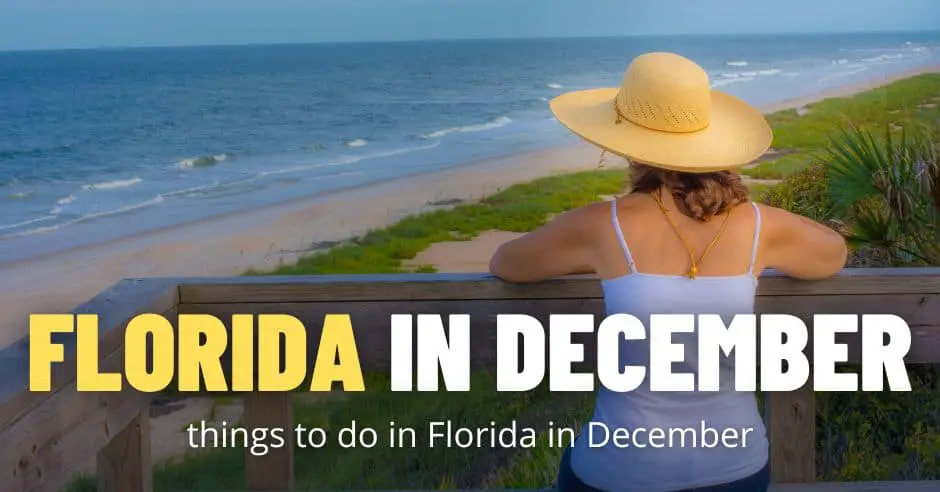 Whether you want to see the architectural beauty of the historic St. Augustine or explore the beaches in Tampa Bay, we've put together every necessary information to guide you through your entire stay in Florida.
Weather in Florida in December
The average temperature in December is between 64°F to 76°F (18-24°C). December is a dry season but with higher fogs, higher winds, and cool weather. The chances of rainfall are low, with an average of 2 inches.  
There's a significant weather difference in southern and Northern Florida. The Northern part of Florida in December (From central F.L. to the Panhandle), has average daily highs of 68°F (20°C) and average daily lows of 48°F (9°C).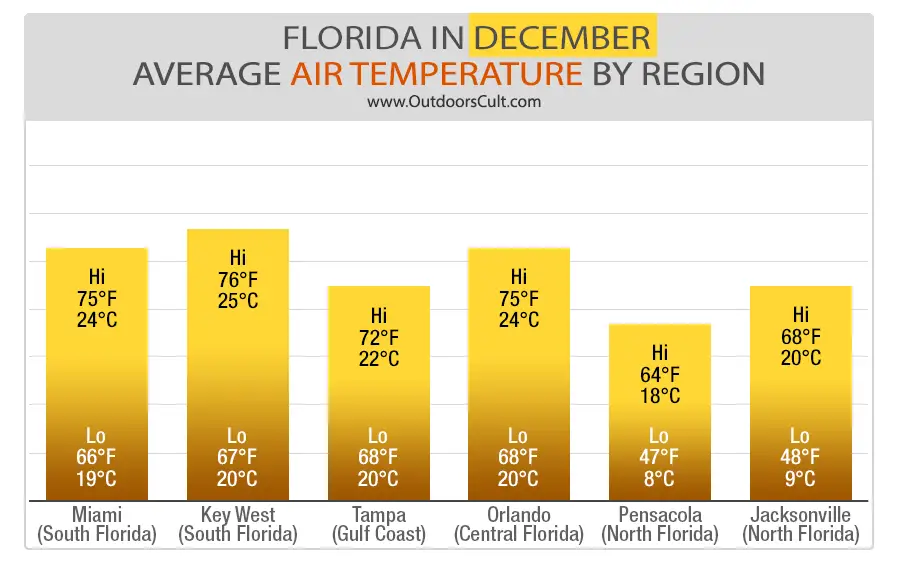 From central Florida to the keys, the southern area has an average temperature of 75°F (24°C). 
When packing, bring different types of layers because mornings and nights are usually cold but warm throughout the day. 
Places like Destin, Tallahassee, and Pensacola experience high temperatures of 70°F (21°C) in December. 
Rainfall in Florida in December 
December falls under the year's dry season, meaning most days are characterized by little to no rainfall. Even when rain falls, they're usually short and could last from 15 minutes to an hour. The rainfall in December is about 2 inches on average and can only rain between 6-7 days per month.
However, from personal experience, Florida weather can be unpredictable.  In fact, there can be thunderstorms in December.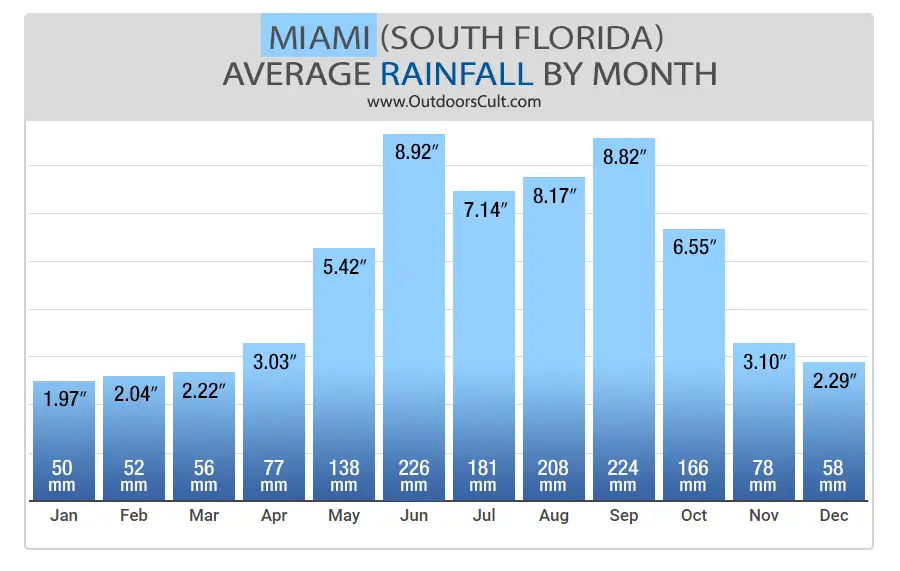 Wind in December
While rain rarely falls in December in Florida, gusty winds are common. In December, winds usually blow in the morning or after sunset. So come along with a jacket or sweatshirt. 
Humidity in December
Humidity in Florida is generally high, even during the winter months. The humidity can be extreme and unbearable. Generally, winter periods like December experience a lot of gusty winds. The effects of the available humidity are reduced by Sweltering winds and breezy mornings. 
Humidity is about 86% in the morning and drops to 55% in the afternoon and night. 
Weather Progression in Florida 
The December weather in Florida is similar to early fall in most places. 
The Morning weather is foggy but with cooler temperatures and high humidity until around 9 am. 
In the evenings, the temperature drops, and winds spike after sunset. 
Water Temperature in Florida in December
The ocean waters in Florida are usually calm during this month of the year. When it comes to water temperature, the further south you go, the warmer the water.  
Treasure coast areas such as Delray Beach and West Palm Beach have the warmest Atlantic water at an average temperature of  80°F. The Keys and Miami are 75°F (24°C). 
The coldest water is in Northern Florida.  Jacksonville, St. Augustine, and other Atlantic sides have a water temperature of 65°F. Panhandle regions like Destin/Pensacola have a water temperature of 66°F. 
Best Florida Beaches in December
Florida beaches are fun to explore, regardless of the season. However, December is windier and colder than other months. We've put together the warmest and coldest best beaches according to December weather. 
Warmest beaches in Florida 
Treasure coast 
The Treasure Coast, located close to Miami beach, has the warmest temperature in Florida, which averages about 75.9°F (24.4°C). 
Palm beach and west palm are the cities that make up the Treasure coast. Both beach towns are famous for luxurious residences on pristine white sands. There are a lot of fun activities in these areas, making them a lovely vacation location. 
Some of the beaches we recommend in this area are Delray, Palm Beach, West Palm, and Pompano, which offer slightly different features. Delray Beach has excellent beaches and great arts. Pompano Beach allows you to see the shipwrecks and coral reefs. Boca Raton is amazing for recreational activities like shopping and golfing.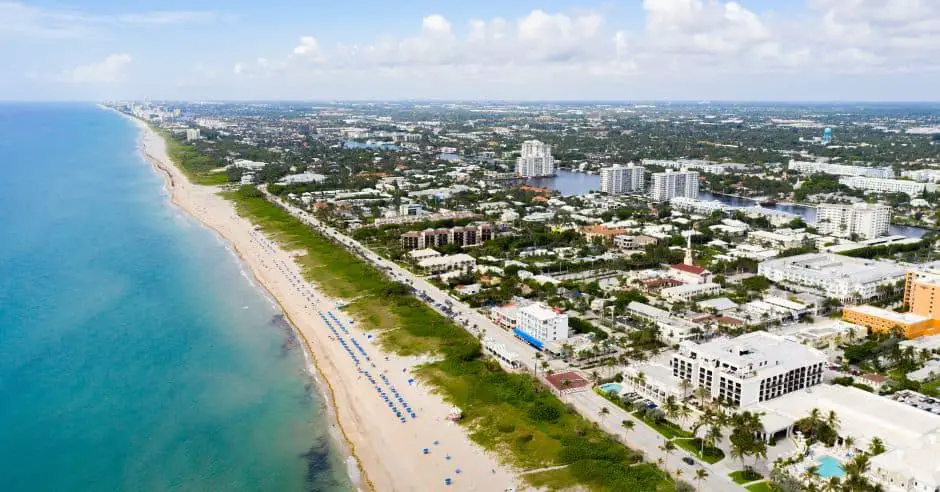 Gold coast 
The Gold coast is in the Fort Lauderdale and Miami areas located southwest of Florida. These beaches are famous for their tourist attractions, so expect a little crowd. These regions have an average water temperature of 74.7°F (23.7°C). Miami records the highest temperature in Florida throughout the year, which makes it the most suitable vacation destination for travelers who hate the cold. 
South Beach, Miami Beach, and Las Olas Beach are our top recommendations for the Gold coast. Some of the most memorable activities in this area include performing the ocean drive cruises and choosing from multiple hotels and dining options. In addition, you can also explore the nightlife and variety of holiday festivals in this busy metropolis.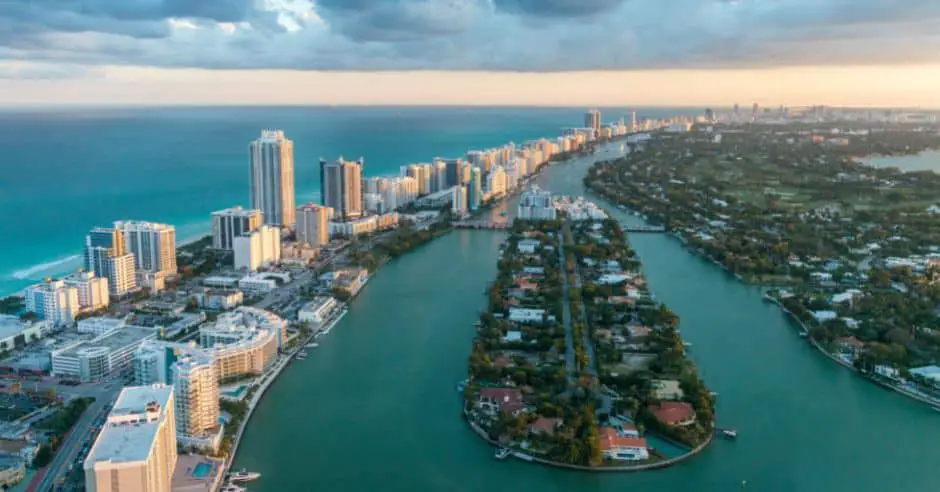 Space Coast
The space coast is located on Florida's Atlantic side north of Colorado. The coast is popular as the home of the famous Jon surf Shop on the cocoa beach, which is a top destination for spring break. Although the beaches are no longer as crowded as they were in the 2000s, many tourists still visit them.  
The Space Coast is cooler in December, with an average water temperature of 72.4°F (22°C). Cocoa beach, Melbourne, and Daytona Beach are the most recommended beaches along the Space coast. 
They all have a similar atmosphere and structure, so you should consider your proximity to Orlando when making your choice – which makes cocoa beach your ideal option.  
Paradise coast 
The paradise coast is far from Fort Lauderdale and Miami, but with a relaxing environment and natural habitat for older and winter visitors. 
This area is packed with fun events and activities, and its serene environment tends to be more appealing to snowbirds. Paradise coast is also close to the Everglades, giving travelers various options for adventures during their vacation. 
Naples, Marco Island, and Fort Myers are top destinations on the paradise coast. These spots are also busy in December but not as crowded as the previously mentioned coasts. The water temperature is cool and averages 71.2°F.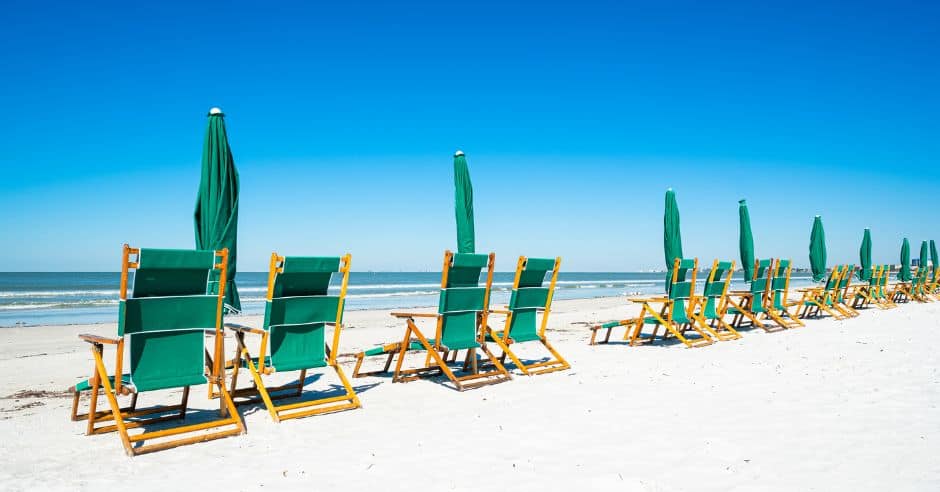 Cultural coast 
My family's favorite summer destination has been the cultural coast since I got married. While its beaches are amazing, the water averages 68.5°F (20.3°C). The water will be even slightly cooler in December (cooler than your expectation for farther south weather). 
The best places you can visit on the cultural coasts are Siesta Key, Longboat Key, Sanibel Island, and Anna Maria Island. Anna Maria is a beautiful beach town with a cool atmosphere for biking or walking around the island. 
Siesta Key offers homely accommodation for families, and Sanibel features fantastic natural habitats. 
Coldest Beaches in Florida in December
Sun coast
The sun coast is located north of the cultural coast in the Gulf of Florida. This coast has an average temperature of 70°F (21°C), and its weather is similar to the Cultural coast. The sun coast has the best beaches in Tampa Bay, including St. Pete and Dunedin Beach. 
While many tourists visit these beaches, the coasts mentioned above have better lodging.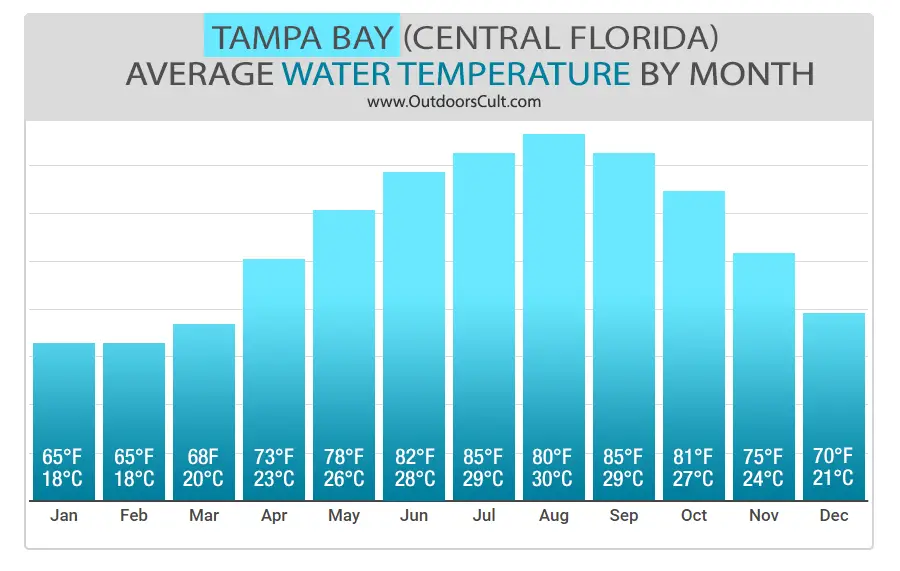 Some top places you can visit are Honey Island State park and Caladesi island state park. You'll have to take a ferry trip from Dunedin to visit these areas. 
These excellent state parks feature picnic tables, trekking paths, and special dog-friendly areas for dog parents. Be prepared to see turtles, ocean birds, and gopher tortoises when you visit these areas. 
First coasts 
The first coast is one of the coldest in Florida, which features the ancient beaches and cities of Jacksonville, sea island, and St.Augustine. This coast averages a temperature of 66.4°F (19.1°C). The historical aspect of this area is one of the things that attract visitors to this region.  
St.Augustine is Florida's oldest city, with numerous landmarks like the Castillo de San Marcos fort. Jacksonville is the most popular city in Florida and boasts several parks, museums, and gardens. Amelia Island is an excellent escape for a luxurious stay with fantastic shopping districts and golf courses.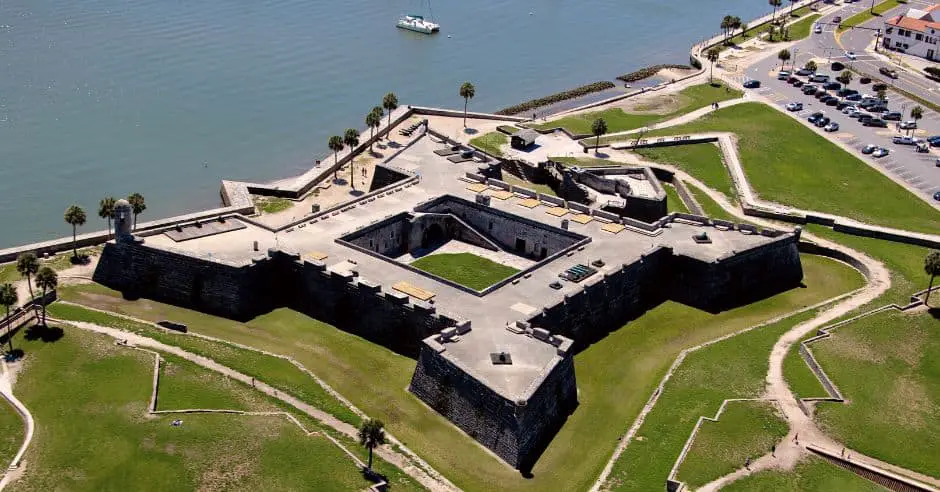 Emerald Coast 
The Emerald Coast comprises Florida's Panhandle. The coast has the coldest temperature during winter in Florida, with a water temperature of about 64.4°F (18°C). Even with the cold weather, Emerald Coast has a lot to offer visitors in December.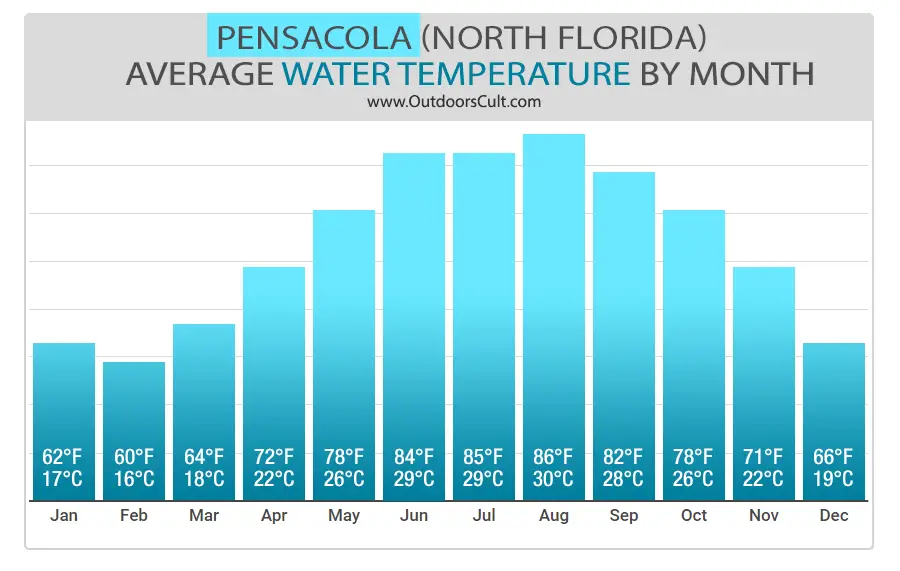 Swimming on this beach may not be enjoyable in December, but the inland activities and beach walks make up for this. Panama City, South Walton island, and Pensacola are recommended beach areas. Feel free to visit any of the numerous Pensacola museums or explore the state parks in Panama City. There's a fantastic art scene in South Walton and amazing golf courses in Destin. 
What to Wear in Florida in December
You'll need a lot of layering clothes for December in Florida. Wear pants and long sleeves in the morning and night. In addition, you'll need a light jacket. You can wear shorts and a T-shirt at noon. You'll have to wear comfortable shoes to visit theme parks. 
The temperature becomes warmer as you go further south. Wear a sweater or jacket mid-afternoon, even if you're in the mid-region of Florida.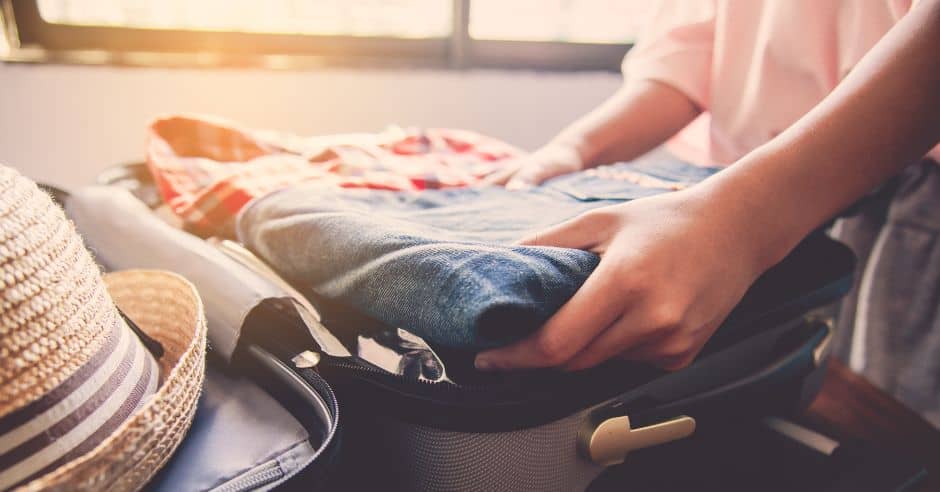 Remember to pack comfortable shoes. Most travelers ignore the amount of walking required, especially in theme parks. Some theme parks like Disney may require over 10 miles of walking. If you don't wear comfortable shoes, you may hurt your feet. Avoid wearing flip-flops when you're in theme parks. 
In addition, make sure you always keep your light jacket and sweater around, especially when you want to dine out in restaurants. 
Because of the hot temperature outside, the A.C. is always blowing cold. Keep this in mind if you're allergic to colds. 
Crowds and Rates in December
Florida is one of the few places in the United States where you can get away from the cold winter temperature and enjoy a tropical holiday season. 
December welcomes a large crowd of visitors to Florida. Large regions and cities with the highest gathering of snowbirds are Orlando, Miami, Tampa, and Sarasota. 
Christmas crowds
The Christmas season welcomes more crowds than always. Schedule more events in the last week of December to have a large gathering of visitors. You don't want to do too much daily because long queues can delay you. 
Beach crowds
Remember, it's Florida, so expect a more crowded beach in December, although lesser than the crowd during spring break. If you love to relax on the beach for your vacation, schedule your visits for May.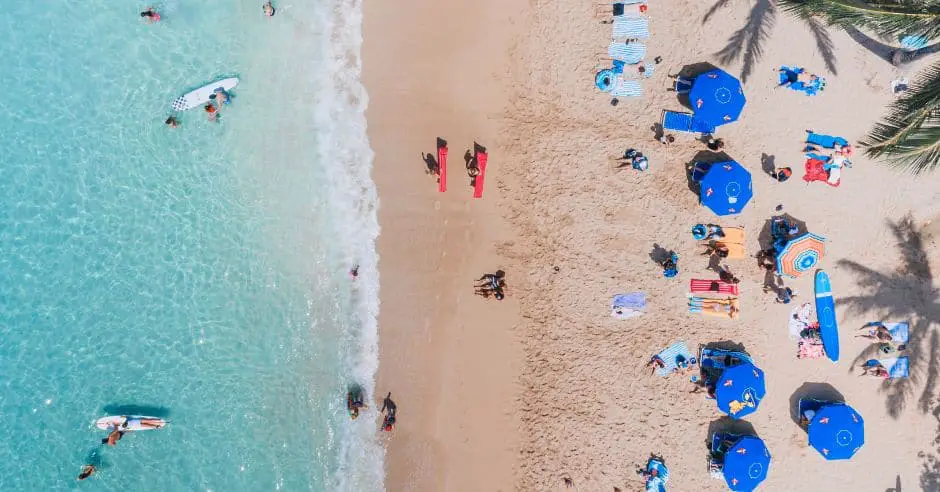 Rates
In some Florida cities, rates are high for the entire winter season because of seasonal residents and snowbirds. The prices go up in December because of the numerous celebrations and holidays. 
December is usually one of Florida's most expensive months in terms of accommodation and entrance fees for activities. 
We suggest making reservations months in advance because it gets filled up fast. 
Depending on your budget and taste, the prices of hostels start at $60 per night. Airbnb may cost at least $200 per night, hotels at $70-$400 per night, and home vacation rentals at an average of $600 per night. 
Camping in Florida in December
Florida offers camping in forests, national parks, recreational areas, state parks, city parks, and campgrounds. 
The ideal campground offers a home base for camping lovers – from relaxing activities like boating and fishing to sports like biking and hiking. You have to find out the activities and amenities offered by your choice of the campground.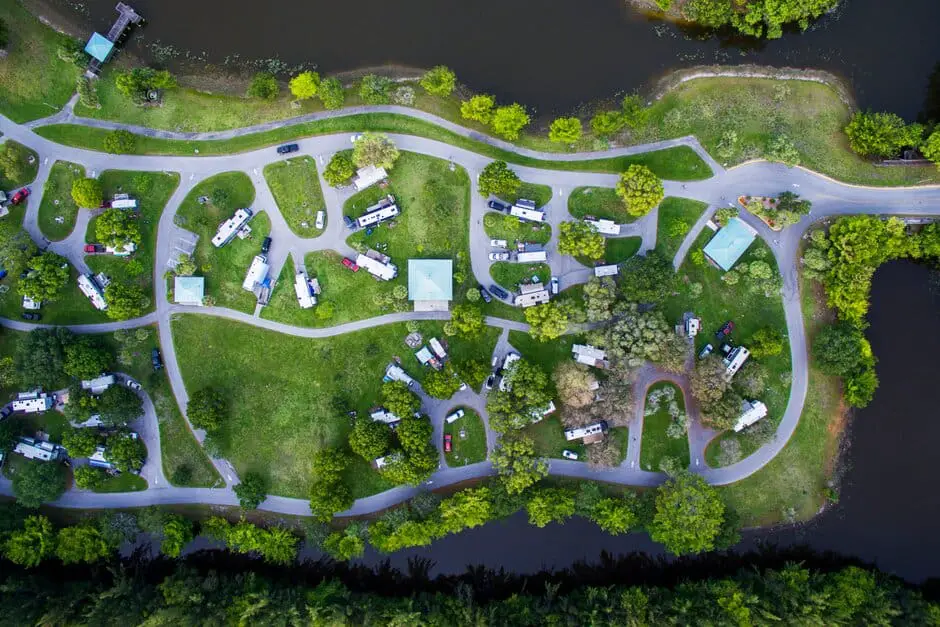 Many people love to spend December in Florida because of its weather. But it would help if you also considered the weather when camping in Florida. Winter offers Florida the mild and dry seasons, which are perfect for outdoor camping. There are only a few days of rain and mild temperatures. Make sure you have a blanket and warm clothing when camping. The temperature can be around the 80s during the daytime and drops into the 30s at nighttime. So bring a different range of clothing to your campground. 
Fishing in Florida 
In December, a fishing vacation to south Florida sounds rather interesting. The Fish here are different but adorable. You can explore any of these fishing destinations. 
Key west 
Most professional charter captains in key west begin their day at 9 am. The quality of fishing in this area is breathtaking. Key west is blessed with various fish species such as sailfish, blackfin tuna, tarpon, permit, grouper, kingfish, etc. You can enjoy fishing in the Atlantic or the gulf, regardless of the wind direction. 
Even if the wind is too high to fish in the gulf or ocean, harbors at Key West have outstanding fishing for tarpon, permit, and cobia. 
To get here, take a puddle jumper from Miami into key west or cruise down the highway in an RV. Either way, be prepared for an extra hour of travel after you reach Florida. 
Clearwater, Florida 
The Clearwater Bay, Gulf water, Tampa Bay, and several other waterways are riddled with fish during winter. There are usually two choices to make here: hit the gulf for fish like snappers and groupers or head into the bays for fish like redfish and speckled trout. This is a metropolitan area, so accommodation and travel are pretty straightforward. But you can only commune with nature when you're far away from town. 
Miami 
Miami is strange, especially the south beach. But it has incredible fishing variety in winter. The unique part of Miami is its mix of saltwater and freshwater opportunities. 
The canals and ponds contain great peacock bass, and there are many briny opportunities between the open Atlantic and Biscayne Bay. 
If you're chanced, explore Government cuts for night fishing. You can fish for largemouth and peacock bass today and travel a few miles the next day to fish the sailfish. Keep in mind that Miami is expensive. The restaurant price and hotel rate can be a pin in the neck. 
Things to Do in Florida in October
Visit the historic St. Augustine 
St Augustine was founded in 1565, which makes it the oldest city in the United States. Spanish history and architecture beautify the city's amazingly preserved homes and buildings. 
This city is an exciting place for a vacation at any month of the year. 
During holidays, this ancient city dazzles with bright nightlife all season. Visitors drive or walk up to 20 blocks from the historic district to view the beautiful lights-covered buildings from foundation to rooftop. 
Visit Tampa Bay 
Florida's Tampa Bay region comprises Tampa, Clearwater, and St. Petersburg. Visitors still think of this region as a cluster of cities. But each region is about 30 minutes away from the other. During new year's eve, each city will buzz with parties hosted by restaurants and huge attraction areas with firework displays that visitors can view along the bay. 
Visit Celebration 
Visit celebration, a Walt Disney city situated a few miles away from theme parks. Residents are known for a traditional annual celebration of Christmas throughout December. The celebration has lots of fantastic AirBnB hotels and rentals to lodge. 
Celebration's biggest draw in December is its winter wonderland celebrated at Town Center. 
Snow falls almost every night, light shows hosts on the building, and public ice skating takes place every day. There's a lot to explore in this beautiful place. 
Try Golfing 
Golfing is popular across Florida, and many cities and resorts offer excellent courses. South Florida areas provide some of the most fantastic golf courses in Florida in December. And here, the weather is temperate.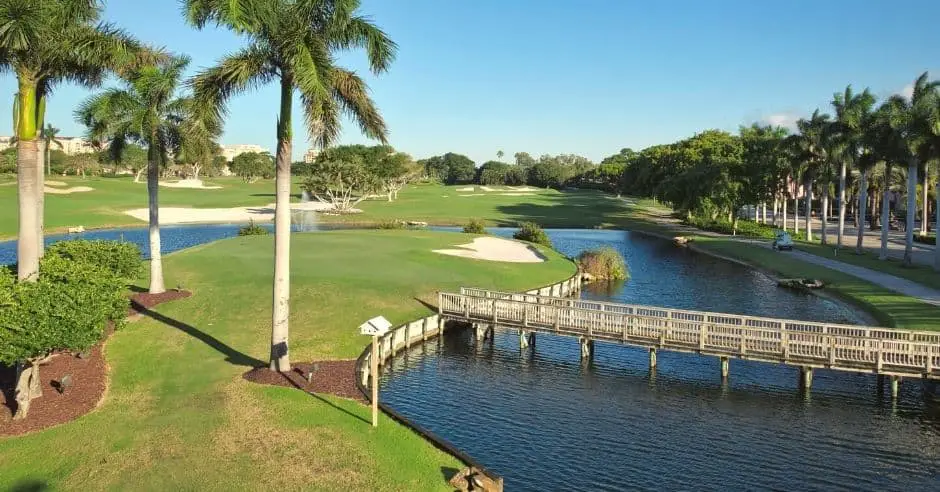 Our top recommendation is Streamsong Resort and spa, located in Central Florida. Feel free to relax in this resort whether you're going for a spa treatment or playing golf. 
Florida in December | Final thoughts 
Spending the holiday winter in Florida can leave you with the most memorable experience. It is one of the best times to visit Florida. The sight of a palm tree in Christmas light is fantastic, especially after experiencing the cold winter. More than everything we listed, there are many amazing things you can do in Florida in December, and we hope you'll enjoy your stay. 
Articles Related to "Florida in December: Weather, Warmest Beaches, Things to Do"