Planning a trip to Florida in October and don't know where to start? We're happy to help!
October is one of the best months to visit Florida because it's the month of the year with the most favorable weather.
With Florida's cool and calm weather conditions in October, there's no better month to enjoy the "sunshine state."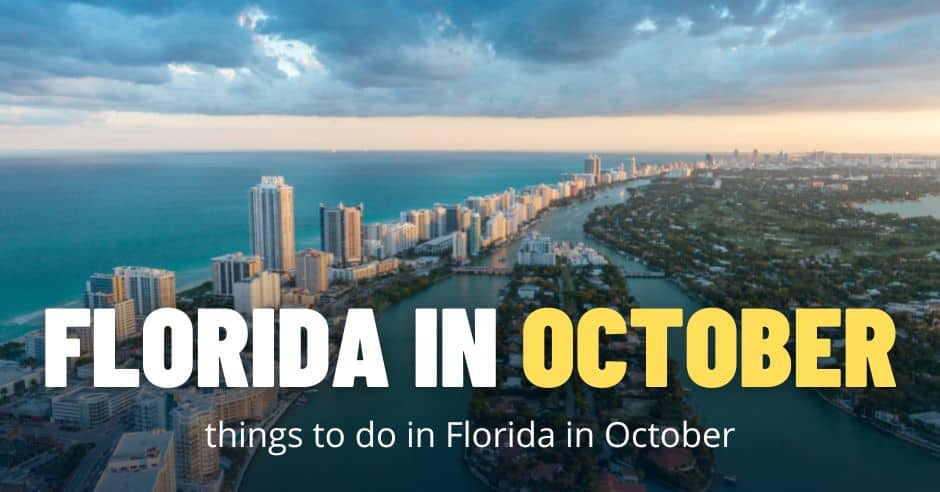 October has a low turnout of tourist crowds, making vacation peaceful and memorable.
Additionally, October is the end of the hurricane season, so there's no storm issue to deal with during vacation.
Many harvests and Halloween events occur in the tenth month. 
No matter your plans for October's vacation to Florida, Our writer, born and bred in Florida, has every information you need to learn about the weather, events, places to visit, great beaches, and more. Her local knowledge of Florida will guide you throughout your entire stay.
So, whether you want to learn Florida's history on a ghost tour, enjoy relaxing moments on the beach, or spend your day around the beautiful theme park, our expert tips will make your stay in the sunshine state the most memorable experience of your life.
Weather in Florida in October
October in Florida is characterized by warm water and warm temperatures, with the average highest temperature between 26°C to 29 °C degrees Celsius or 80°F to 85°F degrees Fahrenheit. 
Keep in mind that this varies from region to region. With an average of 8 inches, monthly rainfall in October is usually on the decline.
The humidity level declines, and the night feels breezy and chilly.
Heat/Humidity In October
Humidity in Florida usually changes rapidly, but it is generally lower than in other months.
In October, average humidity ranges from 54% to 86%, and higher around 4 am or after a heavy rain shower. 
Rainfall in October
Rain, tropical storms, and hurricanes end in October. Although hurricanes are still a possible threat, their chances of creating significant damage are low, unlike the previous months.
There are still a few rain showers in Florida in October. But the intensity of the rain is on the lower side (if it rains at all). The frequency of rainfall may change from daily to weekly or even monthly.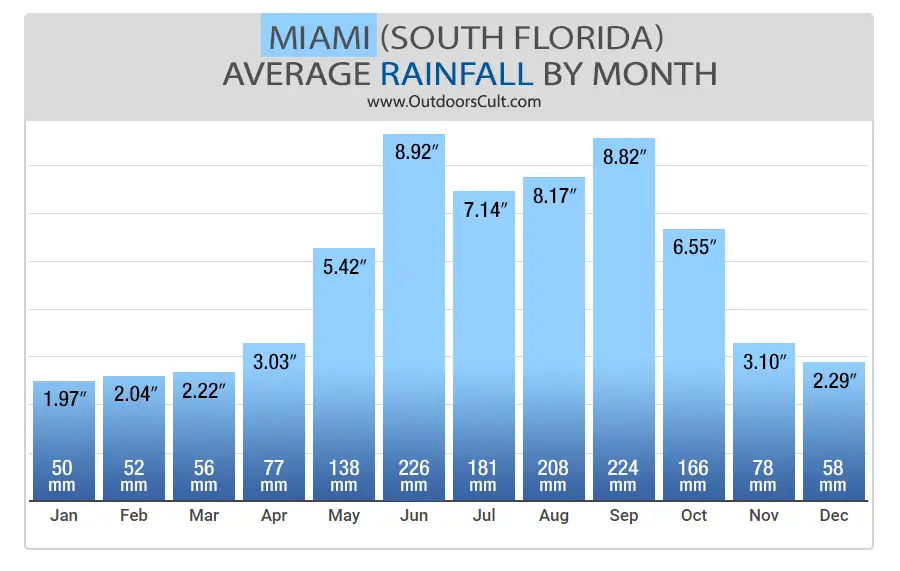 Keep in mind that south Florida has a higher risk of hurricanes and tropical storms and may experience a bit of downpour.
Any chance of all-day rainfall? We cannot guarantee, but it can rain for a few hours. 
However, afternoons are the most common time of the day for rain in October. 
Water Temperature in October
The warm water temperature in Florida is one of the main reasons for hurricanes in the state. Water temperature increases as you go further south. The Atlantic area has warmer temperatures than the opposing gulf area.   
Where is the warmest water?
The warmest water in Florida is usually around the keys and the southern tip of Miami, which is at 80°F – 82°F(27°C – 28°C).
The southern region is suitable for activities that require warmer water.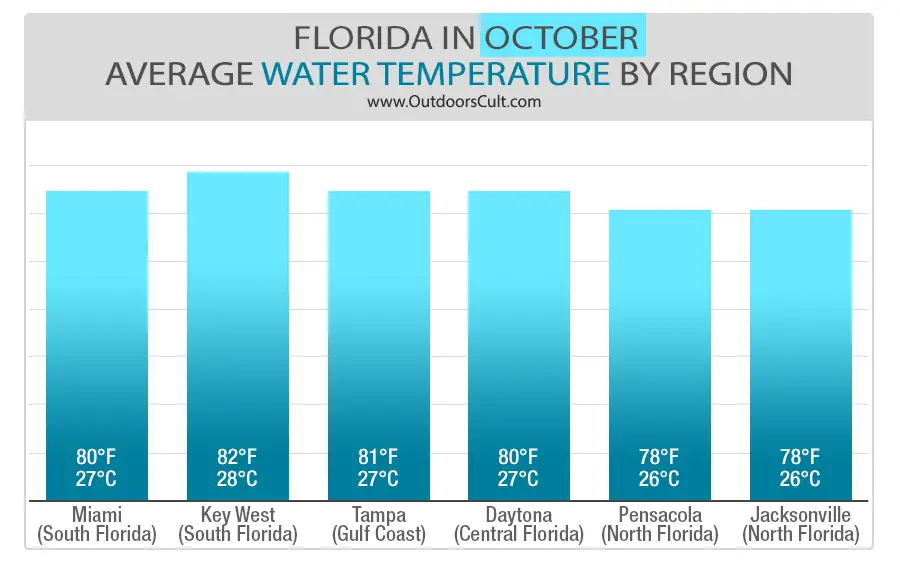 Just be alert against tropical storms and hurricanes. Beaches around the gulf coasts like Tampa beach have a water temperature of 81°F (27°C), while Fort Myers, Sarasota, and other further southern regions have 82°F (28°C) water temperature. 
Around the north area of the panhandle, you'll find a water temperature of 78°F.
The Atlantic area of Florida, close to West Palm Beach, has a water temperature of 83°F (28°C). Cocoa beach and Daytona have 80°F (27°C).
Best Florida Beaches in October
Florida is blessed with numerous beautiful beaches vacationers visit every year. Here's a list of the best beaches in Florida and what you should expect from them. 
Sun Coast
The sun coast is the most popular area in Tampa Bay, full of luxurious beaches.
It's an enjoyable place to visit on the gulf, with an average water temperature of 81°F (27°C). 
On the flip side, Tampa Bay is usually affected by hurricanes. Even if they occur, their effect is less intense.
St Pete beach and Clearwater Beach have the most populated beaches. However, the sun coast also has great park islands.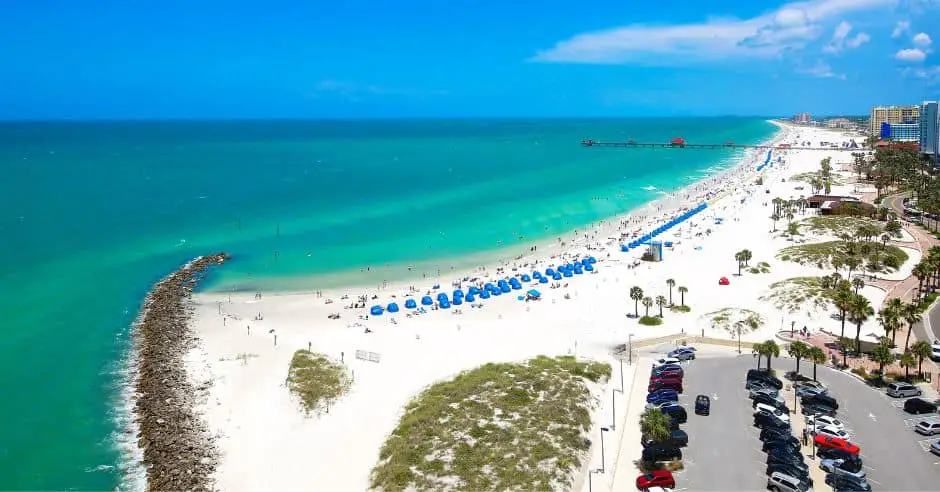 The Honeymoon Island and the Caladesi Island State Park are usually secluded. Locals recommend them because they're less crowded in October.
First Coast
The first coast sits at the top of Atlantic shores in the Northeast of Florida. The beach boasts the ancient Jacksonville and St. Augustine, the oldest cities in Florida.
In October, the water temperature cools to an average of 79.5°F.
The historical part of this region and the fantastic quiet shores attract visitors to this area. 
St. Augustine is a lovely beach to visit for your vacation. Thanks to its beautiful foods from great restaurants and top-quality drinks from its local bars.
Cultural Coast 
Our favorite is the cultural coast, where we chill out with the family. Here, the weather and water are warm, and the ocean records an average temperature of 82°F. 
The cultural coasts deliver an exciting but slightly beachy experience – not so luxurious and not so quaint. 
Like most beaches, a hurricane cannot make it that far in October. 
We recommend a vacation on Anna Maria Island in this area, especially for its simple beach town experience. However, if you want something with a little luxurious longboat key, Captiva or Sanibel Island is a good option. 
Emerald Coast
The Emerald coast spans from Tallahassee to Pensacola. The water temperature cools off in October in preparation for the upcoming winter weather. The average ocean temperature in October is 74°F -78°F (23°C – 26°C).
Some of the most visited vacation spots around the Emerald coast are the Panama City, Destin, and Pensacola beaches.
We recommend these beaches because they're a suitable spot for families and groups of friends and couples. They're filled with different recreations and activities to accommodate travelers of other races.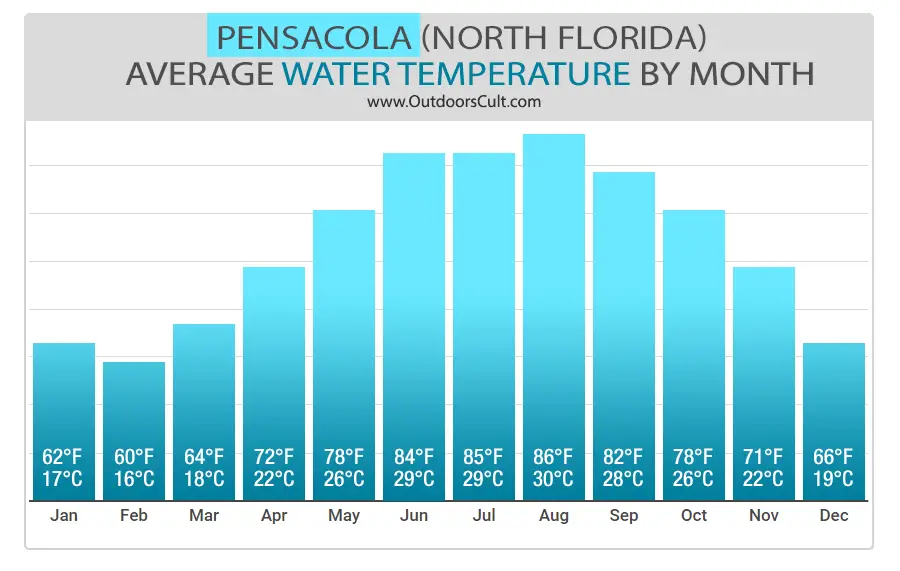 Gold Coast
Gold Coast is one of Florida's most famous coasts on the Atlantic side of Miami and Fort Lauderdale. Miami records the highest Florida temperature and places with the highest hurricane risk at a water temperature of 80°F -83°F. Beaches here are not overcrowded in October.
As you probably know, Miami is a lively place for visitors, especially the downtown area with its diverse culture. Although October is usually hot in Miami, the place remains a visitor's vacation destination. 
Space Coast
The space coast is located around the Atlantic side of Florida and close to Orlando. It has multiple popular attractions like the Kennedy space center in Cape Canaveral and International Speedway in Daytona. These spots have been a popular tourist attraction for decades, and they're less busy in October. The water temperature is around 81.3°F here. 
Treasure Coast
Treasure coast is famous for its luxurious atmosphere. Located close to Miami, it shares a similar risk of hurricanes and storms with Miami, but that won't be a threat in October. The Treasure Coast is a beautiful vacation location, and the warm temperature of 82.6°F in October supports a warm vacation.
The most popular beaches on the Treasure Coast are Pompano, West Palm, Boca Raton, and Delray. But they all have a slightly different style.
Paradise Coast
Paradise Coast is located in southwest Florida and is home to famous cities like Fort Myers and Naples. We recommend this area for the older folks whose friends and family may visit to enjoy Florida's warm weather.
This area usually experiences hurricanes, but the probability is low in October. Here, water temperatures are warm, with an average of 82°F. Feel free to explore the popular beaches in these areas, including Naples, Fort Myers, and Marco Island.
Camping in Florida
Florida has no shortage of unique locations where you can pitch your tent or park your RV. 
From civil war forts to turquoise springs and bucolic beachfront, you have many options for camping in Florida. 
When it comes to campsite offerings, Florida has a little bit of everything for every type of vacationer- from filling Rv hookups to clamping sites and private beach camping.
One of the places we love to camp in Florida is the flamingo campground along Florida bay, where you can unplug. This quiet campground has up to 274 tent sites and 65 RV sites, and a few extra eco tents that house some beds and patios.
Other exciting places for camping in Florida include the campsite at Walt Disney World, Pensacola Beach RV Resort at Pensacola, etc.
What To Wear In Florida in October
What you can wear during October in Florida includes shorts, t-shirts, capris, blushes, and a sweater in the morning and evening.
In addition, you can come along with bathing suits, shoes, and trunks. Although there is only a little rain in the months before October, you should still come with a raincoat.
Shoes
Comfortable shoes are compulsory for your vacation in October. Your visits may require some walking (for example, Disney world needs up to 10 miles of walk). Clothing items in your suitcase should include but are not limited to:
Walking without comfortable shoes may blister your leg and end up with bruised feet. Don't wear flip-flops when you're in theme parks.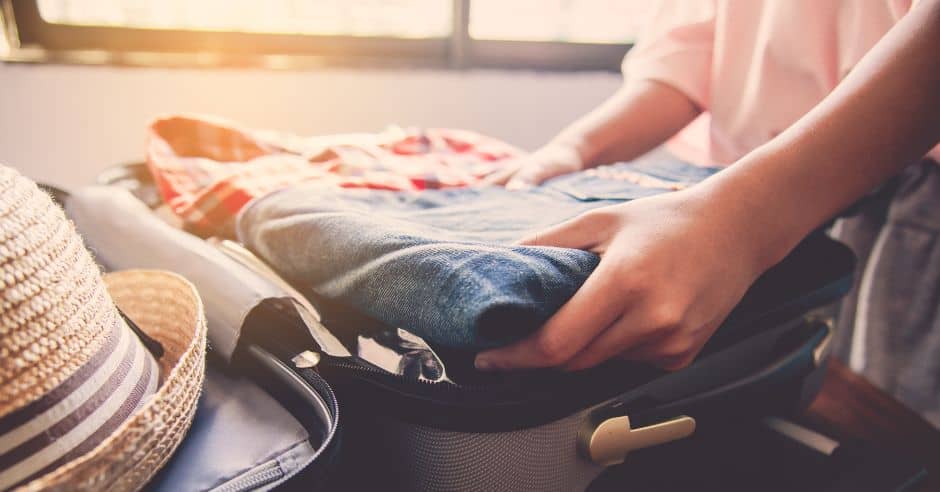 Sandals
Add sandals to support your comfortable shoes. You'll need them when you want to visit parks in Tampa, Orlando, and more.
Other packing ideas include sunglasses, water shoes( for boating and water sports), sunscreen, water bottle, coolers, portable fan, etc.
Additional info: Floria's state hosts different festivals and Halloween this month. Children and adults will be able to mimic the dress style of their favorite characters.
Again, keep a light jacket or a sweater handy during your stay in Florida when you want to dine out in a Florida restaurant.
Because it's hot outside, many restaurants set the Air conditioning to the lowest temperature. This tip will guide you if you're easily affected by a cold.
Fishing in Florida in October
Fishing in Florida is peaceful and affordable. Get ready to be reeled in something unique – from panfish to monster bass.
To fully enjoy what Fishing in Florida has in stock, the following fishing destination will be a perfect getaway for your family.
Stuart
Stuart sat on the eastern seaboard of Florida and surrounded by waterways, making it a suitable fishing destination. Nicknamed the "sailfish capital of the world," Stuart's emblem is a sailfish.
Fishing here is fantastic year-round with other available activities. This makes it a suitable option for families who want to get busy.
Key West
Key west is not only one of the most popular destinations in Florida but also the best fishing destination. 
The location offers offshore and flat fishing with the opportunity to catch saltwater fishes like tuna, bonefish, tarpon, and marlin. Ernest Hemingway, who fished here for decades, can testify.
Fishing here is fantastic year-round with other available activities. This makes it a suitable option for families who want to get busy.
Destin
Dubbed "the world's luckiest fishing village," Destin has the biggest fishing fleet in Florida. Rent a boat to fish offshore with the family.
Or you can just cast a line and hope to get lucky. In addition to fishing opportunities, Destin creates that small town impression with great beaches to cool off, suitable for vacation.
Fort Lauderdale
If you own a yacht or would love a bustling city with exciting nightlife, you may want to fish at fort Lauderdale. Dubbed the "Venice of America," the town features a canal system with hundreds of boatyards and Marinas.
Things to do in Florida in October
Visit the Amelia Island
Amelia Island is close to the state of Georgia and is famous for its amazing white sand beaches, luxurious accommodation, and professional golf courses. Most visitors will look for a fun beach trip, but there's much to do in the oceans.
The fantastic downtown island, filled with the rich history of British, French, and Spanish influence, has its streets blessed with exquisite restaurants and boutiques.
The Maritime Museum offers opportunities for entertainment and education, and you can also explore the Amelia Island Lighthouse. 
Chill Out On Palm Beach
Palm Beach is a fabulous beach for upscale travelers who want to visit a lovely coastal destination. 
Unlike most beaches in Florida, palm beach packs a lot of style and glamor that makes a beach vacation worthwhile.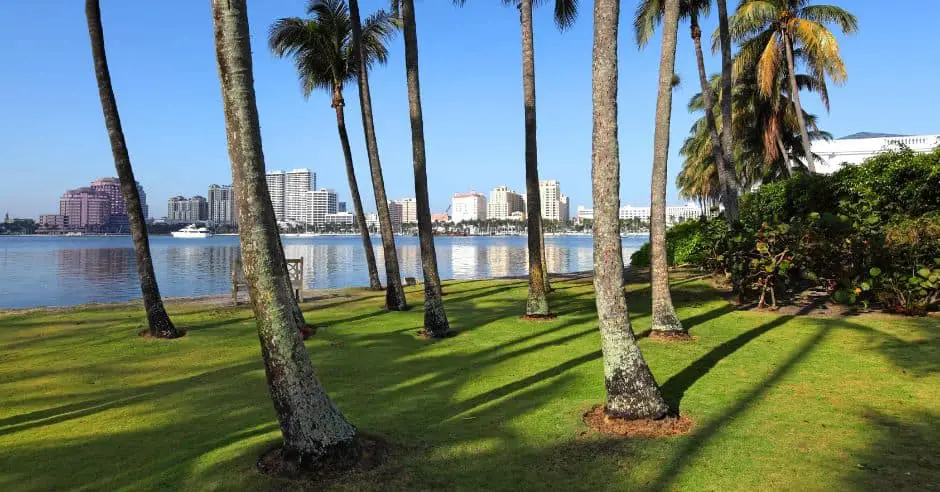 The beach is located north of Fort Lauderdale and on the city's Atlantic coast. 
Henry Flagler, a popular name in Florida (his name is everywhere, from the keys to Florida), lived on palm beach while building a railway across the Atlantic. 
Today his home is dubbed the Flagler Museum with ancient features, making palm beach a historic place to explore. 
Besides the landmark nature of palm beach, there's still more to discover in Palm beach. A visit to this fantastic beach will unleash more mouthwatering features of this beach.
Experience Walt Disney World
Disney world is one of the most prominent places of attraction in Florida and a perfect, less crowded location in October. Overall, the crowds are average. But remember that some venues are always overcrowded, even in October.
Feel free to enjoy the food and wine festival at Disney in October, including their Halloween party. Hence, there's so much crowd to expect on weekends. 
Although Walt Disney packs many attractive features like golf courses and water parks, its main attraction is the four theme parks.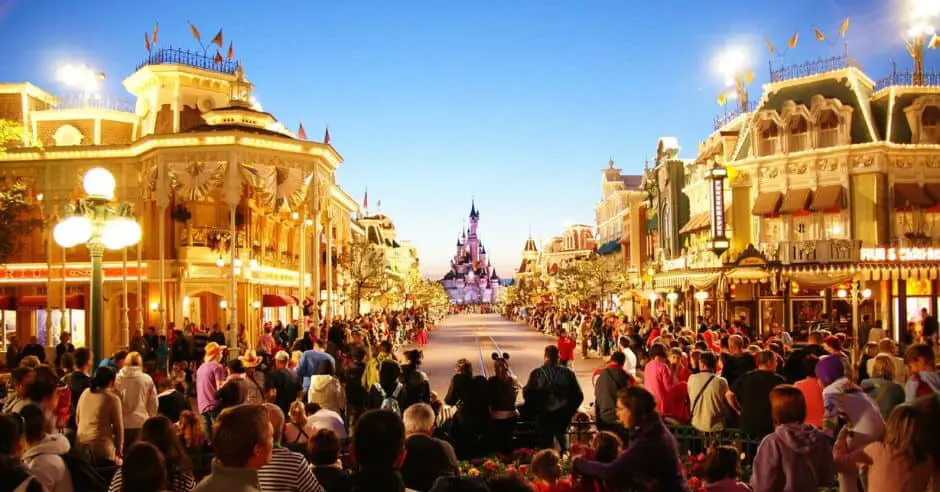 The attractions and rides in Magic kingdom are indeed magical. For a perfect Disney world experience, we recommend a 5-7 days visit. However, if you only have 2-3 days on your sleeve, explore Animal kingdom and Magic kingdom. 
In a nutshell, dedicate two days to each park in Disney World.
Explore Weeki Wachee
The Weeki Wachee Springs State Park is a traveler's favorite every year. Located in Hernando county, this spring not only rose to fame for the presence of mermaids in these waters but also for the fact that no one has ever found the spring's bottom.
Florida is home to different natural sprigs, but the everyday underwater show makes the Weeki Wachee unique.
Mermaids in Weeki Wachee host these shows using a theme from different folklore and movies to give the audience a magical experience.
Besides watching the mermaids, visitors can ride the spring boats, rent a kayak, or tour the entire spring.
Florida in October | Final Thoughts
October in Florida recently welcomed change in season and goodbyes to storms and hurricanes. The weather is cooler in October with a few hours of hot days, making Halloween and other outdoor events fun and exciting. 
October is the ideal month to visit Florida for tourists who want to save travel expenses. 
Whether you're planning to visit Disney world or hike the Orlando Trail, Florida is a suitable vacation location. 
Articles Related to "Florida in October: [Weather, What to Wear, What to Do]"